Aerobelt Australia
Air-Supported Belt Conveyors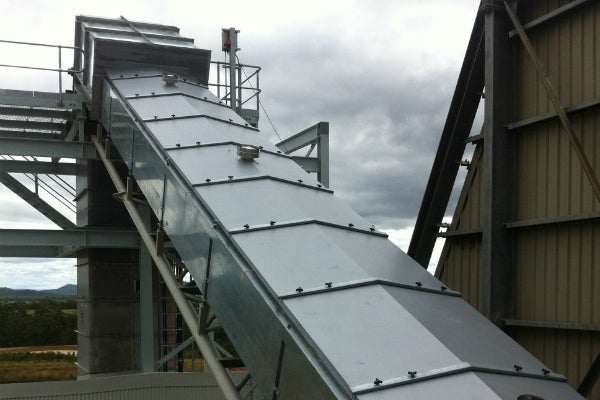 Aerobelt Australia is a leading supplier of air-supported belt conveyors. There are currently more than 313 Aerobelt conveyors supplied by Aerobelt Australia in all states in Australia and in several overseas locations. Many different products are transported on Aerobelt conveyors across a range of industries, including food, mining and industrial products.
Air-supported conveyors
Aerobelt air-supported conveyors can be supplied in a range of sizes and capacities to transport a wide range of common and specialised products. Belt widths range from 300mm to 1.8m and conveyor lengths from a few metres to several hundred metres in a single or multi-stage configuration. Tonnage rates vary from a few tonnes per hour to more than 2,000t per hour.
Air-cushion belt conveyor operation
The Aerobelt conveyor is an air-cushion belt conveyor. In this system the belt is carried on a film of air, which is blown into the air box or plenum under the conveyor belt by a small fan. One fan is sufficient for over 200m of belt conveyor.
The number of air-holes in the trough, the air pressure and the volume depend on the material being transported. Belt widths vary from 300mm to 1,800mm. Galvanised steel is used as the standard construction material, although many installations have used stainless steel for some or all components to meet corrosive / abrasive environment needs.
Advantages of air-supported belt conveyors
The non-conventional construction of Aerobelt conveyors offers significant advantages over other conveyors. Many of these are derived from the low belt friction and smooth movement of product inherent in the air-supported belt design.
Traditional belt conveyors agitate their loads to such an extent that there is product loss, pollution and, above all, abrasion. Aerobelt conveyors move smoothly and quickly, minimising product degradation while conveying greater volumes. Other advantages include:
An ability to convey product at steeper inclines due to the low product agitation on a continuously supported air belt
Fewer moving parts result in less noise and maintenance requirements
The enclosed design reduces dust and noise and improves safety by providing a physical barrier between personnel and the loaded belt
Lower power consumption results in smaller drives, reduced power requirements and overall lighter weight conveyor construction
Reversible belt conveyors
Aerobelt conveyors are reversible, which enhances the efficiency in both directions of feed. Aerobelt conveyors can be configured to reverse with a single or dual-drive as required by the application.
Due to reduced working tension lighter, lower-cost belts can be used than the equivalent belts on conventional conveyors. Many types of belt are in operational use on Aerobelt conveyors, including fire-resistant, anti-static (FRAS) belt, food-grade belt and high-temperature belt (200°C).
To meet existing gallery profiles and to accommodate concave and convex profile curves, Aerobelt Australia has developed a number of design features that allow a conveyor to follow the curves of existing conveyor support gantries. Concave and convex curves can be accommodated in the same conveyor if required. Aerobelt Australia can also offer services to assist in the redesign and reconfiguration of existing support steelwork and footings to meet your project needs.
Supply, installation and commissioning of air-supported belt conveyors
Aerobelt Australia can supply conveyors on a supply only, supply and commission, or supply, install and commission basis. We are flexible to meet your specific project needs. We can also design and supply supporting structural steel and other engineering and project management services to suit the requirements of your installation.
Many variations on standard Aerobelt conveyors are available and a number of options come as standard. A number of unique project requirements have been met by the engineering team at Aerobelt Australia. If there is an unusual configuration requirement for your material handling needs, do not hesitate to contact us and we will give you an appraisal of the options.
About Aerobelt Australia
The engineers at Aerobelt Australia have extensive experience of all types of Aerobelt design, installation and maintenance. We have many long-term customers who have bought conveyors for several projects and are highly satisfied with the Aerobelt product.
Aerobelt Australia has worked closely with Sluis, the Aerobelt original equipment manufacturer, in Europe and maintains a working link with Air Conveyors International, which continues to develop the Aerobelt product from its origins within Sluis.
Aerobelt Australia Images
Press Release
Prior to the introduction of the Aerobelt conveyor system, the alumina was blown using a pneumatic system consisting of airslides and a lean phase to the top of the storage silos from the calciners located at ground level.
Read more
Aerobelt has been contracted for the new ship loading facility at Rio Tinto's Cape Lambert project.
Read more
Aerobelt Australia Pty Ltd