Banlaw
Unified Fuel Management Technology for the Mining Industry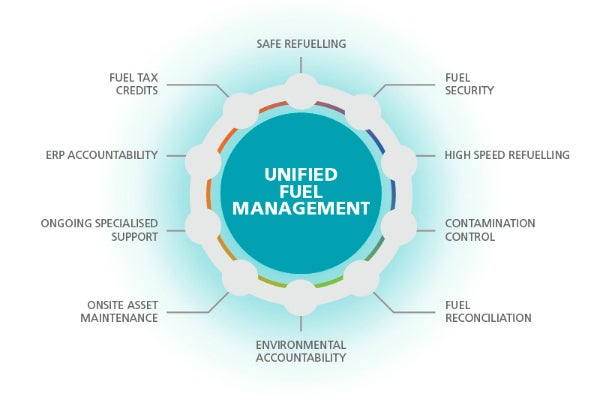 Banlaw provides unified fuel management equipment and solutions for the mining sector.
We help clients improve their productivity by reducing fuel loss and contamination, while delivering more efficient and safer refuelling.
Hydrocarbon experts for mining operators
As refuelling specialists, our initial business was in diesel, but our expertise has extended to hydrocarbons and the management of other liquids.
We can provide you with software, hardware and services to optimise the storage, safe handling and use of fuels, oils, coolants, and grease.
Fast and safe refuelling equipment
Focusing on efficiency and safety, our products are engineered for speed, accuracy, durability, and safety of the end-user.
We have an innovative R&D programme, and are always looking for new solutions to save time and money, facilitate the management of hydrocarbons, and maintain safety standards of your working environment.
Unified fuel management
Unified fuel management (UFM) is our unique approach to managing hydrocarbons, delivering productivity, efficiency and cost reductions.
UFM optimises all aspects of mining refuelling and hydrocarbon processing across your fleet, multiplying the benefits as you integrate more aspects from 'buy to burn'.
Fuel management systems (FMS)
Accurately reconcile and manage your most expensive consumables.
Banlaw's FuelTrack™ fuel management system (FMS) is recognised as one of the industry's most innovative solutions in technology and design.
Best practice fuel facilities set up with FuelTrack are able to reconcile up to 99.95% of all hydrocarbons received, or moved, from point of custody transfer.
Our system scales in size, and can manage a single refuelling station to numerous bulk storages, or even a combination of fixed plant and thousands of vehicles.
High-speed refuelling hardware
Banlaw's mining refuelling equipment delivers high-speed refuelling flow rates of up to 1,000l a min/nozzle, while maximising safety and machine life.
Miners currently refuelling at 300l/min to 500l/min per minute could therefore halve refuelling times by installing matching Banlaw dry-break nozzles, receivers, and tank vents.
Banlaw's cold-temperature range includes components operating at -40°C, maintaining refuelling processes, even at extreme temperatures.
Pressureless overfill protection systems extend tank life, increase automation and reduce fuel spills. Self-closing vents and auto shut-off nozzles provide a second layer of overfill protection. Fire-safe and break-away valves can also be incorporated into the system for added safety.
Optimisation of service bays
Banlaw has been working to revolutionise the approach to heavy vehicle servicing. The company has introduced significant efficiencies through service box design, including couplings which reduce contamination, while increasing flow rates.
The Banlaw Evacuation Coupling (BEC) is a common coupling that can be used to remove waste product from different sized receivers, without the need to change the mating nozzle each time. It works fast, using a vacuum for evacuation rather than gravity.
Banlaw can help design and fit-out service bays, with FMS for monitoring and control, hose reels for multiple fluids, and couplings for the refilling and evacuation of machine fluids.
About Banlaw
Banlaw is based in New South Wales, Australia, where we design, engineer and manufacture our products and software. We have a network of trained distributors around the world, who locally provide expert sales and service, in addition to the regional Banlaw teams.
Our clients are high-volume fuel users in the rail and mining sectors, as well as other industries globally. Customers tell us they value our expertise as refuelling consultants, and that our high-performance products deliver measurable improvements from fleet optimisation, refuelling interval, servicing, and return on investment perspectives.
Our fuel management customers, in more than 50 countries, consistently achieve an annual fuel stock reconciliation record above 99.5%.
Press Release
Banlaw will be attending MINExpr 2016 in Las Vegas, Nevada, US on 26-28 September.
Read more