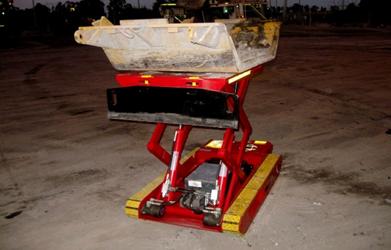 Nivek Industries are proud to announce they have entered into Distributor Agreements with three international partners; World Class Mining Services in Chile, Wabash MFG in Canada, and Nsimbi Equipment in South Africa.
All three Distributors will be providing after-sale service support and provision of spares, as well as the initial sale of the Tracked Elevating Device (TED). These companies have all been chosen by Nivek Industries as they contain highly experienced personal that Nivek Industries are confident will provide the level of support received by customers at home in Australia.
As the world mining industry becomes more focused on workplace safety TED, a product that was designed specifically for workplace safety is increasing in demand. TED's main purpose is to eliminate suspended load hazards associated with bulldozer belly plate removal.
TED, being remote-controlled (the only one on the market), significantly reduces the risk of workplace injuries and casualties by removing the operator from suspended loads. The versatility of TED, as well as the time and money saving aspects also make it attractive to the international buyer. Not only is TED the safest way of removing heavy machinery belly plates, it is also by far the most efficient.
As a small Australian based company, Nivek Industries primarily sold TEDs to Australian mine sites and associated service providers, including Rio Tinto, Downer EDI Mining, Thiess, and Glencore, to name a few. With the increased focus on personnel safety and resource management globally, making TED available and supportable internationally has been a key focus for Nivek Industries over the past 12 months.
Lowering manual handling in labour-intensive industries can have a remarkable effect on both the short-term...