Applied Research of Australia (AROA) is an Australian-owned company that specialises in the research, development and commercialisation of fibre reinforced polymer (FRP) composite technology.
The company's products are used for a range of industrial, and reinforcement, applications across sectors, including mining, civil construction and environmental (habitat rehabilitation).
The company's range of standard products include FRP dowels, FRP rebar, FRP nuts, soil nails, thermoplastic washer plates, and corrugated plastic surface support mesh sheets designed for use in a range of reinforcement applications.
Corrosion protection and cleansing agents for mining applications
AROA provides product applications for industrial and commercial use, including Like Armour, which offers corrosion protection for bare metals, and Super Clean Dioxide, a cleansing agent that provides a clean and safe alternative to traditional disinfectant methods.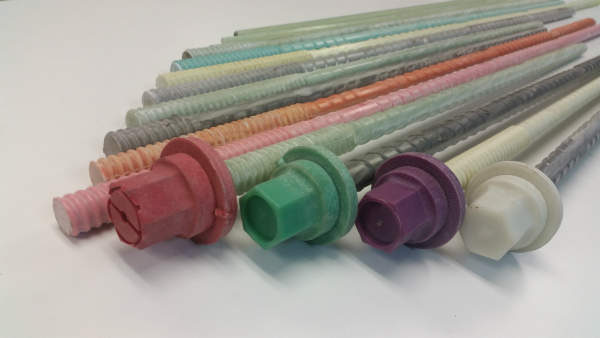 AROA's FRP Nuts are designed to optimise performance of all AROA Threaded Herringbone™ rib dowels, providing installation efficiency through precision in achieving the intended breakout point.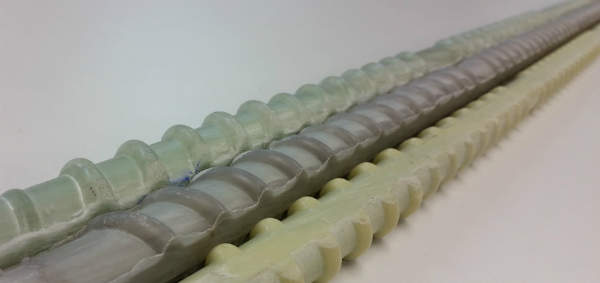 AROA rib dowels feature a unique, self-designed Herringbone™ profile.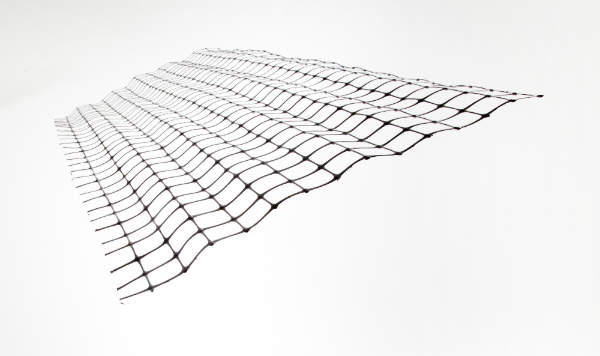 AROA's synthetic, corrugated mesh is fire resistant anti-static (FRAS), lightweight, cuttable and UV resistant.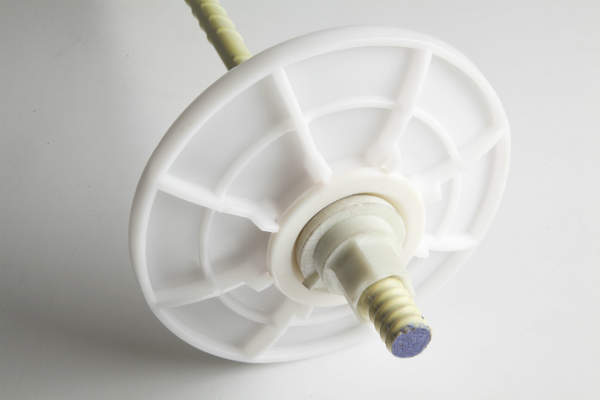 The company's standard and self-aligning Washer Plates are cuttable, non-corrosive, non-conductive, leightweight and offer superior strength.
The company has the manufacturing processes, capability and expertise to scale-up production to meet large-scale orders, ensuring timely site delivery. It also undertakes on-site installation training.
All AROA products are self-designed and manufactured in South Australia.
The company focus is on continuous improvement and critical investment in research and development, which places it at the forefront of FRP ground support technology.
Fibre Reinforced Polymer rebars, bolts, plates and nails
AROA provides FRP rebars, rock bolts, and soil nails, which are available in various profiles, lengths and strengths to suit a range of applications.
Used in conjunction with AROA FRP rods, the company's range of FRP nuts are available in low, high, and extra-high breakouts ranging from 15lbft to 95lbft. AROA nuts are suitable for hydraulic rib bolters and hand held windy borers. Nuts are designed for installation efficiency through precision in achieving the intended breakout point
AROA washer plates form a cuttable solution when assembled with AROA Bolts and AROA FRP Nuts. They are uniquely designed to ensure no splitting under severe deformation found on uneven surface.
AROA FRP Mesh is suitable for corrosive, magnetic and electric sensitive environments. Available in 8mm and 20mm rebar sizes the mesh can be pre-assembled to specific dimensions upon request.
It uses specially designed joints, which are non-corrosive and superior in strength for optimum rigidity. The product is fire-resistant anti-static (FRAS), cuttable, UV resistant, and lightweight.
In addition, mesh provides a good combination base for shotcreting.
Mine lifecycle planning, operation and closure support
With AROA's non-corrosive FRP stabilisation products miners can manage 'whole-of-life' costs, from initial mine feasibility planning, to active mine operation and through to eventual mine closure.
Planning for mine closure forms an integral part in undertaking initial mine feasibility studies, with varying federal and state government legislative requirements and regulatory guidelines impacting the extent of activities and remediation involved.
A large part of mine closure expense involves the reinspection of all steel reinforcements from previous works, and implementation of remedial action where required.
Use of the non-corrosive, and permanent, AROA FRP products from mine start-up significantly reduces the need to inspect and replace supports to comply with closure standards, in turn reducing overall cost.
Fibre reinforced polymer reinforcement and structural supports
Over the years, global mining owners, engineers, construction and other project management companies have sought solutions to overcome issues in the use of traditional steel for strata reinforcement and structural support applications.
In the hard rock category, operations, such as traditional steel rib bolt systems, present issues of corrosion and lack of cuttability, with resultant damage to machinery and / or conveyor belts.
FRP reinforcement products provide a lightweight, high-strength, high-performance alternative to steel, that is both resistant to corrosion and eliminates mechanical damage during the removal process.
AROA products in use
AROA reinforcement products are designed to support a range of soft rock mining applications, including coal, potash, phosphate, salt, oil shale, and uranium ores, as well as hard rock applications, such as gold, silver, iron, copper, zinc, nickel, tin, and lead.
More than 1.75 million AROA dowels have been sold to underground mines throughout Australia, with no reported failures experienced.
AROA's bolts have been used by major mining companies operating underground mine sites, including Moranbah North (Anglo American), Oaky North and Bulga Coal (Glencore Coal), Metropolitan (Peabody Energy), Broadmeadow and Crinum (BMA), and Kestrel (Rio Tinto).
AROA's dowel system enables high-productivity in the continuous mining operation lifecycle through increased output per man shift (OMS).