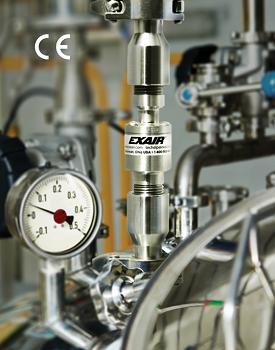 EXAIR's new 303 Stainless Steel 3/8in and 0.5in Threaded Line Vac™ Air Operated Conveyors convert ordinary pipe into a powerful conveying system for parts, scrap, trim and other bulk materials.
Their small size makes them perfect for fitting in the cramped spaces and tight confines of many production lines. The Threaded Line Vac is designed to attach to plumbing pipe couplers, sanitary flanges and other pipe fittings, making it easy to build a complete system using ordinary pipe and fittings. These new sizes of Stainless Steel Threaded Line Vac air operated conveyors make it easy to sample gas streams, sample grains or other ingredients, move small parts, or transport scrap or product out of small spaces.
Threaded Line Vac Conveyors eject a small amount of compressed air to produce a vacuum on one end with high output flows on the other. Response is instantaneous. Regulating the compressed air pressure provides infinite control of the conveying rate. Applications include scrap trim removal, material conveying, part transfer, fibre tensioning, filling operations and sampling.
Available from Compressed Air Australia, 303 Stainless Steel Threaded Line Vacs are CE compliant and are suited to a wide variety of conveying applications. Larger threaded sizes in up to 3in and smooth end models for hose up to 5in are also available in aluminium, 303SS and 316SS.
EXAIR's new ½in Siphon Fed air atomising spray nozzle atomises a variety of fluids in...