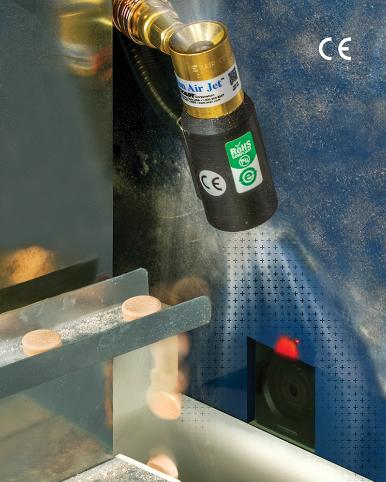 The new Ion Air Jet from EXAIR removes static electricity, contaminants and dust from parts prior to shrink wrapping, packaging, printing, painting, or finishing.
This engineered product has undergone independent laboratory tests to certify it meets the rigorous safety, health and environmental standards of the US, EU and Canada that are required to attain the CE and UL marks. It is also RoHS compliant. New design features include a metal armoured high-voltage cable to protect against abrasion and cuts, a replaceable emitter point, an integrated ground connection, and electromagnetic shielding. The shockless Ion Air Jet is an effective spot cleaner, available with permanent mount or flexible hose with a base for benchtop applications.
The air saving Ion Air Jet uses a small amount of compressed air to entrain 80% of the total output airflow from the surrounding room air, minimising compressed air use and maximising ionised airflow. An electrically energised emitter at the discharge end fills the entire airstream with positive and negative ions capable of neutralising high-static charges in a fraction of a second. An optional regulator allows infinite adjustment of the air volume and velocity.
For permanent mount applications, the compact Ion Air Jet is the best choice, since it is lightweight and easy to install, using the 1/8in male inlet. For applications where frequent repositioning is required, the flexible Stay Set Ion Air Jet is ideal. The hose allows you to aim the ionised air at a localised area.
Available from Compressed Air Australia, the Ion Air Jet is quiet and lightweight. The 1.5m shielded power cable is flexible, designed for rugged use. A new selectable voltage power supply has been designed to operate the Ion Air Jet. Applications include cleaning moulded parts, pre-paint dust removal, furniture finishing and package cleaning prior to labelling, printing, and assembly.
EXAIR's new ½in Siphon Fed air atomising spray nozzle atomises a variety of fluids in...