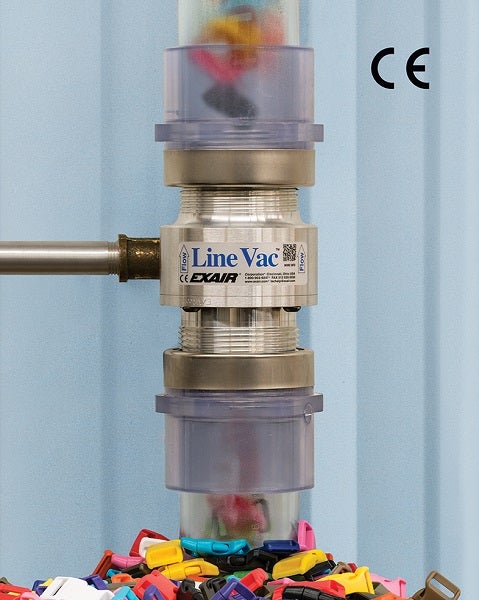 EXAIR's new aluminium 2.5in NPT and 3in NPT Threaded Line Vac Air-Operated Conveyors convert ordinary pipe into a powerful conveying system for parts, scrap, trim and other bulk materials. Their larger size makes them perfect for conveying bigger parts and large volumes of material over long distances. The Threaded Line Vac is designed to attach to standard plumbing pipe couplers, making it easy to build a complete system using pipe and fittings available from any home centre, hardware store or plumbers supply.
Threaded Line Vac Conveyors eject a small amount of compressed air to produce a vacuum on one end with high-output flows on the other. Response is instantaneous and regulating the compressed air pressure provides infinite control of the conveying rate. Applications include scrap trim removal, material conveying, part transfer, fibre tensioning and filling operations.
Available from Compressed Air Australia, Aluminium Threaded Line Vacs are CE compliant and meet OSHA pressure requirements. Smaller sizes down to 3/8in NPT are available in stock. Threaded Line Vac models are also available in type 303 and type 316 stainless-steel for more demanding high temperature, corrosive and hygienic environments. Line Vacs also come with smooth ends for use with hose and tubing and Heavy-Duty Line Vacs provide abrasion-resistance while producing maximum power for high bulk density material. If a secure pipe connection is required where the Line Vac will be frequently removed for cleaning, Sanitary Flange Line Vacs are also available.
EXAIR's new ½in Siphon Fed air atomising spray nozzle atomises a variety of fluids in...