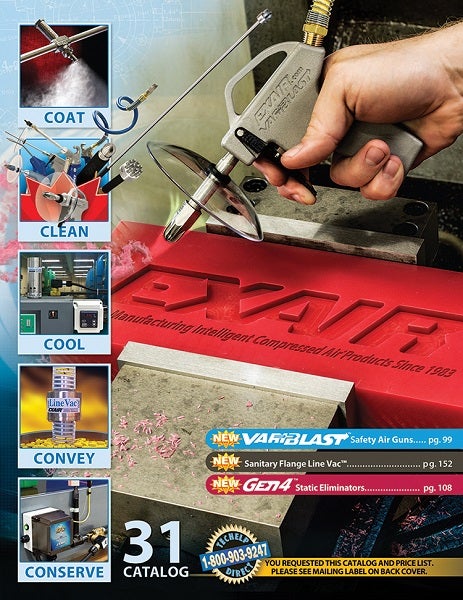 EXAIR's new Catalogue 31 is our best catalogue yet; a full-colour technical guide offering solutions to common industrial conveying, cooling, cleaning, blowoff, drying, coating and static electricity problems. The greatly expanded Catalogue 31 introduces new VariBlast compact safety air guns, Gen4 static eliminators, 1/8 NPT atomizing nozzles, sanitary flange air operated conveyors, and digital flowmeters with wireless capability.
VariBlast compact safety air guns allow you to use just the flow you want with trigger control. New Gen4 static eliminators have increased performance and the Gen4 power supply has selectable voltage, giving you the choice of 115V AC or 230V AC as needed. Atomizing nozzles are now available in 1/8NPT, 1/4NPT and 1/2NPT, allowing you an even greater selection of nozzles for your coating or cooling applications. Sanitary flange line vac air-operated conveyors are now available, with easy disassembly and clean-up when frequent or mandatory cleaning is required. Monitoring your compressed air consumption can now be done wirelessly with the new digital flowmeters with wireless capability.
Available from Compressed Air Australia, EXAIR products help companies conserve compressed air, reduce dangerous noise levels and eliminate harmful dead-end pressures. Detailed technical explanations, performance data, application photos and dimensional drawings are provided for each product.
For more information, please contact Compressed Air Australia.
EXAIR's new ½in Siphon Fed air atomising spray nozzle atomises a variety of fluids in...