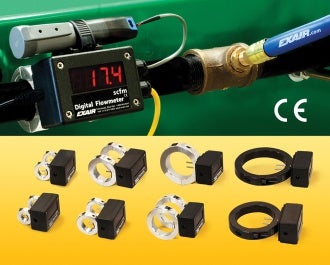 EXAIR's digital flowmeters provide an excellent way to monitor compressed air consumption and waste.
Now, with the addition of six new sizes, we make it easier than ever to measure consumption and identify trends at all of the critical areas or individual legs of a compressed air system.
Measuring compressed air is the first step toward identifying high compressed air use areas, compressed air leaks and optimising air use.
Regular monitoring of compressed air usage makes it possible for companies to save thousands of dollars a year in compressed air waste by identifying costly leaks or inefficient air products.
Airflow values expressed in standard cubic feet per minute (SCFM) or cubic meters per hour (m³/hr) are available.
Digital flowmeters for schedule 40 iron pipe are ready to ship in sizes:
½in
¾in
1in
1 1/2in
2in
2 1/2in
3in
4in
They are CE and RoHS compliant and can also be ordered for schedule 80, 10S or Type L copper pipe. A USB data logger and included software can be preinstalled or purchased separately. Summing remote displays, which make it easy to monitor compressed air consumption from a convenient location, are also available from Compressed Air Australia.
For further details, please visit the company website.
---
Image: New sizes available for digital flowmeters. Photo: courtesy of Compressed Air Australia.
EXAIR's new ½in Siphon Fed air atomising spray nozzle atomises a variety of fluids in...