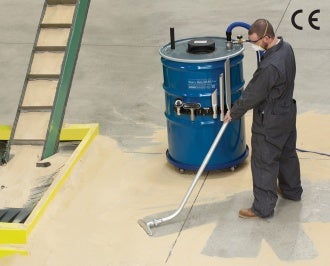 EXAIR's new 205l heavy-duty HEPA vacuum is a powerful, HEPA-quality, industrial cleaner.
The heavy-duty HEPA vacuum is designed to move more material with less wear. It has been engineered to filter contaminants to HEPA requirements in dusty environments that require frequent cleaning.
The vacuum operates at half the noise level of electric vacuum cleaners, at just 82dBA, making it suitable for a wide variety of environments.
An economical, easily maintained pre-filter stops larger particles while the HEPA filter handles smaller matter. All filters are tested for minimum 99.97% filtration at the 0.3 micron level to meet HEPA standards in strict accordance to IEST-RP-CC-007.
The 205l heavy-duty HEPA vacuum is available from Compressed Air Australia and is OSHA and CE compliant and quality assured with a five year warranty.
The vacuum comes complete with:
Heavy-duty dry vacuum
Lever lock drum lid
Shut-off valve
Pre-filter
HEPA filter
3m static-resistant hose
Hose hanger
1/2 NPT quick connect coupling
6m compressed air hose
Pressure gauge
Heavy-duty aluminum tools
Tool holder
Drum dolly
Please visit the company website for more information.
EXAIR's new ½in Siphon Fed air atomising spray nozzle atomises a variety of fluids in...