Compressed Air Australia
Compressed Air Products and Nutrient Treatments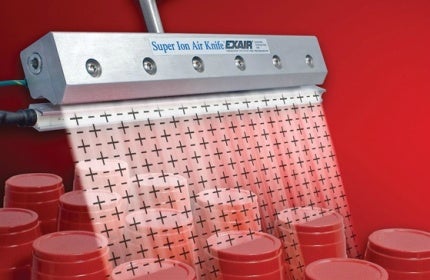 Compressed Air Australia offers a broad portfolio of compressed air, piping, wastewater, and safety products for the mining industry.
The Australian-owned company was established in 2004 and is a leading distributor of:
EXAIR compressed air products that blowoff, vacuum, cool, vent, dry, convey and neutralise static
PROTECT-AIR products to help companies comply with safety directives of ISO, OSHA and others
PIPETITE hole sealing technology for pipes, tubes and cables
N-FIX biological nutrients that eliminate deposits in pipes and wells
SABROLL biological wastewater treatment and septic control
Compressed Air Australia offers high-quality, energy-conserving solutions that solve problems in industrial plants throughout Australia and the Pacific Islands. It supplies the food, pharmaceutical, manufacturing, mining, agricultural, pulp and paper, chemical, electronics / engineering sectors, and also commercial facilities with innovative solutions.
The company's products come from leading manufacturers, are high-quality, and have been developed in response to what customers have asked for.
Intelligent compressed air products – EXAIR
The wide range of EXAIR Intelligent Compressed Air® products is designed to maximise the efficiency of your compressed air resources.
The engineered Super Air knife, Super Air amplifier and the family of Super Air nozzles are used to blowoff, dry, cool, clean, conserve energy, reduce noise levels, and drastically cut air consumption. EXAIR products meet OSHA safety requirements and are CE-compliant.
EXAIR vacuums are compressed air-powered and have no moving parts that could wear out. Many types are available, such as the Reversible Drum Vac (a two-way drum pump for liquids), Dry Vac, Chip Vac (for metal chips and shavings), and HEPA Vac are rugged and designed for high cleaning capacity.
EXAIR low-cost Cabinet Coolers are the ideal way to cool electronic cabinets with cold air. They prevent electronic failures and are widely used during the hot summer months. Unlike refrigerant air conditioners or fans, there are no moving parts to wear out.
EXAIR static eliminators blow away static electricity and dust, and clean at distances up to 6.1m (20ft) away. They are the ideal way to eliminate dust clinging to product, material tearing or jamming, and hazardous shocks.
Products to minimise air use and protect employees – PROTECT-AIR®
PROTECT-AIR® products help companies comply with the stringent Australian Workplace Health and Safety Act directives, including ISO, OSHA and others, which apply to compressed air-powered equipment.
Their products protect employees, machinery and equipment, as well as increase efficiency and assure cost saving production.
The HoseGuard® air safety fuse offers efficient protection that immediately shuts-off the compressed air in the event of a broken air hose or pipe. With the In-Line series, use of compressed air becomes simpler, more effective and more economical. The series of regulators enables the user to supply any compressed air tool with the ideal air pressure to minimise air use and costs.
Sealing technology for wall and ceiling penetrations – PIPETITE®
PIPETITE® seals wall and ceiling penetrations while allowing for significant movement of pipes.
Incorporating self-sealing lips that provide flexibility and eliminate the need to silicone the joint during installation, PIPETITE's are manufactured from FDA-certified, hygienic, white silicone and can be adapted to fit most pipe or tube diameters, including pneumatic tube and electrical cable.
About Compressed Air Australia
Compressed Air Australia operates according to core principles that can be attributed to its success. It offers:
Fast delivery
Easy ordering
Total support
100% satisfaction guarantee
The company endeavors to get your order out quickly. To help you get what you need now, significant amounts of inventory are stocked on-site. If there is a product not in stock, it will be delivered to you in a timely manner.
Compressed Air Australia also buys in large volume and expects fast shipment from its suppliers. This further ensures the ability to respond to clients in real-time. The company's robust inventory control system and operations infrastructure provide added advantages.
All clients are totally supported. When help is required, the sales and support representatives are extensively trained to provide assistance. They are equipped to recommend the best solutions for each unique situation, every time.
After the sale, technical support staff will be glad to help you with free phone and email support regarding the installation, system add-ons, accessories, and more.
Compressed Air Australia Images
Compressed Air Australia Pty Ltd