Tenova TAKRAF's main products are mobile crushing plants, semi mobile crushing plants, bucket wheel excavators, surface miners, mobile transfer conveyors, stackers and reclaimers, ship loaders, ship unloaders. The company is specialised in the manufacture and supply of systems for mining operations and large volume and bulk materials handling equipment throughout the world.
The company's ultramodern factory, where Tenova TAKRAF provides its own service and construction centre, produces core components for the equipment. The company maintains subsidiaries in China (Beijing), India (Chennai), Australia (Brisbane), South Africa (Johannesburg), Bulgaria (Sofia), Chile (Santiago), Brazil (Belo Horizonte, Sao Paulo), Canada (Calgary) and in the USA (Denver) and has branch offices in Kazakhstan (Astana), Russia (Moscow), Romania (Târgu Jiu) and Uzbekistan (Tashkent). The turnover is €215 million.
Surface mining equipment
Tenova TAKRAF specialises in the supply of machines and systems for continuous mining applications (mining, crushing, transport, spreading and reclaiming). All Tenova TAKRAF machines are produced to exacting standards and perform exceptionally well under some of the hardest geological and toughest climatic conditions in the world. Basic machines and systems include:
Mobile and semi-mobile crushing plants
Surface miners
Bucket wheel excavators
Spreaders and cross-pit spreaders
Mobile transfer conveyors, belt conveyors and steep/curved belt conveyors
Tripper cars and transport crawlers
So far, Tenova TAKRAF has supplied: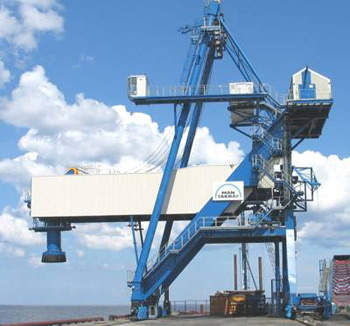 Ship loader, for Port of Ust-Luga, Russia Capacity: 3500 t/hrMaterial: Coal.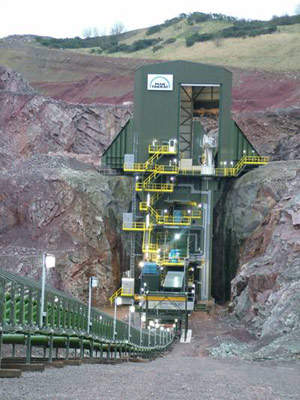 Semi-mobile crushing plant at Old Cliffe Hill Quarry/Great BritainCapacity: 2,500t/hr. Material: Granite rock.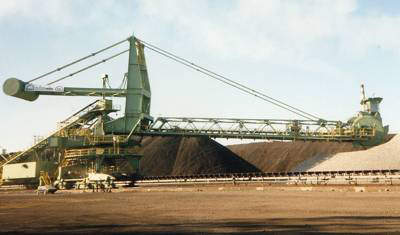 Stacker/reclaimer for Vitoria Stockyard, Brazil Capacity: 3,600/2,500 t/hr Material: Iron ore.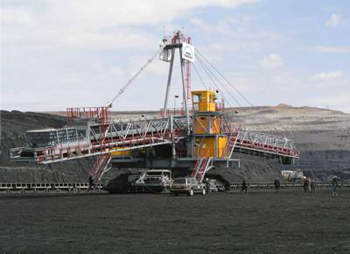 Belt wagon for Bogatyr Open Cast Mine/Kazakhstan Capacity: 5,500 m3/hr Material: Overburden and coal.
More than 550 bucket wheel excavators with capacities from 1,150m³/h to 36,000m³/h
More than 170 spreaders with capacities from 550m³/h to 18,000m³/h
More than 135 mobile transfer conveyors with capacities from 600m³/h to 8,800m³/h
More than 25 crushing plants with throughputs of up to 15,000t/h
More than 385km of belt conveyors for overburden, coal, ore, limestone and other minerals with belt widths of 0.65m to 3.0m and capacities of up to 28,000m³/h
Bulk materials handling equipment
Tenova TAKRAF is a leader in supplying system solutions for handling and transporting bulk materials. These include coal feeding and ash removal systems for power stations, reclaiming equipment, port handling systems and handling systems for technological processes. So far Tenova TAKRAF has supplied:
More than 70 stackers and reclaimers with capacities of 800m³/h to 10,000m³/h
More than 55 bucket wheel reclaimers with capacities of up to 12,000t/h
More than 280 scraper reclaimers (semi-gantry/full gantry design)
Current and recent completed projects
1998-2000: two ship unloaders for Rutenberg (Israel); ship loader for Peru; belt conveyor system (more than 20km long) for Henderson (USA); two bucket chain excavators for Maritza (Bulgaria).
2000-2002: ore handling stockyard equipment for ISCOR Sishen (South Africa); reclaimer for Radomiro Tomic (Chile); tube conveyors for Sri Lanka, India and Venezuela; belt wagons for Neyveli (India); ship loader for Richardsbay (South Africa); semi-mobile crushing stations for Escondida (Chile), Grasberg (Indonesia) and Collahuasi (Chile); surface miner for Tashkura (Uzbekistan); coal terminal for Ust-Luga (Russia); scalping station and overland conveyor for Tobene (Senegal); belt wagon for Bogatyr (Kazakhstan); conveyor system for Angren (Uzbekistan).
2002-2004: crushing station for Cliffe Hille (Great Britain); push back and conveying system for Escondida (Chile); coal and overburden loading complex for Bogatyr (Kazakstan); semi-mobile crushing station for Carajas (Brazil); bucket wheel reclaimer for MIBRAG (Germany); stockyard equipment for Brucutu (Brazil); crusher and conveyors for Escondida Norte (Chile); conveyors, crawler-mounted bridge conveyor and spreader for Toquepala (Peru); conveyors and stacker/reclaimer for Ust-Luga (Russia).
2004-2006: belt wagon for Neyveli (India) and for Maritza Istok (Bulgaria); two spreaders for Neyveli (India), stacker for Rajasthan (India), stacker/reclaimer for Orissa (India), circular stockpile system for Springerville (USA); surface miner for Tashkura (Uzbekistan).
2006-2007: stockyard equipment, three stacker/reclaimers, screening- and crushing plant and two ship loaders, conveying system and two tandem tipper cars for Wanino (Russia), spreader and compact bucket wheel excavator for Brod Gneotino (Macedonia), surface miner for Timana (Russia), two mobile stacking/reclaiming bridges and conveyor systems for Gaby (Chile), conveyor systems and ship loader with tripper car for Ust-Luga (Russia), reclaimer and conveying system for Sépetiba (Brazil), crushing plant for Los Pelambres (Chile).
2007 – 2010: Fully mobile crushing plant TMCS® 12.000 in Clermont coal mine, Australia (theoretical crushing capacity 12.000 t/h); Semi mobile crushing plants for Radomiro Tomic Sulfurus Copper mine Chile; for Gibraltar Copper mine in Canada; Bloomlake Iron ore mine, Canada; Wostotchniy Coal mine in Kazakhstan; Stationary crushing station for Mexicana Cananea copper mine, Mexico; Bucket Wheel Excavator SRs 2000 for coal mine Drmno in Serbia; Surface Miners TSM 300 for Yandi Iron ore mine in Australia; compact spreader for Clermont coal mine in Australia; the Wostotchniy Coal mine in Kazakhstan, the Tamnava coal mine in Serbia; Stackers, bucket wheel reclaimers, drum reclaimers and belt conveyors for the iron ore stockyard in Brucutu, Brazil; stackers, reclaimers, ship loaders and belt conveyor system for coal export terminal in Wanino, Russia; stacker and reclaimer for coal export terminal in Ust-Luga, Russia; tube conveyor in Maritza, Bulgaria; tube conveyor system and spreader for ash removal OGK 5 in Russia; overland conveyor system for petrochemical plant in Saudi Arabia; ship loader and conveyor system for iron ore export terminal in Nouadhibou, Mauretania.