AMCO
Anti-Slip Safety Equipment for the Mining Industry
The Australian Matting Company (AMCO) provides innovative matting and anti-fatigue mats, steel stair treads, steel stair nosings and cleats suitable for industrial workplaces and environments with strict safety and hygiene standards.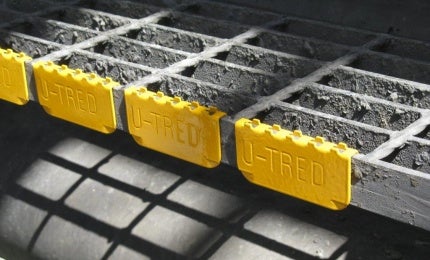 The Australian Matting Company (AMCO) provides steel stair treads, nosings and cleats, as well as anti-fatigue mats for industrial workplaces and environments with strict safety and hygiene standards.
AMCO's consultants have an in-depth knowledge of the mining and minerals industry, advising clients on anti-slip flooring to meet the needs of businesses and protect their production and staff.
Anti-slip cleats for open grid steps and stairways
AMCO supplies the U-TRED® step definition system to make open grid steps safe.
Individual U-TRED cleats can be secured to the edges of open grid steps in seconds, making them safe and non-slip without fasteners or bolts.
AMCO's U-TRED system consists of galvanised steel cleats painted in powder-coated safety yellow so they are easy-to-navigate in dim light and adverse weather conditions. They will not crack or splinter as fibreglass stair treads do, risking injuries, and remain effecting after heavy use and soiling unlike stair nosings, which can clog and lose traction.
U-TRED offers significant cost savings, as installing the double-action cleats brings walkways up to safety standards and avoids the expense of replacing entire stair structures.
Additional anti-slip step treads and solutions include:
Lion Plate, a punched steel plating that is cut to size and fixed over flooring
FRP Grating, strong, reinforced fibreglass grating for heavy industries and corrosive environments
Non-slip nosings and cappings for steps, platforms and ladder rungs
Gripmaster anti-slip products are ideal for heavy industry sites, enabling mining and mineral operations, and offshore constructions to meet operational health and safety regulations for slip risk areas.
The Gripmaster series includes edge nosings for steps and platforms and cappings for ladder rungs. They are available in any size and many colours for step definition.
The range offers an unmatched aggregate hardness level and density, to extend wear-resistance and service-life. AMCO supplies Gripmaster in a range of steel grades, according to the clients' sites specification and budget.
Heat and spark-resistant welding mats
Duro Mat is a lightweight matting designed especially for welders and machinists. It is both anti-slip for safety in slippery environments and anti-fatigue, for comfort during hours of intensive use.
Duro Mat is heat-resistant up to 1,500°C, can withstand hot metal sparks and flying chips, and is fire-retardant and self-extinguishing.
The mat also protects workshops floors from welding splatter, which can erode concrete causing hazards and extra costs. Duro Mat is resistant to acids, chemicals and petroleum, and can be easily cleaned. It is covered by a two-year warranty.
Anti-fatigue matting for assembly lines and manual handling areas
AMCO offers a wide range of anti-fatigue flooring solutions to reduce the strain on personnel at standing work stations such as assembly lines and factory floors.
Orthomaster Industrial is a comfortable, anti-slip matting that provides orthopaedic support and reduces the likelihood of poor circulation, muscle fatigue and arthritic discomfort.
Orthomaster is suitable for environments using oil, grease and solvents, and is available with drainage holes for wet working conditions. It is also resistant to chemicals and acids.
Its ergonomic design makes it ideal for manual handling applications and it even supports shared weight, without squashing or wearing thin.
Industrial floor mats and non-slip safety equipment
AMCO's industrial matting solutions have a variety of properties to ensure they suit the clients' needs in any workplace.
Diamond Master combines the comfort of anti-fatigue matting with a durable, tough surface for long-life. Its nitrile cell sponge layer acts as a memory foam, retaining its shape and spring support for many years, and is heat bonded for secure attachment and no risk of delamination. The PVC surface is durable and chemical-resistant, ensuring workers are safe and also comfortable.
Multi Mat is AMCO's reversible floor covering for industrial applications. Its multi-directional cleats provide high traction to reduce slips in slick areas such as industrial wash rooms and freezers. The matting has drainage holes for fast liquid run-off and is reversible for added wear-life.
Strong Grip is a tough, PVC matting with yellow edging for greater definition, or a ramp for access. The material is hard-wearing and lightweight, making it suitable for walkways and high-traffic areas. Grippa Mat is the same fabric, but with a hollow moulding structure to make it more flexible installing on decks and stairways.
Magnetic matting to prevent metal fragment transfer
Magna Matt's rare earth magnetism prevents ferrous metals being walked between the workshop and other areas.
The flooring helps control metal fragment transfer across sites using MAGNATTACK™. The magnetic mat can be used at the entry points of production areas from workshops, outdoor areas and construction zones on-site.
Magna Matt can be instantly de-magnetised for easy cleaning and collected magnetics can be disposed of or assessed.
It is HACCP endorsed and has certified strength and international food safety endorsements.
New Nano555 Higher Vis green stair nosings we have added to our range.
AMCO offers U-Tred step cleats that install in seconds onto all open grid steps used in the mining, construction and agricultural industries.
Christmas Creek iron ore mine is operated by the Fortescue Metals Group (FMG), Australia's third-largest iron ore producer. The mine is part of FMG's mining operations.
AMCO can save you 70% on anti-slip mining install costs and reduce your anti-fatigue mat cleaning costs by 75% in all food hygiene, GMP and healthcare facilities.
AMCO
19 Foster Street
Lake Cargelligo
NSW 2672
Australia