Safescape
The Laddertube Escapeway System for Underground Mines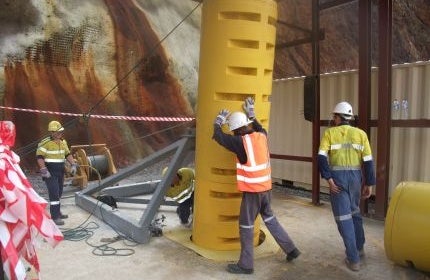 Safescape provides the Safescape Laddertube escapeway system to mining sites and other industrial operations.
Emergency escape ladder for underground mines
Safescape Laddertube is a state-of-the-art escapeway system designed specifically for use in underground mines.
The company has installed 247 ladderways at more than 55 mines worldwide.
Laddertube is a fully enclosed, durable polyethylene product that is not impacted by water, salt or other mineral deposits.
The system fits comfortably within a 1m raisebore to provide optimal user safety, and also requires minimal upkeep.
The escape route is simply and efficiently installed to any practical length, and represents great value for money for underground mines.
Safe and enclosed mine escapeway ladder
In the advancement of underground mining escapeways, Safescape Laddertube represents a revolutionary concept in design.
The system's enclosed travelway prevents dirt, rocks, and saltwater ingress, and doesn't corrode or degrade over time, providing the user with a dependable security.
Laddertube is quick to manufacture and install, requiring a small excavation size. Benefits of the system include:
Ability to fill the annulus between Laddertube and the excavation
A bright colour
Ergonomic design to make climbing easier than a rung ladder
Fall arrest system included in all installations
Complies with WA Mines Safety and Inspection Regulations 1995, the design and testing criteria of AS1657 and MSHA requirements
Flexible enough to suit a vast range of applications
Minimal maintenance required
Emergency response and mine rescue system
Safescape's Laddertube was designed specifically for mine rescue operations.
It is a straight-line ladder system with landing gate style platforms. The design allows for a rapid stretcher extraction and has a built-in fall arrest static line.
Climbing with breathing apparatus is aided by the smooth interior surface, and the design of the steps also allows the climber to use their lower leg muscles, reducing foot fatigue. This presents a significant benefit over rung-style ladders.
Versatile bunding for mining applications
Safescape Multi-Bund has been designed as a modular, lightweight bunding product.
It can be used empty for delineation of pedestrian access areas around heavy equipment, filled with water, concrete or other materials for heavy-duty applications requiring protection from vehicle interaction.
The Multi-Bund has six bolt-down points for anchors up to 45mm in diameter, giving edge protection from trucks and loaders. In this type of application, the Multi-Bund acts as concrete formwork, creating an appropriate shape where the quality of the cemented fill determines the strength of the finished bund.
Multi-Bund is available in a variety of different colours, as well as materials rated fire-resistant anti-static (FRAS), or glow in the dark.
Practical solutions for underground mine safety
Safescape's vision is to create a safer and better underground mining workplace.
The company achieves this by delivering smart and practical products that exceed all expectations. The company's vision and values comprise:
Safety – high-quality safety systems, training and equipment make safety a priority
Quality – a focus on delivering top-class products and services that exceed expectations
Integrity- all clients, team members and stakeholders are treated with respect. Safescape is honest and fair in its relationships and prompt in communications with clients
About Safescape
Safescape prides itself on delivering an exceptional service and product to its valued clients.
With offices in Bendigo, Perth and Denver, Safescape is able to meet the needs of mining companies worldwide. To date, around 12,300m of Safescape Laddertube has been installed in more than 55 mines across the world.
The success of Safescape has been recognised through the company receiving various awards.
Press Release
Introducing innovative new or improved products into any industry can be challenging and costly for both the supplier and in some cases the stakeholders where time and effort go into change management and ensuring employee acceptance.
Read more
Safescape will be attending Expomin 2016 from 25 - 29 April at Espacio Riesco - Santiago, Chile
Read more