CamelBak
Portable Hydration Systems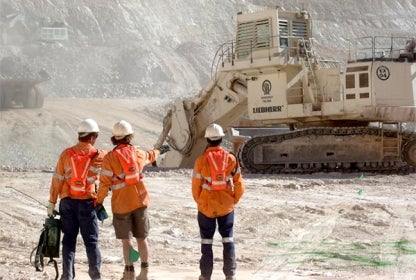 Heat stress and dehydration can lead to weakness, fainting, dizziness and increased confusion. To stay safe, alert and productive on the jobsite, no matter the weather or working conditions, proper hydration is an absolute must. CamelBak has kept people hydrated for more than 20 years and is the originator and a world-leading provider of hands-free hydration packs, water bottles and accessories.
OH&S regulations and safe working environment
There have been serious incidents of heat stress involving hospitalisation or even death, increasing the need for the mining sector to consider their procedures for protecting workers and for dealing with situations where workers develop heat-related illnesses.
Government recommended
In 2012 DEEDI-Mines (Safety and Health), in conjunction with the Mining Health Improvement and Awareness Committee (HIAC), have coordinated a seminar on risk management of heat exposure and recommended CamelBak hydration systems as a way managing hydration levels.
Prevent heat stress and drink more water
In industrial heat-stress environments, the body cools itself by perspiring. Sweat depletes the body's sodium and electrolyte levels that are an important component in proper hydration. Without water workers become dehydrated and heat stress can be imminent. Remember, by the time you are thirsty, your body is already dehydrated.
Hands-free hydration packs
CamelBak hydration packs give you hands-free access to water and keep your eyes and focus on the job at hand so you can drink cool, clean water while working. They carry up to 3l of water in a leak-proof, slosh-free reservoir system and do not require constant refills. They are also ergonomically designed to wear all day long.
Bite valves
All of our packs are equipped with a Big Bite Valve™, which was chosen to be integrated into the drink bag of Nasa's spacesuit. As it was easy to use, self-sealing and, most importantly, could stand up to extreme, out-of-this-world conditions. Since then, CamelBak has been hydrating astronauts on their missions using the same valve on all of our bottles and hydration systems.
Hydration packs with tear-away harness
CamelBak's tear-away harness system helps prevent accidents while workers are in close proximity to machinery and moving parts.
Anti-microbial technology
All CamelBak reservoirs come equipped with HydroGuard, our own specially-designed weapon to fight bacteria and fungus growth. Our HydroGuard Anti-Microbial Technology, and embedded FDA-approved and EPA-registered silver ion compound, eliminates up to 99.99% of common bacteria and fungus on reservoir and tube surfaces.
Got Your Bak guarantee
CamelBak has built its reputation by engineering products that exceed consumer expectations for quality and durability. In 2011, CamelBak introduced the Got Your Bak™ lifetime guarantee for all reservoirs, backpacks, bottles and accessories. The Got Your Bak™ lifetime guarantee covers all reservoirs, backpacks, bottles and accessories from manufacturing defects in materials and workmanship for the lifetime of the product.
Sea To Summit Distribution