Garlock
Gaskets, Gland Packing Products and Fluid Sealing Products for the Mining Industry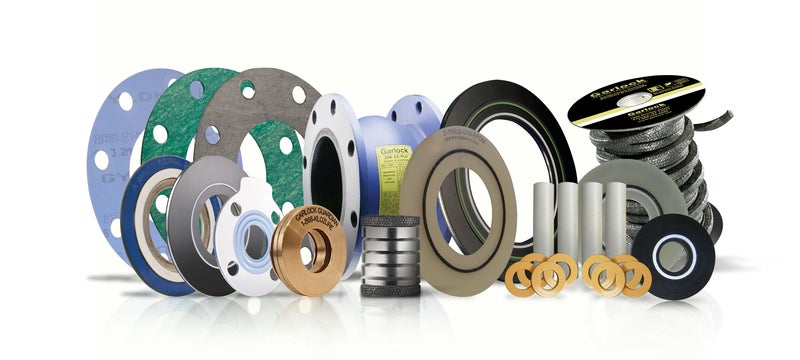 Garlock offers sealing solutions for heavy-duty performance and reliability in all mining industry conditions.
Garlock aims to increase operational efficiency and profitability through a decrease in downtime, and water and energy consumption.
Robust gasket and gland packing solutions for mining applciations
Garlock's seals and gaskets are designed and constructed to resist extreme erosion and corrosion. They are capable of withstanding abrasive materials and extremely high-pressure environments. The company's seals and gasketing products deliver the additional safety and reliability demanded by the mining industry.
With local manufacturing backed up by an international network, Garlock Australia and New Zealand stocks and produces gaskets; compression packing; diaphragms; metal, rubber and fabric expansion joints; metallic gaskets; oil seals; bearing isolators, and are the authorised distributor for PIKOTEK® and Link-Seal® products.
Flexible graphite and restructured PTFE gaskets to combat creep relaxation
Garlock gaskets are available in a wide range of materials, including GYLON®; a type of restructured polytetrafluoroethylene (PTFE) gasket manufactured to eliminate the creep relaxation problems that usually affect such products.
Gaskets are also available in flexible graphite gasket, or GRAPH-LOCK®, which excels in withstanding high temperatures, high pressures, and aggressive chemicals.
The MULTI-SWELL™ gasket has international water authority approval for use in potable water applications.
Flange isolation kits to aid in electrical isolation
PIKOTEK flange isolation kits are designed to work with the isolating gaskets to complete the electrical isolation of a flanged assembly.
Garlock's isolation process provides the user with a high-reliability solution to complete the electrical isolation. The VCS gasket is ideal for both insulating and general sealing purposes in very critical services. The VCFS is fire-safe and has passed the API 6FB, 3rd Edition fire test.
Durable, leak-proof monolithic isolation joints
The ElectroStop® monolithic isolation joint serves as a positive leak-proof, durable block against the flow of electric current in all piping systems.
When the ElectroStop isolation fitting is installed underground, maintenance costs are substantially reduced, which is an especially important feature for system operators and engineers. This product eliminates short circuits, field assembly, and is less expensive than a jointed flange with isolation gaskets.
Long-lasting pump and valve diaphragms, improving service- life
The company has an extensive, long-lasting line of pump and valve diaphragms. These range from pure PTFE to one-piece bolt-on PTFE bonded rubber diaphragms.
Garlock ONE-UP® pump diaphragms contain high-performance PTFE GORE® sheet on the wetted side, and have significant advancement over conventional PTFE diaphragms. These pump diaphragms are stronger, and provide a vast improvement in service life.
Rubber expansion joints suitable for abrasive applications
Garlock expansion joints offer excellent performance, reliability, and service life. This in turn improves plant safety, increases the mechanical integrity of equipment, and allows you to gain a competitive advantage in the marketplace.
The ABRA-LINE™ range of rubber expansion joints is developed for highly abrasive applications and is ideal for the oil and gas industries.
Leak-free pump compression packing solutions
The company's compression packing products are designed to give clients the greatest return on investments in terms of leakage control, service life and higher cost-efficiency.
Pump packing helps users achieve a leak-free sealing system that saves water and energy. Valve stem packing is suitable for fugitive emissions service and superior chemical resistance.
Synthetic fibre packing products have also been developed for low-cost general industrial services.
All-rubber and metal-cased oil seals
Garlock Klozure® oil seals are available in an extensive variety of configurations to meet the requirements of the oil and gas, and mining industries.
MILL-RIGHT® materials are used on all elastomeric seals for superior bearing protection. Oil Seals are offered in more than 50 unique styles, in sizes from 0.25in to more than 90in, solid or split, metal-cased or all-rubber. Mill-Right elastomers provide longer service life than their predecessors.
About Garlock
Operators can rely on Garlock's sealing solutions to increase operational efficiency and profitability through reduced energy and water consumption, as well as downtime.
Garlock's South Pacific operations have warehousing and production facilities in Perth, Sydney and Gladstone in Australia, as well as Auckland, New Zealand.
The company has one of the widest distribution networks in the region, helping clients in the handling of their sealing requirements and consequently protecting the environment, while also increasing customer's profits.
Press Release
The Intellectual Property Office of Australia has officially accepted the THERMa-PUR™ gasketing material patent.
Read more