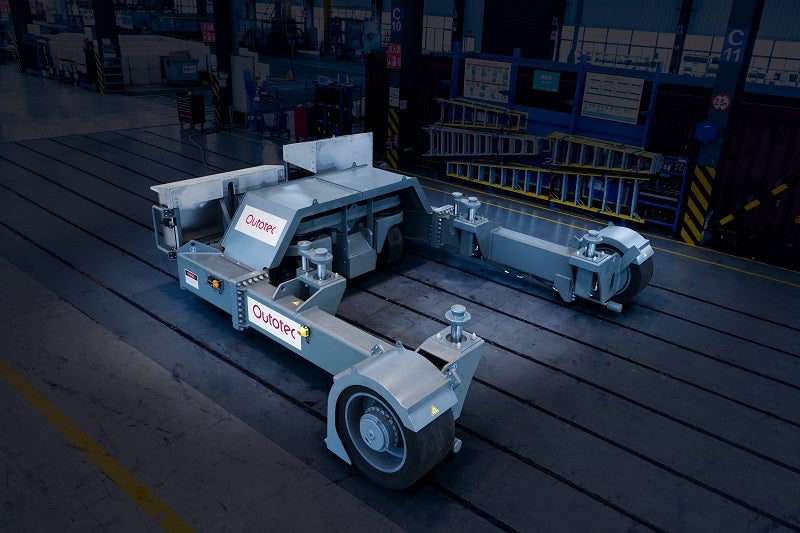 Outotec's commitment to facilitating safe, reliable, and efficient mill relining continues with the release of the Outotec® Mill Equipment Transporter (MET) and Outotec® Tube Mill Reline Machine (Tube MRM). Both products focus on maximizing functionality and include many features that are brand new to the industry. They also come equipped with safety-rated control systems to protect personnel and user-friendly interfaces to keep maintenance and downtime to a minimum.
Outotec Mill Equipment Transporter
Transportation of grinding mill feed chutes is a critical part of maintenance procedures such as mill relining. The Outotec Mill Equipment Transporter (MET) is a specialized mobile unit for the safe and reliable transportation of feed chutes and other challenging loads.
The combination of independently driven wheels and independently controlled rear steering enables the MET to turn on the spot. The pivoting rear axle ensures that all four wheels are always in contact with the deck, while the large rubber tires optimize load distribution.
Built-in safety systems ensure that loads are kept within the unit's rated capacity while monitoring the load's centre of gravity to ensure stability. The multi-language display makes it easy for operators to monitor the machine's status and review any system alerts.
Key benefits
Protects personnel from unnecessary risk due to load instability or unexpected machine movement
 Provides feedback during operation with machine status and other information shown on a user-friendly display
 Compatible with smaller mill deck designs than traditional feed chute transporters
Backed by comprehensive after-sales support via Outotec's global service network
"Outotec's mill reline equipment product range is built on a drive to innovate in relining safety and technology and the MET is a great example of this – its novel steering system and suite of safety features will enable new levels of safety, efficiency, and convenience in feed-chute transportation," says Jared Le Cras, Technical Product Manager, Mill Reline Equipment, Grinding business line.
Outotec Tube Mill Reline Machine
The Outotec Tube Mill Reline Machine (Tube MRM) is a compact relining solution for smaller SAG and ball mills. The patented tube design minimizes the required mill opening size while maximizing the usable open area for liner delivery. The Tube MRM provides fixed three-axis hydraulic crane support that ensures stable lifting and minimizes time lost during mill inching.
The high capacity crane streamlines the relining process by allowing large liner designs, while the simple tube support structure decreases both maintenance requirements and machine cost due to the reduced number of moving components. Maintenance is further simplified thanks to the built-in multi-language display that provides diagnostic information for all aspects of the machine.
A range of safety systems is equipped as standard to provide the highest possible level of protection for personnel. Rated capacity limiting and installation monitoring mitigate the risk of instability and overload during operation, while remote-control operation and hydraulic spool monitoring prevent unexpected machine movement.
Key benefits
Enables safe relining of smaller SAG and ball mills unsuitable for traditional reline machines
Easier navigation of small mill decks enabled by four-wheel drive and tight steering angle
User-friendly operation with multi-language display
Lower capital cost and simplified maintenance due to simple tube structure
Backed by service solutions that maximize performance and productivity throughout the mill lifecycle
"Historically, smaller-diameter grinding mills have been relined by hand or with a limited-capacity mast-type handler or another makeshift arrangement. Our novel design provides the safety and speed of a conventional reline machine at an optimal price point for small to medium-sized mills," says Bjorn Nielsen, Director, Product Management, Grinding business line.