Outotec Minerals Processing Solutions
Sustainable Use of Earth's Natural Resources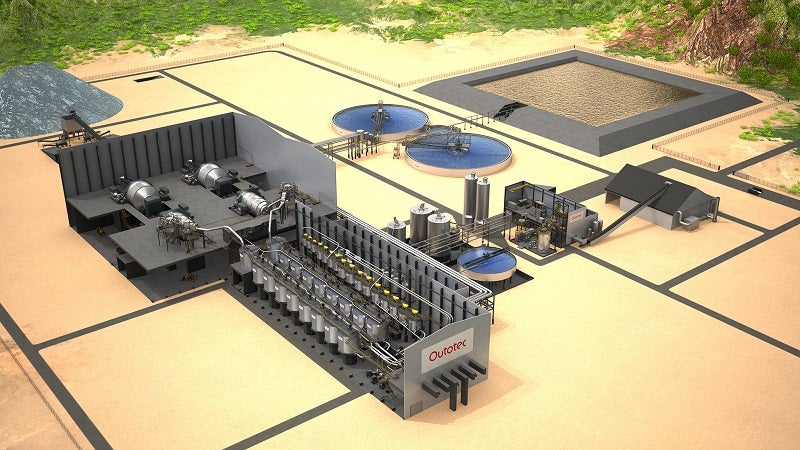 Outotec provides complete mineral processing solutions that are customised to your specific requirements. The comprehensive portfolio of various technologies treats virtually all ore types efficiently and cost-effectively.
With more than a century of experience in the mining sector and a mindset to continuously develop new and innovative technology, Outotec has the expertise and capability for designing, supplying, and constructing modern state-of-the-art mineral processing plants with fast and reliable ramp-up to meet any requirement.
Outotec´s global network ensures close collaboration with customers worldwide during the entire plant lifecycle.
Mineral processing applications
Outotec provides front-line process solutions for a wide variety of mineral processing applications:
Base metals
Precious metals
Iron ore
Chromite and ilmenite ores
Different industrial minerals
Smelter slags
Outotec offers solutions from equipment to complete production plants, always tailor-made to the customer's needs. Combined with our proven technologies, our extensive mineral processing experience and industry knowledge with multiple plant references make us a unique strategic partner in the mining industry.
Focusing on minerals processing, metals production and technology development, our in-house R&D facilities feature state-of-the-art laboratories and pilot plants for challenging extractive metallurgy and minerals processing testwork. Our innovative HSC Chemistry® software effectively simulates processes by using the data received from the testwork.
Proprietary equipment for mineral processing solutions
The demand for ever increasing capacities requires reliable and high throughput machinery. The Outotec range of equipment meet the requirements of any application. We offer an extensive range of grinding mills, flotation cells, and dewatering equipment with a high level of automation and process control to optimize plant performance.
Grinding mills
Outotec's comminution equipment includes autogenous (AG) and semi-autogenous (SAG) mills, rod mills, ball mills, and pebble mills.
A wide variety of mill designs are available to suit your specifications in either greenfield projects or existing operations as upgrades.
We have expanded our grinding mill portfolio with the Outotec High-Intensity Grinding Mill (Outotec HIGMillTM) for fine, ultra-fine, and regrind milling applications.
Flotation machines
Outotec's flotation solutions are tailor-made to customers' needs; be it a question of flotation packages with support services, modular process sections or concentrator solutions.
FloatForce®, Outotec's innovative flotation mechanism, improves metallurgical performance and reduces the energy consumption of flotation operations. This rotor-stator design can be directly retrofitted to Outotec's OK, TankCell® and SkimAir® flotation cells to improve their mixing profiles and solids suspension.
Thickeners
Outotec is a leading manufacturer of thickening and clarifying solutions for the minerals industry. Our Outotec® High Rate Thickener has pioneered thickening and clarifying methods worldwide.
A number of significant thickening advances include:
Low-profile triangular rake arms to decrease rake torque
Outotec Directional Autodil™ and Outotec Turbodil™: the world's first thickening systems to auto-dilute feed, which effectively optimises flocculant consumption and performance
Outotec FrothBuster™: a deaerator  that reduce the amount of froth forming on the surface of thickeners, automatic de-scaling of thickener rakes, and the complete redesign of thickener drives to use low-cost, efficient epicyclic gearboxes
Outotec Vane Feedwell™: a major innovation in the thickening industry, it incorporates a cutting-edge design, and features interconnected upper and lower zones.
Filters
Outotec is a leading industrial filtration solutions provider with full after sales services for solid-liquid separation. Mining and metallurgy, chemical process, and related industries benefit from our high-efficiency process technologies, products, and solutions.
Outotec Larox® filtration technologies are based either on overpressure, including automatic vertical pressure filters, horizontal filter presses, and polishing filters, or on under-pressure, including horizontal vacuum belt filters, ceramic disc filters, and conventional vacuum disc and drum filters. Most of the products have served the markets for several decades and all are supported by Outotec services.
Analyzers and automation
Outotec is a leading supplier of intelligent instruments, sampling systems, and advanced process automation for mineral and metal processing industries. Among the most well-known Outotec products in this field are Outotec Courier® on-stream XRF analyzers that enable the real-time assaying of slurry process streams of all types of mineral processing plants.
Online particle size analysis by Outotec PSI®, combined with advanced control enables optimum grind size with maximum throughput to be maintained regardless of variations in feed quality.
The Outotec Proscon® and Outotec ACT (Advanced Control Tools) are process control systems and optimizing solutions for unit processes and complete processing plants. The systems comprise design, implementation, maintenance, and all the necessary hardware and software.
Outotec Minerals Processing Solutions Images