MINTECH supplies blasting accessories to the global mining, quarrying and civil construction industries.
We offer a wide range of solutions, including aerosol and non-aerosol gasbags, underwater mechanical decking devices and blasthole liners for open pit mining.  We also have non-hazardous gasbags specifically for underground coal mining.
MINTECH specialises in the development and production of aerosol and non-aerosol (chemical) gasbags for a variety of open pit and underground blasting applications. We also provide compliant gasbags for underground coal mining applications.
We have collaborated with various mining companies and regulatory authorities to develop our solutions, including: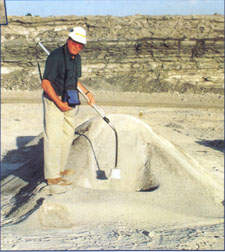 Borehole depth sounders measure and record depths to within 0.5m.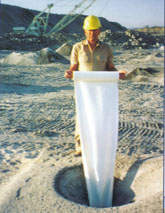 Miners use stemliners for processing dewaterable blast holes.
Kyoto protocol compliant aerosol gasbags
Non-hazardous and non-aerosol 'Snapper' chemical gasbags
Underwater decking unit 'Aquadeck'. When blastholes cannot be dewatered the Aquadeck provides a method to deck at any depth underwater in the blasthole.
Tailored and cut to length Stemliners or Continuous roll Stemliners. This allows the use of ammonium nitrate/fuel oils (ANFOs) instead of expensive waterproof explosives for dewaterable blast holes
Borehole depth sounders that sonically measure and record blast hole depths to within 0.5m, avoiding time-consuming manual depth measurements
Open Cut Blasting Applications
Gasbags
MINTECH created the aerosol gasbag more than 25 years ago.  The Mintech gasbag revolutionised the blasthole loading procedures in open cut mines.  It enabled miners to simplify and improve their drilling and blasting applications.  As a result enhanced highwall safety through effective pre-splitting was attained, also increased diggability was gained through more consistent fragmentation in bench blasting plus noticeable savings in bulk explosives costs.
Mintech's latest gasbag is our 'Snapper' gasbag.  This unit is non-aerosol, non-dangerous goods and has non-flammable inflating gas.  The "Snapper" was developed to increase safety in all aspects of transport, storage, handling and usage.  There is no aerosol therefore there is no stored energy.  The unit can be left in the sun without fear of aerosol canister explosion.  The chemicals are basic food industry ingredients that produce a non-flammable and non-toxic gas for gasbag inflation.  An added benefit is the absence of a metal aerosol canister.  This aerosol canister absence eliminates any downstream treatment plant stoppages due to metal detector activation.
Both versions of the Mintech gasbag have a high-strength, self-inflating balloon that can lock off in a borehole and bear heavy loads (tested to 4 tonnes) for extended periods of time. It can also be used to seal off nuisance water in the borehole to enable ANFO optimisation as an alternative to water-resistant explosives. The MINTECH gasbag reduces operating cost, increases safety and assists with environmental compliance.
Aquadecks
We have developed the non-hazardous Aquadeck to facilitate underwater decking applications in non-dewaterable blast holes. The Aquadeck solution allows the design decking to be continued across the whole blast area, regardless of water level conditions and dewatering pump availability.  The unit is a geometrically designed pair of hinged plates that grip the wall of the blasthole without affecting any downlines.
Benefits of the Aquadeck include:
No storage, transport or handling restrictions
Lightweight
Easy to handle
No aerosols or compressed air required
Unaffected by extreme climates
Additionally, when a temporary access is required across drill patterns, the Aquadeck can be installed at the top of the blasthole to provide blasthole protection, minimise waste and reduce the risk of blasthole blockages. The Aquadeck can later be recovered and reused elsewhere.
Underground Gasbags
Mintech have developed two types of chemically activated gasbags primarily for underground coal mining applications.  The units are non-hazardous and therefore they totally comply with the safety requirements associated with underground coal mining.
The first unit is designed to operate in a horizontal application (+/- 20deg.).  Its prime purpose is to seal off gas drainage boreholes.  The unit can also be used to seal off moderate water inflow from boreholes that intersect the mine workings. With minor modification the gasbag can be adapted to contain explosives in up-hole loading operations.
The second unit is designed for insertion of a standpipe plus sealing off the annulus between the standpipe and the borehole wall.  The unit provides immediate standpipe sealing so that grouting, if required, can be followed up in due course.
Stemliners
The Mintech 'Stemliner' is a rugged 3 layer combination of polyethylene resins co-extruded to produce a layflat film of +200micron thickness which is impermeable to water, diesel and other chemicals used in bulk explosives.
The Stemliner is available in two forms to suit two different installation methods.
The first form is a cut to length Stemliner.  The cut length is according to customer requirements. Each Stemliner is wound onto a PVC tube core.  The leading end of the Stemliner is contained within a 1.5m scuff protector made from woven layflat PE tube. The scuff protector has a "cuttings" pouch to weight the end of the stemliner and provide for correct location of the stemliner at the bottom of the blasthole.
The second form comes on a continuous roll.  The roll length is 220m that can be safely lifted by two people.  The roll is mounted on a frame attached to a suitable vehicle used by the blast crew.  Cuttings are placed in the open end and is sealed generally by folding and using 'zip' ties.
Both forms of the stemliners are lowered to the base of the hole, then cut to leave around a 1.5m excess protruding from the blasthole which is then attached to a lightweight frame set up over the blasthole.  
Borehole Sounders
Borehole depth sounders sonically measure the depth to the base of the blasthole or to the depth of a surface e.g. water.  The depths are recorded to within 0.5m, avoiding time-consuming manual depth measurements under normal circumstances.  Blastholes containing excessive water may require manual measurement to ascertain the water depth.
Quality assurance for blasting solutions
MINTECH strives to meet customer requirements.  We can also develop custom-specific, high-quality solutions, which comply with ISO 9001 accreditation standards.
We have qualified technical and support staff that are experienced in the mining, quarrying, explosives and plastics industries.
About MINTECH
A wholly Australian owned company that has been operating for over 30 years.   MINTECH has established joint ventures in the UK, the US, South Africa and India.
We have access to a wide range of drilling and blasting applications that have provided effective solutions in challenging environments.