Indodrill Group
Professional Drilling Services, Drill Rig Equipment and Project Management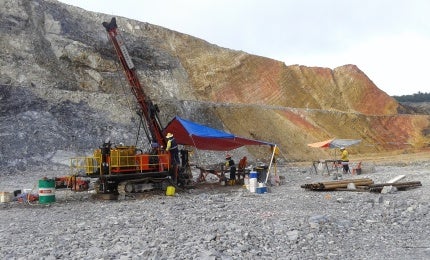 Indodrill Group offers a comprehensive range of drilling services and project management support to the mining industry, to deliver optimum results in the shortest possible contract time. The company's portfolio of innovative rigs ensures that it is well-equipped to meet the most demanding and specific of customer needs.
The company's staff has extensive international experience in coal and mineral drilling, mineral exploration drilling, onshore and offshore geotechnical drilling, site investigation and stratigraphic drilling.
Wireline drilling for surface and underground
Wireline coring provides high-quality samples of drilled formations. The core samples are removed from the hole using a wireline inner tube retrieval system.
Wireline drilling utilises diamond core bits in industry standard core sizes of BQ, as well as PQ, HQ and NQ, which are available in triple-tube to maintain the quality and integrity of samples in unconsolidated ground.
Surface and underground directional drilling
Directional drilling is used to accurately intercept targets at depth. This is achieved through extensive forward planning and execution using down-hole wedges, down-hole motors and core barrel selection.
Directional drilling can save costs when producing multiple intercepts in deep targets zones or performing remedial work.
Reverse circulation and multi-purpose drilling
Reverse circulation drilling uses compressed air and, usually, a down-the-hole hammer.
Compressed air is pushed down the rod, which allows the hammer to break up rock. The air and rock sample rises from the hole through the inner tube and is collected at the surface.
Multi-purpose drilling allows operations to use a single drill rig to undertake reverse-circulation and wireline diamond methods.
Water-well and ground water drilling
Water bores are used in environmental investigations, obtaining potable water supplies and construction and mine dewatering.
Water bores require strict standards so stringent planning is essential.
Grade control drilling for assays and mine planning
Grade control drilling supports operations with mine planning. The method uses reverse circulation and diamond core samples, which are sent to an on-site assay laboratory to determine mineralogy.
High-frequency sonic drilling with no contamination
Indodrill Group has a partnership with GeoSonic Drilling enabling the company to offer its customers access to sonic drilling rigs.
High-frequency vibrations produced inside a drill-head resonate through the dual skin drill pipe and open-core bit. A hole can be advanced without the need for fluid or air, to produce a sample free of chemical or fluid contamination.
Environmental testing and monitoring
This is recommended for samples used in testing for contamination in groundwater, or to drill monitoring wells. Wells may be drilled for the treatment of groundwater or to confirm the presence of ground aquifers.
Indodrill Group undertakes environmental drilling using hollow stem augers, soil probing with weight drop, direct push window sampling and sonic drilling.
Geotechnical drilling
Geotechnical drilling includes mud rotary, hollow-stem auger, diamond coring and roto-sonic methods. This service is mainly used in the civil and engineering industries to determine ground formation suitability and stability and establish requirements before beginning planning stages.
Coal bed methane and coal seam drilling
Coal bed methane or coal seam gas (CSG) drilling is used for the exploration and production of bores in coal seam zones, using air or mud rotary systems.
Bores can be used to de-gas a working mine or produce coal seam gas (methane) for industrial use.
CSG exploration must be performed in accordance with core handling procedures, while CSG drilling must meet Well Control Methods and Standards. Detailed planning is necessary and state or territory laws may apply.
Drill rig equipment
Indodrill Group continually updates its portfolio to provide innovative designs and the latest hydraulics technology. The catalogue lists available equipment covering man-portable and heli-portable products, as well as underground, track-mounted and sonic tools.
Drilling project management and procurement services
Indodrill Group's years of experience in the drilling industry makes it the ideal partner for major projects.
Indodrill Group's project management service provides customers with assistance and advice from start to finish of a project. This approach ensures that the operation runs smoothly and that the end result meets the customer's specifications.
The company's procurement and supply service helps customers obtain any and all geological exploratory equipment and materials they require for drilling programmes.
Indodrill Group's non-exclusive alliance with industry supplier, Indexss, gives the company access to high-quality components, cutting-edge manufacturing facilities and talented design engineers; connecting clients with custom designs and great value.
About Indodrill Group
Indodrill Group was formed in Indonesia in 1993 and today is one of the leading drilling contractors in South East Asia, with its headquarters in Singapore and six offices throughout the region.
The company is continually growing and recently opened an office in Scotland to service the EMEA regions. Indodrill Group operates the latest drilling technology and is committed to safety and environmental protection standards.
Indodrill Group Holdings Pte Ltd