GDS Group
Customised Drilling Technology for Mining Technology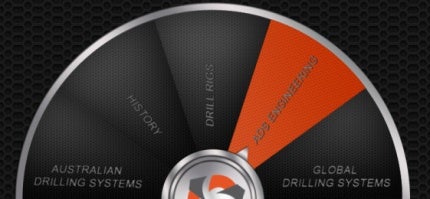 Drilling equipment and services for underground mining
Founded in 2010, GDS Group of companies has quickly developed into one of the major suppliers of drilling equipment, parts and services in the underground coal mining industry both domestically and abroad.
GDS Group consists of the following entities:
Australia
Australian Drilling Systems (ADS), a world leader in the directional drilling sector, providing complete drilling solutions that exceed client expectations, such as:
Directional drilling services, including rig systems, equipment, and staffing covering all aspects of drilling such as hole design and implementation
Hire of drill rigs and equipment on short-to-long-term contracts
ADSE, which continually develops products to support the contract drilling services of ADS, using the latest advancements in products and back-up service capability. The company offers:
Engineering, manufacturing and supply of complete directional drill rig systems and associated consumables
Comprehensive design and engineering of drilling equipment to meet client specific requirements
Complete overhaul and servicing capabilities for coding of drilling and related equipment
A complete rig testing facility that records all operating parameters and capabilities prior to equipment dispatch
Asia
Global Drilling Systems Ltd (GDS) is the group's international arm overseeing directional drill systems supply and services to international markets. GDS is the joint venture partner to the company's operations based in China.
Shanxi Jinding Gaobao Drilling Company, a joint venture company with one of China's leading mining groups, Jincheng Anthracite Mining Group (JAMG), based in the Shanxi province, China. The firm offers:
Sales, services and manufacturing capabilities of directional drilling systems for domestic markets in China
Contract directional drilling services in China
Engineering consultation and product development to the joint venture's parent company
Directional drilling equipment and rigs
GDS Group has a suite of equipment proven to deliver, satisfy and exceed its clients' requirements, and positioning it for future development.
The GDS directional drill rig range has the advantage of matching the capacity of its competitors while remaining a more compact, nimble machine. The company engineers and designs equipment to meet clients' specific needs, offering a complete drilling project solution.
Inseam drill rigs
The group's directional drilling portfolio includes:
The 1538 inseam drill rig, which has a compact assembly with a 15t push / pull capacity and 3,800 Newton meters (Nm) of rotational torque. With a drilling range of up to 1,200m, coupled with a compact, in-house, modular design, the 1538 is suitable for a range of operating conditions. The rig can be track, skid or rail mounted
The 2338 inseam drill rig has a push / pull capacity of up to 23t and a drilling range more than 1,500m. The 2338 can be supplied as a standalone rig, or coupled with the mating 2338 power pack, effectively silencing the rig. Track-mounted and with increased drilling capacity, the 2338 inseam exceeds end-user requirements
In contrast, the 2338 cross measure drill rig has the same capacity and range as the inseam model, while offering greater versatility for areas where space is a priority, through its slew and tilt functions. A skid-mounted rig, the 2338 cross measure can be set-up with its accompanying power pack, to ensure roadways are not compromised
The 0838 is a newly designed directional drill rig system with an 8t push / pull capacity and drilling range of up to 600m. It is a track-mounted rig with the ability to tilt, slew and raise the feed frame assembly. The 0838 is one of the most versatile rigs on the market, ensuring success for all short-to-medium drilling operations
The 2040 inseam modular rig has a max. 20t push / pull capacity, with a drilling range up to 1,500m. Due to its in-house, modular construction, the 2040 is an extremely versatile rig with unmatched torque and capacity for its size. The 2040 can be skid, track or rail-mounted, and can be coupled in differing configurations as per the client's requirements or the application's needs.
Drilling services for the mining industry
The GDS Group of companies draws on 50 years of collective experience of individuals who have been involved with the development of underground directional drilling and the underground mining industry.
GDS's core business is providing safe, accurate and efficient inseam contract directional drilling to the underground coal mining industry.
GDS specialises in directional drilling for gas and water drainage, exploration, barrier proving, compliance coring and related gas / water drainage tasks. The company uses modern equipment with the latest in touchscreen survey systems, and engages a registered mine surveyor to prepare all flight plans, as well as to process and validate recorded data and produce end-of-hole reports. Project teams are structured to address the client's specific priorities, control risk and deliver results on time and budget.