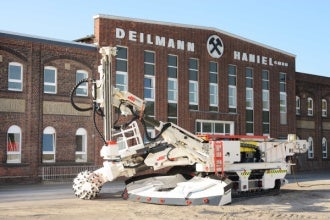 In early 2015, Deilmann-Haniel Mining Systems GmbH (dhms) delivered one first roadheader dh R60t for roadway development at a new hard coal mine in Turkey. Two more roadheaders dh R75t followed in April and July.
All three machines have been ordered by Hema Energji Inc, an affiliate of Hattat Holding Enerji Group, which is building a new coal mine with three vertical shafts named the 'Amasra Hardcoal project', at the Black Sea Coast in northern Turkey.
In a depth of approximately 700m, high-quality hard coal will be extracted mainly for a thermal power plant. It is the biggest new construction project in hard coal mining in Europe. The mine has a reported reserve of 573 million tonnes.
Due to the challenging development conditions with rock strengths (UCS) up to 120MPa heavy powerful roadheading machines with low-height design are needed.
Special characteristics of the chosen roadheaders are:
Onboard drilling and bolting device
Telescopic cutting boom
Low machine height
External water-mist sprays on the cutting head
Automatic stabilisation system for improved stability during cutting
Low floor pressure relative to the machine weight
The low machine height ensures that the same equipment can be used to drive low-profile and high-profile roadways, such as main gates and tail gates, as well as arch-section and rectangular headings and coal face development headings with low roof heights.
Wide-based chassis and the resulting low floor pressure facilitate manoeuvring on soft roadway floors. The telescopic cutting boom also allows the cutting head to sump into the heading face, thereby reducing wear and tear on the machine chassis and helping to protect the roadway floor.
The integrated drilling and bolting system enables quick and accurate hole positioning every time. As well as conventional bolting positions in arch-section and rectangular roadways the drill feed can also move to any conceivable drilling angle in the drivage direction, as may be required for exploration and reinforcement work or additional blasting. High-performance hydraulic rotary drills from the dh DR series or the dh DP15 drifters ensure short drilling and bolting cycles no matter what bolting method, bolt length or bolt design will be applied.
The scope of delivery for each of the three roadheaders consists of one tailor-made bridge belt conveyor system and a de-dusting unit. For training of the local mine staff and to support the roadheading operations the machines will be accompanied by dhms technicians during the first four months.
---
Image: A roadheader dh R75t ready for shipment. Photo: courtesy of dhms.
Extreme robustness, high cutting rates, low height design, less spray-water consumption and uniquely integrated drilling...