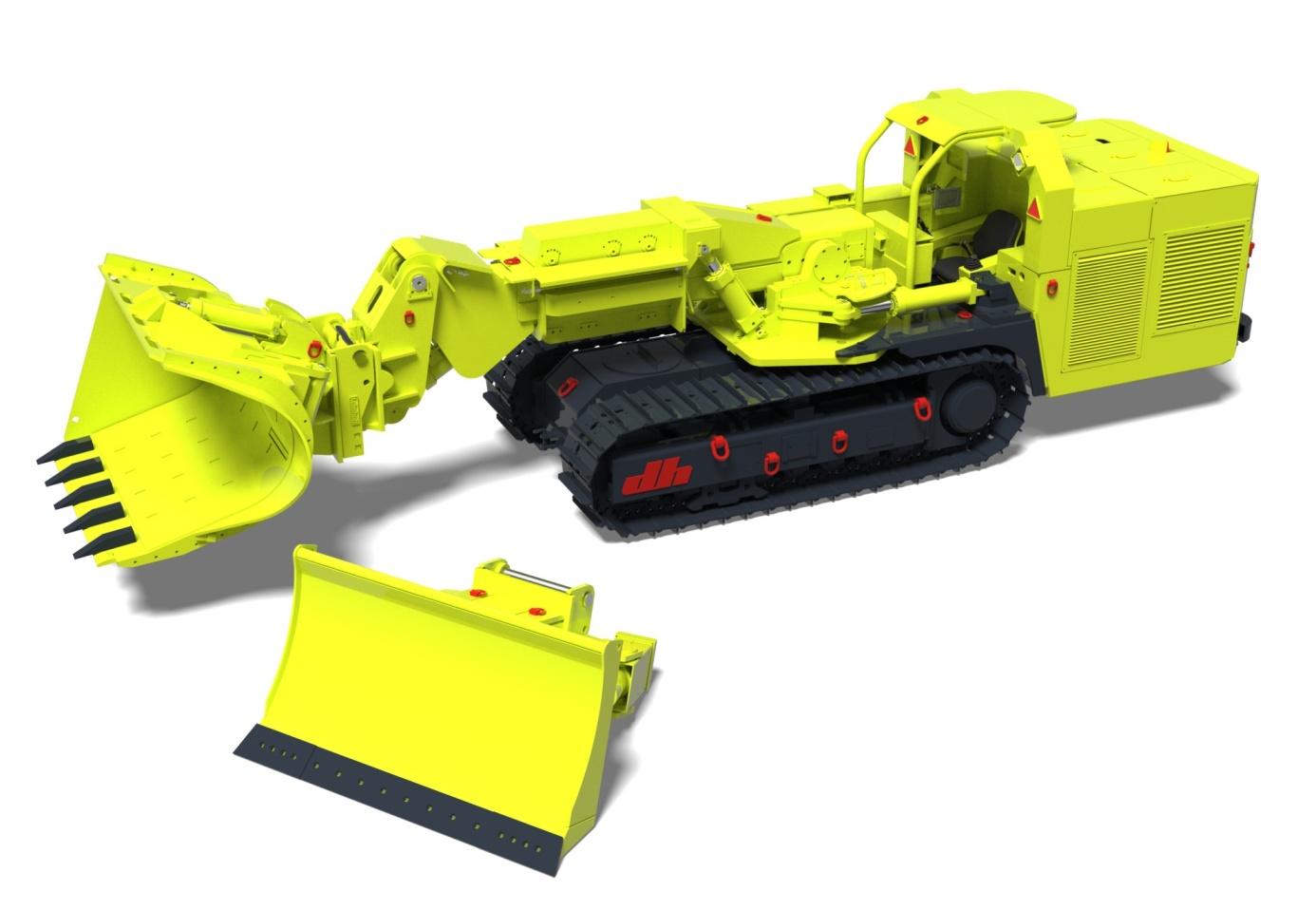 In March, Deilmann-Haniel Mining Systems GmbH (dhms) delivered a multi-purpose crawler named dh L2000d for backfilling operations to the German Company for the Construction and Operation of Repositories for Waste (Deutsche Gesellschaft zum Bau und Betrieb von Endlagern für Abfallstoffe mbH – DBE).
This innovative crawler dozer with a weight of 28t is used at the former iron ore mine Konrad located near Salzgitter in Lower Saxony, which is currently being prepared to become a repository for low and intermediate-level nuclear waste with negligible heat generation.
The backfilling of underground roadways has to be done with close roof contact with a backfilling rate ≥ 95%. Roadway inclination in backfilling areas added to the inclination of the muck pile is up to ±25° (47%). Based on the largest class of dhms side-dump loaders a low-profile, multi-purpose crawler with a swiveling telescopic boom was developed especially for this task.
It features a quick coupling device for change between dozer blade and side-dump bucket. The crawler tracks are equipped with 500mm-wide special base plates in order to achieve the necessary traction forces.
Plunger cylinders at the dozer blade ensure an adjustment of 20° to both sides and allow backfilling along the roadway axis with a swiveled boom (also 20° to both sides), so the roadway sides can easily be backfilled also when the crawler is moving along the roadway axis.
For mobile use, the dh L2000d is equipped with a diesel hydraulic drive. The four-cylinder in-line engine made by Perkins is equipped with turbocharger and charge air cooling. It has a total power of 129.4kW at a speed of 2,200rpm and meets the newest emissions guidelines Euro 4 (Europe) and EPA Tier 4 Final (US). The engine provides a maximum torque of 750Nm at a speed of 1,400rpm.
Precise and safe operation of the crawler is achieved by sensitive joysticks and an electric pilot-operated hydraulic system. The ergonomic driver's compartment (FOPS/ROPS) includes a LCD display showing all operating states and picture of rear camera.
A central lubrication system facilitates maintenance operations. Fire prevention is ensured by an integrated fire extinguish system. The modular design of the multi-purpose crawler with mining appropriate transport dimensions enables a quick transport and a short installation time.
Additional attachment tools such as drilling / bolting devices, long-hole drilling devices, hydraulic breakers, as well as cutter heads are available for further mining and tunnelling applications.
---
Photo: View of the dh L2000d with side-dump bucket and dozer blade. Image: courtesy of Deilmann-Haniel Mining Systems.
Extreme robustness, high cutting rates, low height design, less spray-water consumption and uniquely integrated drilling...