Deilmann-Haniel Mining Systems
Roadheaders, Drill Rigs, Loaders and Tailor-Made Machinery for Mining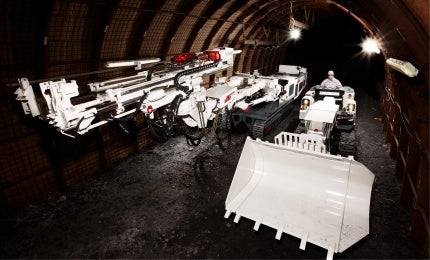 Deilmann-Haniel (dhms) specialises in the construction of machinery and equipment for mining, shaft sinking, tunneling and the metallurgical industry. The company's real strength lies in the provision of individual engineering services.
Compact roadheaders
The new, compact Deilmann-Haniel roadheaders have been specially designed for the challenges posed by development drivage work in coal mines. Also, customised versions of dhms roadheaders are used in mineral mining and underground construction projects. Currently three basic roadheader models are available with machine weights from 61t to 79t and cutting power ranges from 160kW to 200kW.
The integrated drilling and bolting system makes for quick and accurate installation of rock bolts. As well as conventional bolting positions in arch-section and rectangular roadways the drill rig can also adopt any conceivable drilling angle in the drivage direction, as may be required for exploration or reinforcement work.
The telescopic cutting boom fitted to the dh R60t and dh R75t models facilitates the cutting head to sump into the face, thereby reducing wear and tear on the crawlers and helping to protect the roadway floor.
With their low floor pressure due to wide-based crawlers and low water consumption (20l/min) of the water-mist spraying system, dhms roadheaders are very easy to manoeuvre on soft and susceptible-to-water roadway floors. The absence of large quantities of spray water in the roadheading area is particularly beneficial when driving downgrade.
Powerful, wear-resistant drilling equipment
Deilmann-Haniel drill jumbos and drilling equipment are the result of a decade-long, worldwide employment in mining and tunneling. Rugged, durable and cost-effective, Deilmann-Haniel Mining Systems' drilling technique has been tried and tested around the world under the toughest operating conditions.
The fleet comprises crawler mounted, wheel or rail-bound jumbos as well as long-hole and special drill rigs and components, designed for mine-gas drainage or strata exploration.
Powerful, reliable and wear-resistant drifters and rotary drills ensure optimum adaptation to requested drilling or bolting applications. The dh DP15 drifter with 15kW impact power makes it easy to combine drifting, roof bolting and long-hole drilling. Available with male or female shank adapters and designed as one of the shortest drifters in its class, the dh DP15 stands for best utilisation of feed length. The hydraulic rotary drills of the dh DR and dh DK series are the universal drill drives for rock strata of low-to-medium hardness.
A choice of easily interchangeable drill feeds allows easy adaption of the numerous Deilmann-Haniel drilling devices to any roadway profile or drilling task.
Side-dump, dinting and multi-purpose loaders
Deilmann-Haniel side-tipping loaders are a key component in high-performance mine development drivages worldwide. The company currently produces four different models with various drive power ratings (37kW to 90kW), bucket capacities (0.3m³ to 2.0m³) and machine weights (6.5t to 25t).
Several years ago dhms began to equip its crawler-tracked loaders to operate as multi-purpose machines. Special quick-change attachments transform the basic carrier vehicle into a multipurpose machine in no time at all. As well as a range of bucket systems (side-discharge and box-type) the vehicle can be fitted with drilling and bolting devices, hydraulic breakers, cutter heads, service platforms and other devices.
One particular example of the new generation of dhms multi-purpose loaders is the dh L600 loader. This series of machines is equipped from new with a standard quick-coupling system that is designed for even easier and faster changeover of the different tools and attachments. The new system also allows the ancillary attachments to be fitted from floor level and then safely uncoupled again after use, without the need for any other tools.
Multi-purpose compact excavator for shaft sinking
Deilmann-Haniel multi-purpose excavators are being used for shaft sinking and mine infrastructure operations. Different buckets with capacities of up to 0.3m³ are available for a wide range of tasks. There is also a drill attachment with powerful hydraulic rock drills and numerous drill feeds and for various types of drilling and bolting applications available.
A hydraulic breaker can be fitted for scaling or breaking of rock material. The range of available tools now includes a manipulator unit for the accurate positioning of arch segments and rail track sections, fork arms for handling precast concrete parts, a hydraulic cutter head and a service platform.
With their optimised transport dimensions and convenient lifting points these machines can be moved quickly and easily to the shaft floor or to different parts of the mine. An opening of just 2,000mm is all that is needed for the excavator to pass down through the sinking platform.
Hoisting and sinking equipment for vertical and inclined shafts
Deilmann-Haniel provides complete shaft hoisting installations, a wide range of machinery and equipment for shaft sinking, shaft lining systems as well as shaft furniture. The scope includes tailor-made systems and components such as:
Hoists (Koepe and drum hoists), winders and winches
Shaft hoisting and shaft sinking headframes
Skips, cages, kibbles
Shaft insets, steel guides
Working platforms, shuttering formwork
Cactus grab systems
Multi-purpose shaft excavators
Shaft drill rigs
Contact Deilmann-Haniel for a customised study of your requirements concerning any type of equipment for roadheading, shaft construction and underground infrastructure work.
Deilmann-Haniel Mining Systems Images
Deilmann-Haniel Mining Systems GmbH