MB Crusher America
Material Handling Solutions for Mining Applications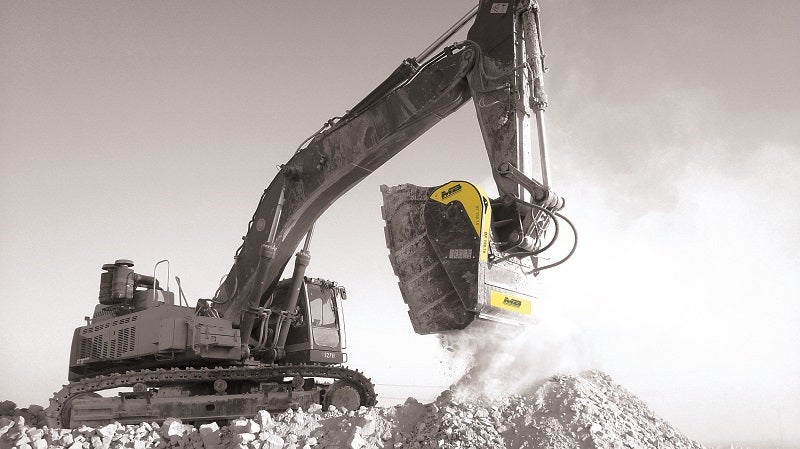 MB Crusher offers a product line of mobile jaw crushers and trommel screen attachments, dual head drum cutters, and 360° rotation grapples for several different industries such as mining, road, construction and environment.
The company's portfolio enables flexible crushing in limited access areas and narrow spaces, mobile screening of material, 360° rotation material handling and vibration-sensitive drum cutters for a range of applications.
Each product has been extensively researched, tested and verified to ensure clients will receive a reliable, durable attachment.
Jaw crusher attachments for the mining sector
MB Crusher manufactures the largest crushing attachment in the world, the BF150.10, which weighs more than 23,000lb.
Designed to crush rocks for mining and quarry applications, as well as hollow core walls, reinforced and non-reinforced concrete, stone, asphalt, and railway sleepers, these crushing attachments aim to increase field productivity rates and improve the productivity by reducing the costs related to material handling.
They can be equipped with a dust suppression system to reduce the effects of crushing and an iron separator to easily remove metal.
The crushing attachments are uniquely built with a low center of gravity for optimal balance on the excavator, reduced vibrations and strain of the arm or boom, and minimal vibrations on the client's carrier. With a well-researched and tested design and with over 16,000 units sold worldwide, MB's crushing attachments are easy-to-maintain.
The company offers a line of 12 jaw crusher attachments with an adjustable output based on the client's job specification needs. The four MB-L models are designed for skid loaders, loaders, and backhoes, while the other eight variants are designed for mini-excavators and excavators.
Trommel screening attachments
MB's trommel screening attachments allow for quick and efficient screening of mixed materials, quarry residue, dry soil, top soil, debris, and river stone. They are manufactured with an easy-to-assemble panel system that allow clients to change the output screen size when necessary; the screening attachment sports a conical shape basket to increase productivity and allows for sifting through material without residue.
The company offers a line of seven trommel screening attachments. The three MB-LS components are designed for skid loaders, loaders, and backhoes, while the four MB-S models are designed for mini-excavators and excavators.
360° rotation grapples for mining operations
MB's grapples are designed with an operational agility, high clasping power, and sensitive opening and closing capabilities.
These grapples have an inclined attachment system to allow for a greater range in movement. They have a rotation of 360° and selects materials with extreme precision.
The company's MB-G series features four different size grapple models for excavators.
Dual head drum cutters
MB's drum cutters are the only cutters in the world to feature a direct drive twin motor system, which gives significant advantages to clients in terms of resulting torque, compared with the standard geared technology.
These rotary drum cutters are also designed with a low center of gravity, which reduces the load, torsion and vibration of the excavator.
The company's MB-R series features three differently sized dual head drum cutter models for excavators for cutting, grinding, milling, tilling, dredging, and trenching applications.
About MB Crusher
MB Crusher is headquartered in Italy and has international subsidiaries in America, France, Brazil, Germany, Japan, India, and China. Through these subsidiaries, dealers, and distribution networks, MB exports to more than 150 countries and has sold over 16,000 MB products.
Its American subsidiary, MB Crusher America (MB America) was established in April 2010 and is located in Reno, Nevada. The company has a dealer and partner network to sell and distribute MB products throughout the nation.
In 2016, MB America received its General Services Administration (GSA) contract, making it an official federal government and Department of Defense (DoD) supplier of hydraulic attachments for federal organizations.
The full MB product line of crushing and screening attachments, grapples, and rotary drum cutters is available to federal clients.
Throughout the years, the company's products have been being used by Bobcat, Case, Caterpillar, Doosan, Hitachi, Hyundai, Ihimer, JCB, John Deere, Komatsu, Kubota, Liebherr, Merlo, New Holland, Sany, and Volvo equipment.
The company's machines are built with high-quality materials and are ISO 9001: 2008 certified.
MB Crusher America Images
Press Release
When Avalanche Excavating was awarded a project in April 2015 that dealt with 11 blocks of underground utilities, storm sewers, and water lines in Salida, Colorado, US, the company knew it would not have much room to navigate the spoils it would encounter.
Read more
MB Crusher recently went through an ISO 9001 recertification audit, in which the company's product quality and production management was considered
Read more