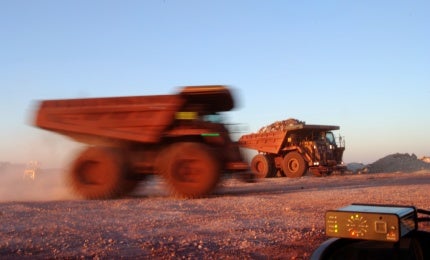 World-leading collision avoidance and fatigue monitoring systems are at the heart of Hexagon Mining's commitment to safer, smarter mining.
Our proven technology is at work in more than 20,000 vehicles in over 50 surface mines worldwide, with a wide range of advanced traffic safety solutions. Hexagon Mining's solutions include collision avoidance, real-time full-fleet tracking, fatigue monitoring, systems to protect cleanup equipment around heavy rotating machines, and sophisticated displays that intuitively integrate vital safety information in cabins.
Hexagon Mining develops and supplies traffic safety and collision avoidance systems (CAS), and fatigue monitoring technology to improve safety at surface mines.
The company's technology is suitable for all types of vehicles to protect both machines and workers from collisions onsite.
Traffic safety technology for the surface mining industry
As part of a comprehensive, integrated system, Hexagon Mining offers a range of advanced collision avoidance technologies designed to target each risk point of a surface mine.
The modular nature of the system means clients can choose which elements are most suitable for their operation, or if they wish to deploy the entire solution for the best results.
The traffic awareness range includes the following modules:
CAS to increase traffic awareness and avoid collisions for the entire fleet
TRACK to track and receive reports of activity in the entire fleet
TrackingRadar to detect unprotected objects, such as ground personnel
SafetyCentre to protect haul trucks and surrounding vehicles
ShovelAssist to avoid incidents between shovels and surrounding vehicles
FatigueMonitor to detect fatigue and increase traffic awareness
Combined with the real-time fleet tracking and reporting module, this system saves lives.
Collision avoidance system for mining vehicles
CAS provides vehicle operators with 360° proximity detection when travelling at any speed and in all conditions, via non-intrusive cabin display units.
Not only is vision improved, but situational awareness is heightened, as a GPS unit calculates the vehicle's speed and path of movement. Positional information of each vehicle fitted with the system enables real-time traffic alerts. Operators can see where other vehicles are and where they are heading. The system's in-built safety zone feature predicts potential collisions in advance and alerts the drivers.
CAS is easy-to-install, quick to configure and cost-effective. To complement the CAS, Hexagon Mining offers a selection of optional extra features:
BoomGate opening trigger
SyncStation firmware updates during operations
DriverID to monitor and report on vehicle use
KeyControl to prohibit unauthorised use of mining equipment
The Hexagon Mining safety suite additionally includes:
Vehicle monitoring interface: TRACK monitors mine fleets in real-time through a web interface, offering customisable reports, as well as enabling users to send text and email alerts to system users.
Traffic path detector: TrackingRadar works with the CAS to detect the path of moving mine vehicles or obstacles, such as ground personnel. The radar integrated with CAS locates multiple objects and tracks them simultaneously, while differentiating between threatening and non-threatening objects in the surrounding area.
Collision avoidance and camera views for haul trucks: SafetyCentre is a single operator interface for all information pertaining to traffic safety. The Hexagon Mining SafetyCentre enhances safety operations of haul trucks with a single display showing surrounding vehicles from TopView, integrated with up to six different camera views, TrackingRadar alarms and CAS alerts.
Shovel assisting proximity detector: ShovelAssist enables shovels to work efficiently with minimal risk, by adding visual information together with radar and collision avoidance alerts of the entire loading and swing area.
Operator fatigue monitoring technology
Hexagon Mining FatigueMonitor system provides an intuitive display within the vehicle, which integrates multiple technologies associated with both fatigue-level detection and collision avoidance.
The system monitors mine operators to spot early signs of fatigue and lack of attention, to ensure safety levels are maintained. Operator data is then recorded in profiles for reports and performance indicators.
System display monitors for mine vehicle cabs
Hexagon Mining offers three types of display screens for vehicle operators, depending on the level of complexity required.
The most basic model is a simple display with LED indicators and auto-dimming function. The moderate display provides a TopView of surrounding area and vehicle identifications. The most advanced screen provides split camera views as well as the TopView.
Hexagon Mining's Safety Division
The Safety Division of Hexagon Mining works with its sister technologies to offer mining clients a complete solution from planning to operations, in order to improve safety and productivity.
Hexagon Mining's safety product suite is recognized globally and protects more than 20,000 vehicles in over 50 mines worldwide.
Located in the state of Colima, Peña Colorada is one of the largest iron ore operations in Mexico. The project is owned in equal parts by ArcelorMittal and Ternium.
In 2012, Teck sought a technology standard for vehicle safety across all of its operations.
SAFEmine develops collision avoidance and fatigue monitoring systems that protect drivers and operators from collisions in busy surface mines, especially where large and heavy machinery are operating.
Hexagon Mining has launched HxM Athena Planning, a performance-indicator bundle that makes sense of data from production planning, grade control, fragmentation, drill operations, and plan compliance. Interactive heads-up displays are integral to HxM Athena, a solution that empowers miners to transform data into knowledge and builds on Hexagon Mining's vision of smart change.
SAFEmine Technology (Australia) Pty Ltd
SAFEmine Technology (USA), Inc
Gallyas Telecomunicaciones