Hexagon Mining
Integrated Life-of-Mine Technology for Planning, Operations, and Safety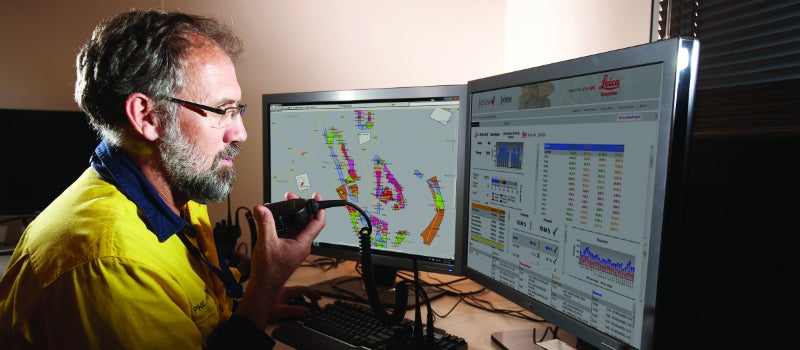 Precision, accuracy, and safety are essential aspects of the mining industry. To gain an edge over competitors, mines must integrate, automate, and optimise their critical workflows. Now more than ever, the industry must cut costs while improving safety.
Hexagon Mining solves these challenges with proven technologies for planning, operations, and safety.
The company brings fleet management , surveying, production optimisation, design, and collision avoidance together in a life-of-mine solution that connects people and processes. Customers are safer, more productive, and can make sense of their data.
Planning products for geological interpretation, feasibility, modelling, and operations
Hundreds of sites and thousands of users manage their mine modelling and mine planning with Hexagon Mining's Planning Suite. Analytical, planning, and design tools help streamline open pit and underground operations worldwide.
Clients use HxGN MineSight for exploration, through geological interpretation, feasibility, mine planning, and mine operations management. Data visualisation provides the big picture needed to build accurate models and increases your speed to dig. HxGN MineSight provides tools for geologic modelling and interpolation. It offers complete functionality for building and managing 3D block, stratigraphic, and surface models.
HxGN MineSight's simple cut design and pit design options for both geometric and economic pits allow for complete surface manipulation. Design tools are available for blast pattern, end-of-period maps, economic and ultimate pit shells, life-of-mine scheduling, and more.
Cut design and reserve calculations combine with scheduling, optimisation, equipment planning, and haulage tools for a complete short-term planning solution. Generate practical short / medium-term schedules by determining the most productive cut sequence for highest project profitability. Long-term schedule optimisation tools guide client planning, with options to adjust and modify.
The Planning Suite is available for drill and blast design, grade control, and data reconciliation. Drill and blast utilities provide quick attribution and reporting of blast hole data. Clients can save money by quickly viewing and editing blast area-of-effects.
Operations products for fleet management, high-precision machine guidance
Hexagon Mining's Operations Suite is a state-of-the-art mine management solution designed to increase and improve efficiency across clients' mines. The system has been deployed all over the world by some of the biggest companies in the mining industry, who trust and rely on Hexagon Mining products for the accuracy and reliability that they deliver.
Whether at the surface or below it, the Operations Suite can deliver immediate relief for companies facing tough times from rising capital expenditure and operating costs. Hexagon Mining is a provider of fleet management and optimization expertise for open pit, via business intelligence, high-precision machine guidance, and business analytics.
The scalability and customisation potential of the Operations Suite means it is original equipment manufacturer (OEM) independent and fleet management solution (FMS) agnostic. Solutions communicate with third-party products and competitor infrastructure. Whether cleints need one high-precision drill, or an automated dispatch system for 300 trucks, the Operations Suite is a life-of-mine solution; one platform for tracking mine production planning, material movements and equipment production.
Underground, Hexagon Mining's Smartmine UG solution delivers advanced fleet and production management, personnel safety, process control, electrical devices' management, and personnel tracking in a unique 3D environment. Smartmine UG monitors all mine equipment via on-board computers and a digital communication network to produce data for analysis by optimisation and simulation algorithms.
Safety products for collision avoidance and fatigue monitoring
Hexagon Mining's Safety Suite delivers collision avoidance and fatigue monitoring systems that save lives and money. HxGN Collision Avoidance is at work in more than 25,000 vehicles, in over 50 surface mines worldwide, with a wide range of advanced traffic safety solutions.
Collisions concern all mines. Incidents can result in damaged equipment, downtime for repairs, injuries, and even death. Rules in many countries reflect these concerns, and some new legislation demands collision avoidance technology at mines.
The financial cost of collisions illustrates the potential return on investment of avoiding just
one major incident. The cost of a serious injury or fatality is more difficult to quantify. Systems to protect drivers and operators from collisions, particularly where large haul trucks and smaller personnel vehicles interact, are essential to any open pit.
Hexagon Mining technology delivers these systems and helps prevent such incidents. Solutions include collision avoidance, real-time, full-fleet tracking, and fatigue monitoring systems. These solutions protect cleanup equipment around heavy rotating machines. Sophisticated displays intuitively integrate vital safety information in cabins.
HxGN Collision Avoidance offers 360-degree protection at any speed or visibility. It's the best proven collision avoidance system in surface mining. Products are cost-effective, reduce downtime, improve productivity, and can be customised to your mine's requirements.
Monitoring products from total stations and laser scanners to georadar and UAS
Hexagon Mining offers a full suite of monitoring solutions to keep underground and surface mines continuously safe and operational. From GPS and Total Station Prism Systems (TPS) and HDS to Georadar and UAS, Hexagon Mining monitoring technology identifies hazardous events in time to take preventative measures. It also optimises mine plans with this critical information.
Leica Geosystems Mining - Denver
63 Inverness Drive East
Denver
80112
Colorado
United States of America
+1 (720) 202 101
Leica Geosystems AG - Mexico Regional Support Centre
Homero 418 (2do piso)
Colonia Polanco
Mexico City
11560
Mexico City
Mexico
Leica Geosystems SAC - Peru Regional Support Centre
Av. Larco NRO. 930 Dpto. 601
Lima
Lima
Peru
Leica Geosystems Mining - South & Latin America Regional Head Office
Magdalena #140, Oficina 202
Las Condes
Santiago
Chile
+56 2 224 9512
Leica Geosystems Mining - Eurasia
Leica Geosystems AG - EMEA/Russia
NAVGEOCOM (Authorized Distributor) - Russia
Art. Alekseevskaya
2, Pavla Korchagina St
Moscow
129626
Russia
+7 (495) 781 7777
info@navgeocom.ru
Leica Geosystems Mining - Ghana Regional Support Centre
Community 18
Cocoa Link
Tema
Ghana
+233303400175
Leica Geosystems Mining - Africa
AMR Office Park, Building 2
9 Concorde Road East
Bedfordview
Germiston
Gauteng
South Africa
+27 11 594 3900
+27 86 666 0510
Leica Geosystems Mining - India
Elcome House
A-06, Infocity
Sector 34
Gurgaon
1220022
Haryana
India
+91 124 412 2222
+91 124 214 2200
MonMap (Leica Geosystems Authorized Distributor)
5th floor, The Sarora Hotel Bld
Seoul Street, 12/6
Suite 502
210646
Ulaanbaatar
Mongolia
+976 11 327824
Leica Geosystems Mining - China
Room 1806, China Life Tower
No. 16 Chao Yang Men Wai Street
Beijing
100020
Chaoyang District
China
+86 10 8569 1819
SatNetCom (Leica Geosystems Sales Agent & Service Partner) - Indonesia
Jl. Ruhui Rahayu l
RT 75 #3, Ring Rd
Kel. Gunung Bahagia – Balikpapan
76114
Kalimantan
Indonesia
+62 542 875 570
+62 542 876 302
Leica Geosystems Mining - Western Australia
Unit 14
8 Tomlinson Road
Welshpool
6101
Western Australia
Australia
Australia & East Asia
270 Gladstone Road
Dutton Park
Brisbane
4102
Queensland
Australia
+61 7 3891 9772
+61 7 3891 9336