BASF Construction Chemicals
Substances for Mining and Underground Construction Projects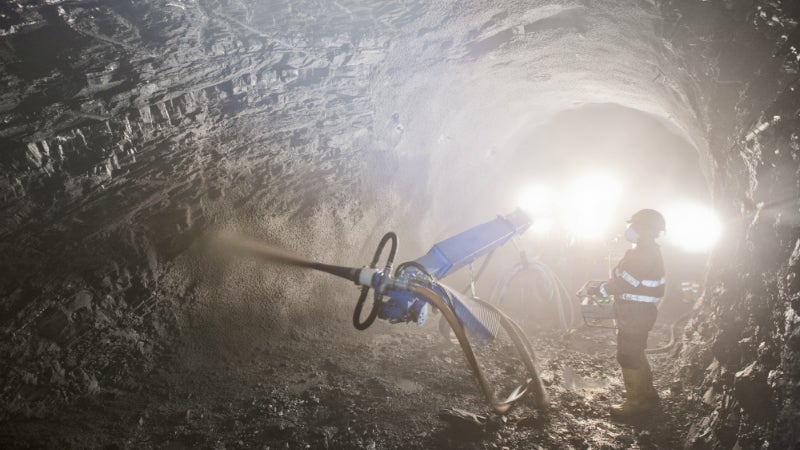 BASF provides specially formulated chemicals for the mining and underground construction industries through its Construction Chemicals divisions.
The BASF Underground segment also focuses on technologies that compliment mining and tunnelling applications such as sprayed concrete, mine backfilling, mechanised tunnelling, injection, and waterproofing.
Sprayed concrete / shotcrete for construction and mining applications
For sprayed concrete or 'shotcrete' BASF Construction Chemicals provides accelerators, which initiate setting and strength development during the application process.
Hydration control agents temporarily stop the concrete from setting, allowing it to be kept 'alive' from five up to 72 hours from the time of batching. Additionally, superplasticisers enable the concrete to flow and ensure a stable mix. Fibres are also provided for reinforcement of sprayed concrete linings to create ductile and durable linings.
Micro and micro-fine cement injection
BASF Construction Chemicals' Injection range includes micro-cement and micro-fine cement, which are used extensively for pre-grouting works prior to excavation.
Other products include the colloidal silica series, which offers excellent penetrability and has no detrimental environmental impacts; and poly-urea-silicates (PUS) rapid setting two-component products, which can be used for ground consolidation, void filling and permanent repairs.
The poly-urea (PU) product range includes fast-reacting resins that react with water to reduce inflow, and consolidate ground. Acrylate injection products are available in one and two-component varieties, and also exhibit good penetrability, forming a flexible gel end product suitable for sealing structures prone to movement.
Mine backfill and tailings management
Mine backfill products are available to facilitate the reduction of binder and water consumption, while increasing solids content and improving flow characteristics.
The BASF approach to mine backfill is to thoroughly test material to determine whether the mix can be optimised. Savings can therefore be made through reduced binder content and early strength gain.
Close cooperation between BASF's technical team and the Mining Solutions divisions ensures that any proposals compliment to other products used within the system, with regards to mineralogy, mineral processing and tailings management
Spray applied liners
Thin-sprayed liners (TSLs) are applied to prevent further degradation of the rock strata, as well as the ingress of undesirable gases into the works.
Mechanised tunnel drives
Tunnel boring machines (TBMs) use a variety of chemicals from the soil conditioning and abrasion reducing agents at the front of the cutter-head, greases for the bearings, and tail-seals, as well as grouts for filling the gap between the excavated ground and the outer edge of the segment.
Workshops and technical support for the mining industry
Technical support is provided by key experienced regional personnel, with additional support from the global technical team.
Industry workshops covering key technologies are held throughout the year.
Injection events are held four times per annum at the underground test gallery in Hagerbach, Switzerland. Two sprayed concrete workshops are conducted at the same facility. Tailored events can also be arranged for specific participant groups.
The workshops are open to customers, and are used to illustrate the various products and demonstrate their application. They are held both on a regional and global level. TBM and mine backfill workshops are also held, usually at or near a site utilising those techniques.
BASF recognises that training is a key to ensure that employees maintain their professional and personal development. For select technologies BASF will make available online training modules, which are further supplemented by these workshops.
BASF Divisions
The BASF Construction Chemicals divisions also feature the Admixtures Systems and Coatings & Flooring segments.
The Admixtures department provides additives for the enhancement of performance of all types of concrete used for construction of infrastructure, such as dams, bridges, ports, commercial buildings, road, rail and metro.
The BASF Flooring segment offers products for industrial and commercial flooring applications, while the BASF Mining Solutions divisions deliver technical solutions for mineral processing and tailings management.
To continue in the overall chain, BASF purchases rare earth metals such as platinum used as catalysts for various chemical processes. In the spirit of sustainability, BASF Metals is involved in the recovering and recycling of metals.
BASF Construction Chemicals Images