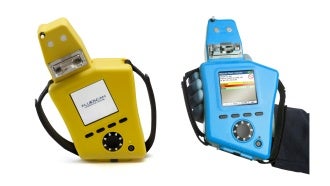 On October 1, 2013, ASTM International approved test method D7889 as a "standard test method for field determination of in-service fluid properties using IR spectroscopy."
The approval represents official confirmation that the FluidScan® handheld infrared oil analysis technology from Spectro Scientific meets ASTM guidelines for the analysis of in-service lubricants.
The FluidScan method provides direct, immediate measurement of multiple lubricant condition parameters via Spectro's patented direct infrared spectroscopy (DIR) technology. DIR operates without wet chemistry and requires no solvents; only one drop of oil is needed for analysis. Spectro employs FluidScan technology in its Q1000 and Q1100 portable fluid condition monitors that permit real-time, on-site evaluation of critical lubricant characteristics.
To gain certification of the FluidScan method as a worldwide fluid field analysis standard, Spectro worked with ASTM committee D02.96 for in-service lubricant testing and condition monitoring services to develop the D7889 standard test method.
Test method D7889 specifically describes the way the FluidScan process measures soot, anti-wear additive, oxidation, nitration and sulphation. Performance levels published in D7889 for those in-service fluid properties (measured by repeatability tests) show that FluidScan analysis provides the measurements at levels comparable to established FTIR methods. In essence, the test method covers six existing FTIR in-service test methods for lubricant analysis. Additionally, D7889 discusses the use of a FluidScan device to provide acid/base data, water content and other relevant parameters, and also establishes ASTM guidelines for creating infrared calibrations.
Spectro Scientific president and CEO Brian Mitchell said: "FluidScan is a powerful, easy-to-use tool for field personnel seeking immediate on-site oil condition information. With the ASTM's approval of test method D7889, users of FluidScan analysis around the world can be confident that the method meets established ASTM standards."
The leading fluid analysis instrument company formerly known as Spectro Inc. today announced from its...