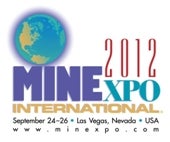 MINEXPO International is the most significant event for the world mining industry and the largest show for mining equipment and technology manufacturers in the world.
The show is held every four years in Las Vegas, Nevada, the US, at the Las Vegas Convention Center, which for three days becomes a hub of activity for mining professionals.
More than 1,800 mining equipment manufacturers took part in the event, alongside with manufacturers of equipment for exploration, extraction, safety, and processing of minerals.
All the major mining companies were exhibiting at the event: Caterpillar, Joy Global, Komatsu, Hitachi, Liebherr, Sandvik, Atlas Copco, Wirtgen, BELAZ, etc.
IZ-KARTEX's booth was located in the south exhibition hall. The new model line was presented at the booth with mining shovel models (EKG-12K, EKG-18R, EKG-32R, EKG-50) made on a scale of 1 to 43.
More than 700 people visited the booth during the show, from the US, Canada, Brazil, Chili, Australia, Indonesia, China, India, Mongolia, Vietnam, PRK, Japan, Saudi Arabia, UAE, South Africa, Morocco, Germany, Bulgaria, Montenegro, Russia, Ukraine, Belarus, Kazakhstan and Uzbekistan. The overall information about the company, its history, production volumes and number of shovels in operation were matters of great interest for visitors. IZ-KARTEX's delegation held negotiations with more than 60 companies.
Delegation from the largest coal-mining concern of India Coal India Limited has visited IZ-KARTEX. The...