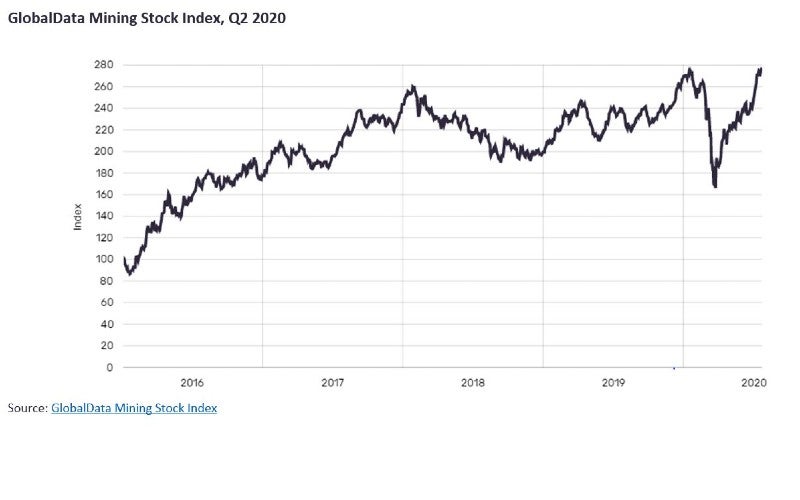 With many commodity prices recovering well and now exceeding pre-Covid-19 levels, mining company share prices have also recovered with some sizeable improvements, not just relative to the lows in mid-March, but also compared with the very start of 2020. GlobalData's Mining Stock Index, which incorporates the share prices of 50 leading mining companies, rose to 278 on 22 July, the highest point since its inception on 4 January 2016, as well as being a 66% increase on the lowest point to date in 2020 (18 March) and above the previous peak on 16 January 2020.
However, there is a marked difference between the best and worst performing stocks so far this year as some commodity prices have recovered well, whilst others continue to struggle.
For example, prices of gold and iron ore have risen strongly since the start of the year. The former because of its position as a safe haven, with the price nearing $1,900/oz, while for the latter supply disruptions and a recovery in Chinese steel making have helped push the price to $107/t, some 15% higher than at the start of the year.
The copper price, which initially slumped by 27% between 16 January and 23 March, has since recovered and was $6,454.5/t on 17 July, helped by government stimulus plans which will encourage construction activity and concerns over supplies from Chile, Peru and Mexico, where output has fallen because of suspensions and reduced workforces. In addition, the price of silver has risen from $18.2/oz to over $22/oz as of 24 July.
Meanwhile, the price of coking coal has tumbled from $148/t in March to $89/t in mid-July, and thermal coal was $67.15/t on 17 July compared with $76.26/t on 13 January, although it has improved from a low of $59.73/t on 4 May.
As a result, the greatest improvements in share prices have been seen amongst the gold producers, such as Polyus and Kinross Gold, whose share prices were 96% and 83% higher on 22 July than on 2 January, respectively. Outside the gold producers, Fortescue Metals' share price rose by 52% over the same period, the highest rise of the other major iron ore producers, helped by its sole focus on the metal and operations in Australia, which has been far less impacted by the virus to date than many other countries.
Worst results have been seen amongst the coal and steel producers, including Nippon Steel (-40%), China Coal Energy (-39%), Arcelor Mittal (-38%) and Coal India (-36%). The diamond sector has also been hard hit, with ALROSA's share price down by 23% as at 22 July. The company's sales of rough diamonds were down by 92% y-o-y in Q2 2020 to 634k cts, and YTD sales were down 53% y-o-y.