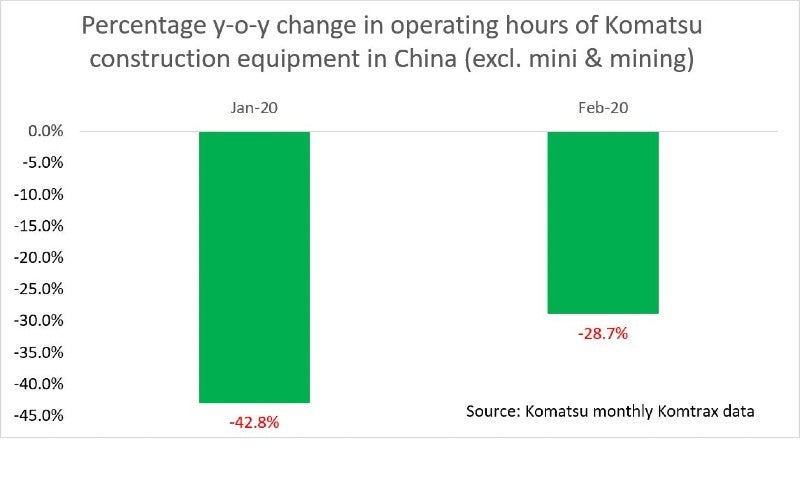 While many countries across the globe are in lockdown and construction activity slowing, the benefit of the measures taken by the central government in China to contain the spread are evident in statistics released on the country's construction sector.
Japanese equipment manufacturer Komatsu publishes a monthly report based on data from its Komtrax machine tracking system, covering construction equipment in operation (excluding mini and mining equipment). The data showed the monthly average operating time per unit in January had plummeted by 42.8% to 59.1 hours as against 103.4 a year earlier. In February, this figure was down, although to a lesser extent at 28.7%, with an average 32 hours in February 2020 compared to 44.9 in 2019, as the Lunar holidays were extended.
Since the heavy falls in January and February, according to China's Ministry of Housing and Urban-Rural Development, construction activity has begun to pick up in China. By the 28 February, 80% of water projects were in operation, rising to 90% by 16 March. In the railway sector, as at 26 February, 78% of major rail projects were in operation compared with just 24% six days earlier, and this share had risen to 95% by 16 March.
While for all construction activity the return has been much slower, from 35% on 26 February to 58% by 10 March, these figures signal a steady improvement to the construction sector in China, supported by workers returning to site and a revival of the supply chain to construction projects.