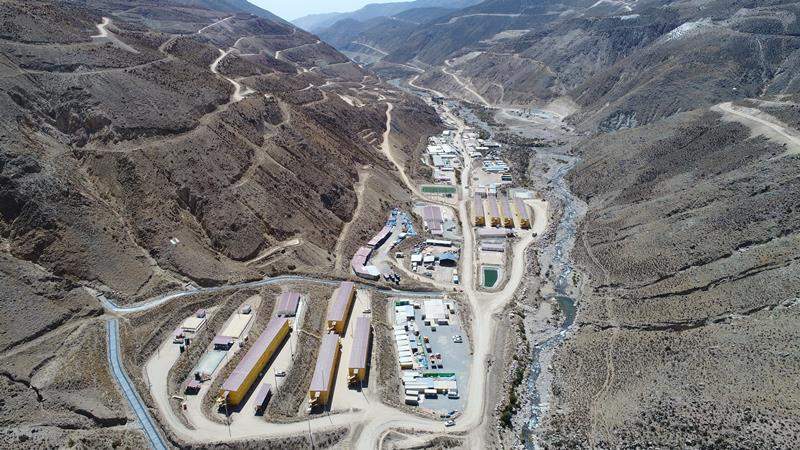 Mining is one of the world's biggest industries, both literally and financially, with PwC reporting in 2019 that the global mining industry was generating revenues of $683bn a year and possessed a market capitalisation of $849bn. These gargantuan figures are reflective of an industry that is capable of turning massive profits, but also one that could stand to make similarly vast losses, should production be underwhelming, facilities break down, or unforeseen circumstances hit operations.
With this in mind, the mining industry is increasingly interested in new technologies that can help reduce these risks, with predictive modelling among the new techniques being trialled. Already tested in industries such as hydroelectric power, the system involves the creation of a "digital twin" of existing operations, to accurately predict and assess how changes to a particular component of those operations will impact the whole.
One company investing in such technologies is Wabtec, a partner of GE Transportation that works primarily in the transport sector, and that was approached by Anglo American to use its digital twin technology at its Amandelbult platinum group metal (PGM) mine in South Africa. The modelling work detected a fault with a cooling unit at the mine, which saved the company $2m and has sparked questions as to whether this kind of process has a future in the mining industry.
Modelling and maintenance
"Working with us, Anglo American began implementing asset performance management and digital twin capabilities in late 2018," explained Kevin Shikoluk, global strategic product and marketing leader at Wabtec. "In February 2019, the remote monitoring team detected a deviation using the digital twin on this compressor's interstage cooler. We alerted the mine's engineers who, upon inspection, discovered fouling and scale build-up inside the tubes of the interstage cooler."
By comparing the actual performance of the mine to its theoretical performance, as demonstrated by the digital twin model, the mine's engineers could identify the problem without having to spend time and money on physically checking the device. In addition, the digital twin played a role in the solution to the problem, enabling Anglo American to trial a number of different solutions and assess the results within the model, before deciding on a course of action. The broad role of the digital twin, in both identifying a problem and trialling solutions, contributed to the considerable savings it is expected to have generated.
"The catch, undetected by any other onsite alarms or toolsets, saved Anglo American roughly $2m," said Shikoluk. "We estimated these savings by calculating what the effect would have been if we didn't pick up the fault before the time and if we had a trip out on a compressor and we had to fix it afterwards, and it had an effect on production.
"We helped them maintain the life of the asset and helped them avoid the $2m by not having to replace the compressor."
The fact that the technology was deployed at a mine of such scale will also be encouraging news for those eager to see digital twins used more readily across the sector. The Amandelbult mine produced around 497,006 ounces of platinum alone in 2019, up from 484,937 ounces the year before, generating $335m in earnings before interest, taxes, depreciation, and amortisation, and adding more than $1.2bn to Anglo American's total revenue. With the small-scale nature of many tests impeding the development and deployment of many new technologies, raising concerns that new devices and systems cannot function effectively on large scales, the successful use of digital twin technology at such a large and well-established operation settles many of these concerns.
Setting a precedent for holistic operations
The Anglo American project could prove to be something of a demonstration of the efficacy of the technology for other companies, with Shikoluk eager to see predictive technology become more common within the sector.
"We see predictive analytics becoming a widely adopted technology within the mining industry," he said. "Mining operators, around the globe, are telling us that they need to gain visibility into operations and insights into processes that increase asset performance and optimise metal recovery. When implemented properly, predictive modelling [and] digital solutions enable remote monitoring and diagnostics of many critical assets and systems – at any distance."
Shikoluk's optimism appears to be shared by many within the mining sector, with a number of new technological approaches rapidly progressing from theory to adoption within the industry. From $50bn savings thanks to adopting automation technology to hard hats which alert safety operators to workers in dangerous situations, the mining sector has shown a readiness to adopt new technological processes to aid in both production and safety.
"There will be an increased need for digital and remote monitoring solutions, for mining, in the foreseeable future," said Shikoluk. "With a reduced on-site workforce, large databases of sensor data become critical to detect, diagnose, prioritize and rectify process mining upsets quickly."
In this manner, the increased adoption of new technology could help unite several of these historically disparate concerns. Mining production and worker safety are often presented as opposites, with an increase in one triggering a decline in the other, and vice versa, but should a mine's operators and processes be connected through a single network, or all using the same technological platforms, these concerns could be addressed in tandem.
"For instance, effective automatic control allows miners to focus on production optimisation while the health of automatic control systems is vital to monitor and diagnose pain points quickly," said Shikoluk, highlighting the potentially holistic benefits of a more technologically-dependent approach.
"The general need for sensors, remote control, and asset [and] process monitoring will make use of automated analytics, dashboards, and operations knowledge to deliver actionable advisories for the mining industry moving forward."
Technological challenges and personal solutions
While the digital twin model could help usher in an age of holistic, technologically-connected operations, delivering on this potential was one of the main challenges Shikoluk highlighted in Wabtec's work with Anglo American, noting that predictive software "typically [lives] as standalone tools."
"Users must switch from their primary business application over to the predictive analytics solution in order to use it," he continued. "Embedding machine learning and AI inside their mining specific application gives the miner a huge strategic advantage over the competition."
In order to benefit from this advantage, however, miners must incorporate these new technologies into their operations from the very beginning, a significant challenge for miners who have owned and operated the same projects for years, sometimes decades. And this is also not a unique problem for this generation of technological innovators and mine owners; new technologies are developed at a rate much faster than the rate at which new mines are built, so this is likely to be a challenge long into the future of mining.
What mine operators can control, however, is their own attitudes towards new technologies, and the extent to which they are willing to collaborate with both new systems and new colleagues, even across different sectors. Shikoluk noted that by incorporating a flexible and collaborative mindset into their workflows, decision-makers at the top of companies can help set a tone for the rest of their organisations to follow, easing the implementation of new technologies in the future.
"Often, predictive modelling technology delivers information and insights, but they fail to let users take action," he said. "By embedding intelligence workflows into their regular business applications, we empower mining users to take immediate action or trigger another process — saving them a lot of time and frustration."