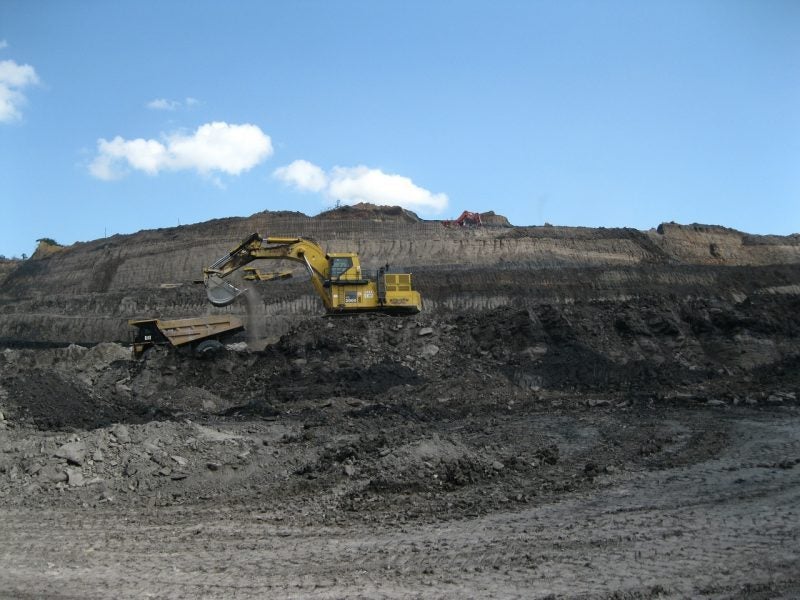 India is energy hungry. The country, and its roughly 1.3 billion inhabitants, is the third largest energy consumer in the world and it is estimated to have the fastest growing power needs of any nation.
Around three-quarters of India's electricity supply comes from coal-fired power stations, a number of which are fed by pricey imports. To boost domestic supply, the government is opening up the country's vast coal reserves to commercial development.
In June, Prime Minister Narendra Modi launched the auction of 41 coal mines, which have an estimated annual production capacity of nearly one-third of the total national output. The move, Modi said, was tantamount to 'unshackling reserves from decades of lockdown', adding that he hoped it could lead to India becoming a net exporter of the fuel.
The plans, however, go against the country's climate change commitments in line with the 2015 Paris Accord, which are contingent on India reducing its dependence on coal power, as well as the global trend of divesting from coal.
International interest is likely to be weak
India consumed around 977 million tonnes (mt) of coal last year (year-end March 2020). About 729mt of this was produced domestically and roughly 248mt was imported. Around 600mt of the domestically produced coal came from Coal India Ltd, a government company. The rest was produced under 'captive' mining licences for individual industrial use. Coal from the new mining licences, however, can be sold on the open market.
Modi has said India will spend INR500bn ($6.6 billion) "for creating infrastructures around coal mining," adding the country was targeting gasification of 100mt of coal by 2030.
How well do you really know you competitors?
Access the most comprehensive company profiles on the market, powered by GlobalData. Save hours of research. Gain competitive edge.
Company Profile – Free sample
Thank you!
Your download email will arrive shortly
Not ready to buy yet? Download a free sample
We are confident about the unique quality of our Company Profiles. However, we want you to make the most beneficial decision for your business, so we offer a free sample that you can download by submitting the below form
By GlobalData
Rahul Tongia, a fellow at Brookings India and part of the Cross-Brookings Initiative on Energy and Climate, who is soon to publish a book on the future of coal in India, says that because Indian coal is not very calorie-rich, it's mostly Indian power plants that will want it.
"It's not as if India is about to turn into a global exporter, what is likely to happen is, in the short run, new entrants will displace imports, which are more expensive," says Tongia.
Debasish Mishra, Deloitte partner and leader for energy, resources, and industrials for Deloitte in India, agrees that international market interest is likely to be lacklustre.
"Given the concerns around CO2 emissions and the climate emergency, coal is a negative commodity globally. I don't think any country in the G20 block other than India has an increasing coal consumption trend. Even China, which consumes half of global coal, has managed to stagnate its consumption in the last few years," he explains.
India is the world's second largest consumer and producer of coal and its consumption has been growing at around 4.5% per annum.
Local interest will have to do
Furthermore, Mishra says, despite the attraction of the domestic market, it is quite challenging for international companies to develop a coal mine in India due to issues around land acquisition and environment and forest clearances.
However, Indian conglomerates who have experience in the metals and mining sector, as well as power plant owners, may be interested, he says. The government hopes that the private sector can create efficiencies, better management, and adoption of new technologies to make the overall process cheaper and more affordable.
To attract these investors, the government has reduced upfront payments, relaxed payment schedules, and linked the price of coal to a soon-to-be launched national coal index.
Nevertheless, Wood Mackenzie's head of thermal coal research, Dale Hazelton, thinks that even domestic interest could be thin on the ground.
"These mines have to compete with already established large players, which may make it difficult to get a foothold in the market," he explains.
"Most of these blocks have complicated geology, poor access to rail networks, and other surface land issues. Ultimately, there are four mines that were active prior to the March 2014 ban from the Supreme Court of India that may enter production, but we do not expect much from the other coal mines due to the constraints."
Why coal is likely to be essential in India's current power mix
Coal power generation in India, like every other country, is facing increasing competition from renewables. In 2014, renewable energy provided 31GW of the country's electricity and now it produces 90GW, with additional capacity in the pipeline.
Given India's climate change ambitions, which include reducing its coal use to 60%, as opposed to the current 75%, of its energy mix by 2030, should the government not be focusing away from coal entirely and on renewables instead? Coal production and burning, after all, contributes heavily to air pollution and India is already home to 14 of the world's 20 worst cities for air quality, according to the 2019 AirVisual report.
Cheaper, domestically produced coal being available is not, according to Tongia, going to 'magically' result in India using more coal.
"I don't think that just by having private sector participation we're going to unleash enormously higher demands than what was already the organic trajectory for coal in India, but that doesn't mean coal has no trajectory," he says.
"Let's differentiate between usage and new capacity; a coal mine today will serve an existing need; the government absolutely needs to do this."
Mishra agrees that India's new plans for domestic coal mining won't result in new coal power plants being built as the country already has overcapacity.
"New capacity is mostly coming in the form of solar and wind, this new coal will be used in existing thermal plants; the country is determined to meet its target of 40% renewables but at the moment we still need coal," he says.
"What we are expecting is, in the next five years, when the cost of battery storage comes down, then we won't need to look at coal going forward."
He adds that the growing energy demand, around 6% every year, means it is unlikely the existing coal-fired power assets will become stranded.
Future action and a pathway to zero-coal
"Yes, India needs to encourage renewables, it needs to also have a critical storage plan and pathway, but those are not quite ready for primetime in the very short run," concludes Tongia.
Instead, he says, India should look at an exit plan for coal and cleaning up existing coal plants. In 2017, world standard emissions norms on plants were supposed to come into play but failed to do so and, after lobbying, a five-year extension was granted. A further delay has been requested due to Covid-19.
"The important thing is to establish a plateau to a zero-coal plan, as well as cleaning-up power plants with technology. India has never been serious about doing this," he says. "But a driver for this change will be local air pollution, because, frankly, that's something more palpable to the population than carbon."