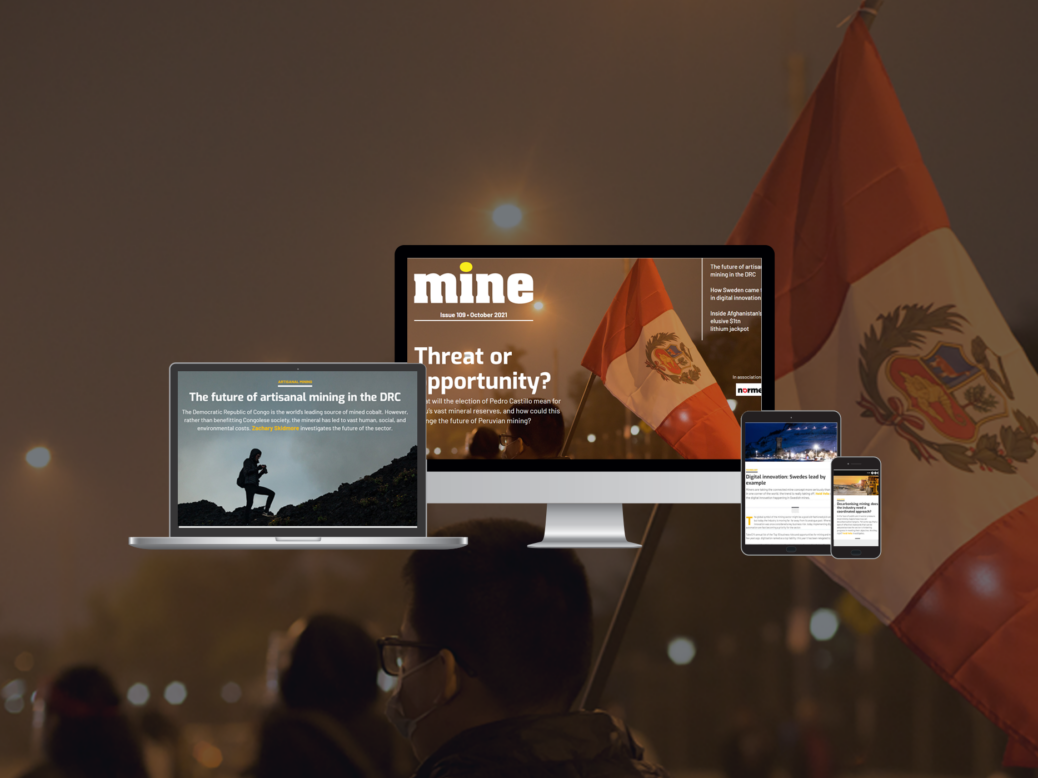 Castillo has made plans to raise taxes and royalties on the country's powerful and profitable mining sector, creating equal excitement and fear surrounding the future direction of Peruvian mining, and who stands to benefit most.
Elsewhere, the Democratic Republic of the Congo and Afghanistan serve as powerful examples of countries with considerable potential for mineral wealth, but whose nascent mining industries are dogged by human rights abuses and unstable geopolitics. We ask how these reserves can best be managed, and what can be done to protect miners in a sector increasingly concerned with its reputation.
Finally, mining is no stranger to emerging technology, and both battery-powered vehicles and digital innovations are spreading across the sector. We consider the possible benefits of a more digital approach to mining, and investigate success stories in Sweden to see how technological sophistication can be better integrated into long-established mining processes.
Whether you are on a desktop, tablet or smartphone, you can read the magazine for free online, and join the conversation on Twitter.
In this issue
The future of artisanal mining in the DRC
The Democratic Republic of Congo is the world's leading source of mined cobalt. However, rather than benefitting Congolese society, the mineral has led to vast human, social, and environmental costs. Zachary Skidmore investigates the future of the sector.
Mining under Castillo: a threat or an opportunity?
The election of Pedro Castillo to the position of president of Peru has led to fears that he will attempt a nationalisation of Peru's vast minable resources. Zachary Skidmore explores what impact his appointment will have on the industry and how miners can respond to work with the new administration.
Digital innovation: Swedes lead by example
Miners are taking the connected mine concept more seriously than ever, but in one corner of the world, the trend is really taking off. Heidi Vella considers the digital innovation happening in Swedish mines.
Mining in Peru: an opportunity for social profitability
Zachary Skidmore speaks with Victor Gobitz, president of the Peruvian Institute of Mining Engineers, about the current state of the Peruvian mining sector and how the election of Pedro Castillo to the office of president will impact mining interests within the country.
Taliban control: Afghanistan's elusive $1tn lithium jackpot
Taliban control over Afghanistan has sent ripples of shock through the world, and sparked reports of a lithium deposit worth $1tn that the group now has control over. Scarlett Evans investigates the validity of these claims, and asks how desperate our need for lithium is.
Battery electric vehicles: facilitating low carbon mines
To achieve net zero, the mining industry must embrace electrification of their methods. Zachary Skidmore examines the critical role of battery electric vehicles in this transition, with current diesel-powered vehicles accounting for 30%-50% of total greenhouse emissions at a mine site.
Next issue: problems and potential of artisanal mining
Artisanal mining remains one of the most complex issues in the mining industry, with often vast mineral potential countered by weak regulatory oversight and low safety standards.
Yet such practices are often so entrenched that they cannot, and perhaps should not, be simply banned. We look at ways to protect artisanal miners, and integrate them within a national mining framework, in a way that doesn't cut profits and productivity.