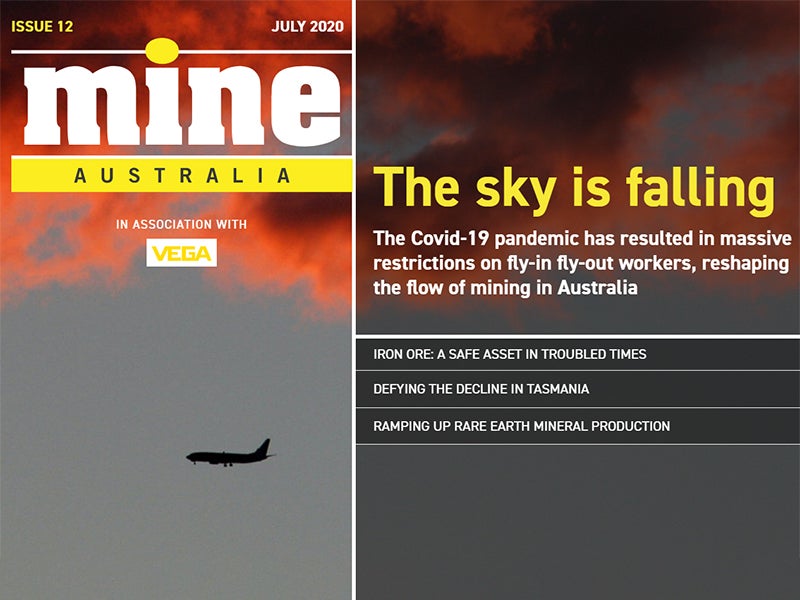 The Covid-19 outbreak has brought huge restrictions for fly-in/fly-out workers, who make up a large proportion of the Australian mining workforce. We ask: how has Covid-19 disrupted Australian mining's flow, and could the crisis prompt a rethink about this way of working?
We also look at whether iron ore will hold up under the uncertainty of the coming months, explore the long-term future of Tasmania's mining sector, and examine Australian operations in Africa. 
Finally, we map out autonomous and remote-control projects in Australian mining, chart the effect of Covid-19 on the country's mining sector as it happened, investigate the future of rare earths in Australia, and speak to Australian Mines about its drive towards carbon neutrality.
Whether you are on a desktop, tablet or smartphone, you can read the magazine for free online, and join the conversation on Twitter.
In this issue 
Fly-in fly-out mine workers: adapting for a post-Covid-19 world
The Australian mining sector has proved incredibly resilient during the Covid-19 outbreak, in part thanks to the adaptation of fly-in fly-out workers. Heidi Vella asks: as the country emerges from lockdown, how will the crisis affect the future of these workers? 
Iron ore: Australian mining's silver lining
Iron ore has remained mostly unaffected by the Covid-19 pandemic, with local disruption in places counterbalanced by improved productivity in others, with Australia leading the way in pandemic production. JP Casey finds out what has gone into making Australian iron ore such a safe asset.
Defying the decline: Tasmania's island state of mine
A lack of investment from majors has caused some to claim Tasmania's sector is on the decline, yet a steady stream of small-scale operations seems to defy this. So is this perception fair? Scarlett Evans finds out. 
From Australia to Africa
Several Australian-listed mining companies, including Resolute Mining , reported excellent production during the March 2020 quarter, thanks largely to their overseas operations in Africa. Here, Scarlett Evans examines those African countries most popular with Australian miners and the challenges faced in overseas operations.   
Mapping out autonomous and remote mine projects in Western Australia
The Covid-19 pandemic has thrust remote and autonomous mining technologies into the spotlight as a solution that could prevent mine closures. Western Australian mines have often been lauded as world leading when it comes to these technologies, but which projects are leading the way? Matthew Hall maps them out across the region.
How Australian mining reacted during Covid-19
From Australia's Government declaring mining work as essential to the nation's Minerals Council issuing a roadmap to post-Covid-19 recovery of one of the country's biggest industries, Yoana Cholteeva charts the impact of the coronavirus on Australian mining.
Standing in the way of control: Australia ramps up rare earth minerals 
With more than 1,000 tonnes of rare earth deposits in South Australia alone, the country could prove to be one of the world's leading rare earths producers outside of China. Yoana Cholteeva takes a look at the potential of Australia's rare earth deposits and the market conditions that could stand in the way of investors.
Rehabilitating Australia's mines
Every new project has a lifespan, and suitably rehabilitating mine sites once operations have closed their doors remains a crucial problem in Australia's mining sector – a problem that software-as-a-service company Decipher is seeking to remedy. Scarlett Evans speaks with CEO Anthony Walker to find out more. 
Preview – MINE Australia September 2020
Australia-based Cardinal Resources recently announced that it had entered into a bid implementation agreement with the Chinese miner Shandong Gold Mining . As Australia sets out to become a rival rare earths hub to the Asian goliath, we investigate China's stake in the Australian mining sector.
We also delve into mining's impact on Aboriginal communities, profile Australian Potash's $665m project, and paint a picture of tin mining in Australia today.
We also examine BHP and Mitsubishi 's investment in the Queensland Resources Centre of Excellence, talk to Universal Field Robotics about their autonomous drillbit replacement, round up the best universities in the country for mining, and find out whether a new audit could improve mental health in the mining sector.