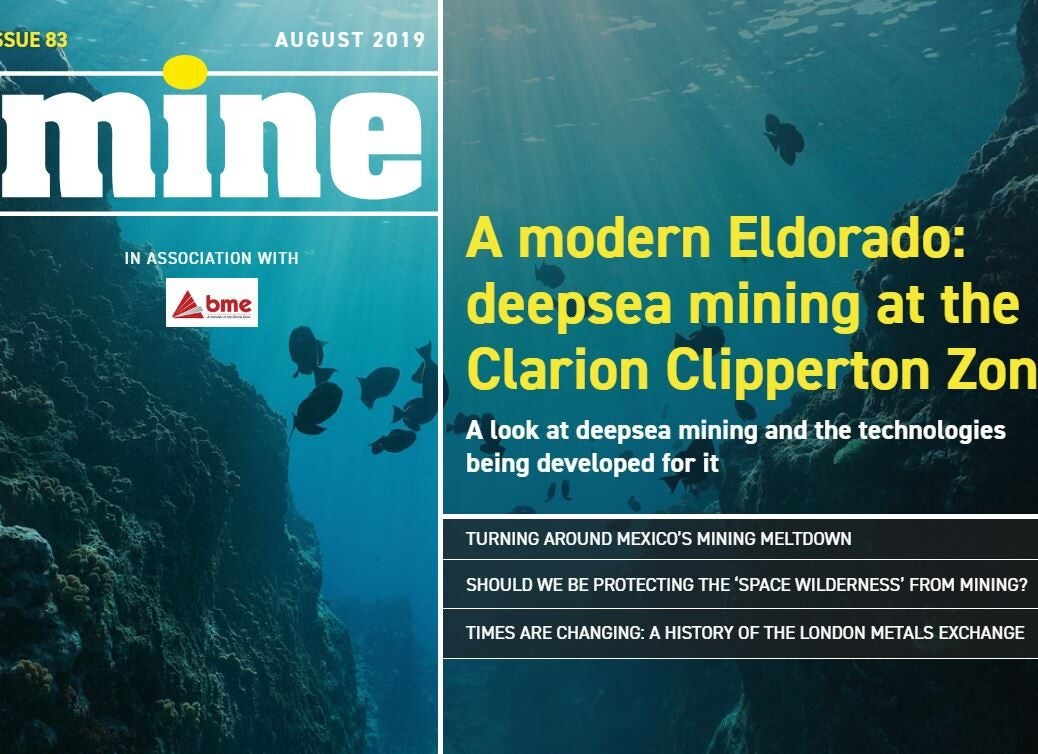 MINE is back for another issue packed with industry news and analysis. In this issue, we look at how mining lobbies are adapting for the modern world, Airobotics drones, a look at the best electric mining vehicles, and more.
Whether you are on a desktop, tablet or smartphone, you can read the magazine for free online.
As a former mine union leader takes over as president of South Africa, we take a look at whether Cyril Ramaphosa will be good for the mining industry.
Elsewhere, political uncertainty in Mexico has led investment to drop by a staggering 37.4% between 2017 and 2018. We ask how the country can become an attractive investment opportunity again.
The World Bank has launched a 'Climate Smart' mining fund, the first ever to be dedicated to sustainable extraction. Countries have been increasingly turning to unusual exploration incentives to encourage activity, with copper exploration being encouraged in particular. We profile the companies leading the big discoveries and developing innovative news ways of approaching copper mining.
We also take a look at a deepsea nodule collector named after the world's fastest caterpillar, ask whether more should be being done to protect space from mining, and review how times are changing as the London Metal Exchange appoints its first ever female chair of the board.
In this issue
Can South Africa's new leader reinvigorate its battered mining sector? 
South Africa's mining industry is struggling amid falling commodity prices, legislative uncertainty, union unrest and energy insecurity; yet the industry is hopeful the newly elected president, Cyril Ramaphosa, a former mining company director and union leader, will save the day. But can he deliver? Heidi Vella investigates.
Turning around Mexico's mining meltdown
Despite its large mineral wealth Mexico's mining sector has struggled and investment has hit a 12-year low, rattled by political uncertainty and insecurity. Patrick Kingsland takes a look at the industry and asks what it can do to once again become an attractive investment opportunity.
Climate-Smart Mining: inside the World Bank's ambitious mining fund
The World Bank has launched its Climate-Smart Mining Facility, a $50m fund to promote sustainable mining practices. JP Casey speaks to World Bank director Riccardo Puliti about the fund's origins, and its aim of ensuring the sector's environmental performance, despite changes in the industry.
Mining exploration incentives around the world
From exploration subsidies in Saskatchewan and Australia to tax credits and tax 'holidays' in British Columbia and Nigeria, there are many ways national and regional governments incentivise mineral exploration. In this feature, Patrick Kingsland maps out the most interesting and effective support mechanisms for exploration firms.
Companies leading the way in copper mining tech
Copper demand is set to rise steadily with the electrification of energy and transport systems. How are different parts of the copper industry responding to this growing demand while improving their efficiency and sustainability credentials? Chris Lo finds out.
A modern Eldorado: deepsea mining at the Clarion Clipperton Zone
Deep on the seafloor in a section of the Pacific Ocean, companies have started harvesting polymetallic nodules in the hope of diversifying the global supply of niche metals. Ross Davies asks, is deepsea mining set to become a reality?
Times are changing: a history of the London Metals Exchange
In May, the 142-year-old London Metal Exchange appointed former banker Gay Huey Evans as chair of the board, the first female to hold the prestigious role. But that's not all that's changed at this venerable institution. To find out more, Molly Lempriere look back at the notable events in its history.
Should we be protecting the 'space wilderness' from mining?
As companies look to asteroids, the moon and mars for new sources of mineral wealth, two scientists have suggested a potential model for sustainable space mining to protect the 'space wilderness.' Heidi Vella found out more.
Next issue preview
As the demand for rare earth metals continues to grow, and supplies are threatened by international tensions, the US is turning to Africa to develop mining projects.
Artisanal mining often received a lot of criticism, but the industry is also vital to the 40 million miners around the world who work in it. We spoke to PACT, a charity that is looking to emphasis the vital role the industry plays and improve it for artisanal minesrs. In the Phillipines, efforts to improve the industry are already underway, as a new law exempting registered small-scale miners from excise and income taxes when selling their gold to the country's central bank demonstrates.
From the DRC to Peru, mines often turn to the military for protection, but how effective such actions are highly debated. We take a look at the balance of benefits and risks when the military gets involved in mining.
Finally, we ask whether silver has lost its lustre, look at a project aiming to clean up water in Cornwall, and find out how you move a town to save a mine by looking at the Swedish town of Kiruna.