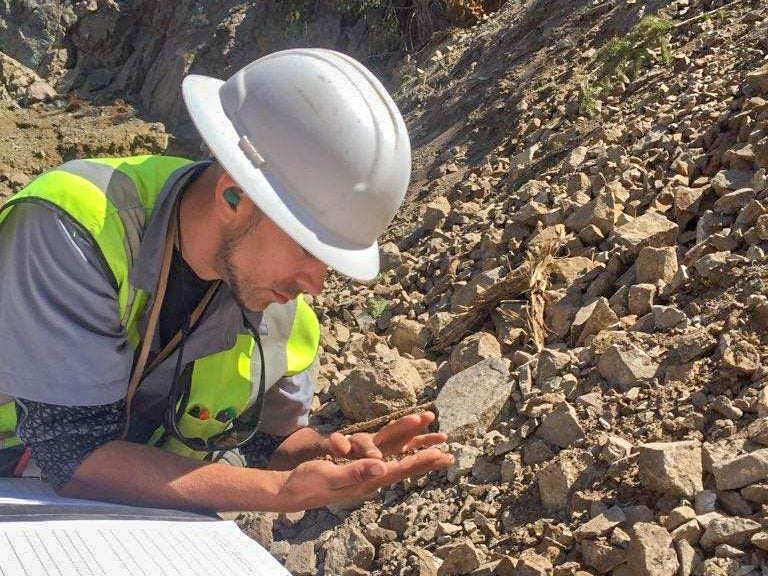 Manufacturing of many modern technologies is reliant on the supply of several key metals and minerals. The European Union (EU) has highlighted their importance in a list of 'critical raw materials' that includes antimony, vanadium, tungsten, tantalum and 23 others.
These minerals are considered 'critical' because their production is often limited to one or two large-scale deposits located in far-flung locations. This means supply disruption, particularly for Europe's manufacturers, is only ever a trade dispute or transport bottleneck away.
To ensure security of supply, a new UK-based project aims to help small to medium-sized mining companies exploit Europe's own resources of these critical raw minerals that can be found in smaller-scale but high-grade deposits.
Supported by €7m funding from the EU's Horizon 2020 programme, the IMP@CT project proposes a new switch-on / switch-off mining paradigm that researchers say can improve the commercial viability of these modest deposits.
Challenges to overcome
High capital expenditure and global economic structures have made it financially risky to invest in smaller-scale mining deposits. Investors instead prefer large 'world-class' projects that, even if of a lower grade, can demonstrate economies of scale.
"The associated costs of setting up a mine – exploration activities, infrastructure, permitting – are very expensive and because small deposits don't have a long life the economics to develop them often don't add up," says Kate Moore, IMP@CT project lead and senior lecturer in critical and green technology metals at the University of Exeter.
Furthermore, smaller mines are more vulnerable to market price fluctuations and the first to suffer from commodity price crashes. As such, firms trying to exploit these deposits often struggle to win investment, especially in the current economic climate.
Working with smaller mining companies, including Mineco and Metal Innovation, the IMP@CT project set out to develop more resilient business models and better technology for smaller-scale mineral extraction.
Creating better demand response agility
Instead of relying on traditional processing solutions that tend to run continuously, the project proposes a new switch-on / switch-off mining paradigm that is based on updating technology for improved agility, and reducing capex costs, so miners can be more responsive to market demands.
"The raw materials supply sector has a problem responding rapidly to changes in demand from the technological manufacturing sector," says Moore. "We want to show a rapid response approach is technologically possible."
Using new and existing technology, project researchers have developed containerised, mobile and modular equipment that can be adapted for geological and metallurgical variability. This includes a mineral processing facility and comminution facility. The technology, according to Moore, allows an individual miner to move operations relatively quickly and can be used for critical and bulk materials.
"This makes it possible to deploy an underground mining machine and a rock breaking facility in a matter of hours," explains Moore. "A minerals processing facility can be set up in just a couple of weeks, compared to potentially decades from exploration to extraction for very big mining deposits and months-long installation activities."
UK-based mining company Mineco is testing the technology at its operating antimony and lead mines in the Balkans. This year the company has extracted ore from a mine in Bosnia, processed and concentrated it. The approach will also be used in Serbia to process ore from an antimony mine this autumn.
Under the project, Wales-based Metal Innovation has also built a brand-new prototype of an underground selective mining tool that cuts the rock face. After initial tests, it is redesigning the picks and cutting tool. The company has also designed its own power packs and casings suitable for narrow underground spaces.
Both companies intend to commercialise the technologies when they are finished.
Defining small-scale mining
While there are of course other players in the market offering small, transportable mining technology, they're not working on as small a scale, as Moore points out.
So what exactly counts as small-scale under this project? Moore defines it as a five ton per hour throughput, from either a stockpile of material or straight from a mine. This is compared to large-scale, automated underground mining, which may process between 20 to 100 tonnes per hour.
However, this depends on where the concentration of the metal is high enough and what the market price of the commodity is.
"If the market price of the commodity goes up, then the size of your deposit increases, because you can afford to extract material at lower grade," explains Moore. "So, it's a playoff between grade and quantity."
Tackling other factors beyond technology
Typically, the technology used for mining smaller deposits is very simple and cost-effective, says Dennis Thomas, CEO of Phoenix Copper, which is developing a former copper, zinc, gold and silver project in Idaho, US, known as the Empire Mine.
Simplicity and affordably are key for projects with thin margins, and the technology being developed by IMP@CT risks being inaccessible to miners if it is unaffordable, he notes.
"It's all about cheapness and the problem with a lot of advances in technology is it's great for larger-scale mining but for the small-scale miner it can be difficult to integrate," he says.
Thomas believes that IMP@CT and other, similar initiatives need to focus more on issues such as challenging public perception and licencing, because acceptance and lengthy permitting processes can be extremely prohibitive to small-scale development – more so than the technology.
For example, he notes that he has identified several potential projects for so-called critical minerals within Europe but says "they would never fly for the simple reason the environmental lobby is too strong".
"Nimbyism, for want of a better word, is always prevalent, particularly in Europe, where everybody wants the end product, but nobody wants it developed in their back yard – they're quite happy to get those commodities out of Africa or somewhere else," he adds.
Moore acknowledges this is a huge problem for miners in Europe, particularly for smaller companies.
"Companies need to prove they have expert knowledge to develop a mine and we need a mechanism to turn that knowledge around fast enough, and move it quicker through licencing procedures so mining is done properly but in a short time frame," she says. "There will need to be some policy development if nations want to improve their security of raw material supply by trying to promote mining as part of their national economy."
However, the environmental degradation caused by small-scale miners across the globe is well documented. And while Western regulations are considered stringent, Moore says under the project umbrella, several universities across Europe are considering ways to reduce the social impacts.
Future impact
The IMP@CT project, which will be presented at the end of November at the Horizon 2020 success stories conference in Brussels, ends next year and by then hopes to have fully proven the technology developed within it. Because it is funded through Horizon 2020, it will not be affected by Brexit.
But there are other barriers Europe must address before it can ensure security of supply for its critical raw materials. These include not just environmental and licencing issues, but establishing vertical integration of material flows from the raw materials sector through to the end manufacturers.
"For countries that have a lot of technological manufacturing, but are dependent on imported raw materials, there's going to be a big job to start raw material production within that economy," says Moore. "But it's important for security of supply and not least because if we're thinking about climate change, we need to also think about how far we're shipping materials."