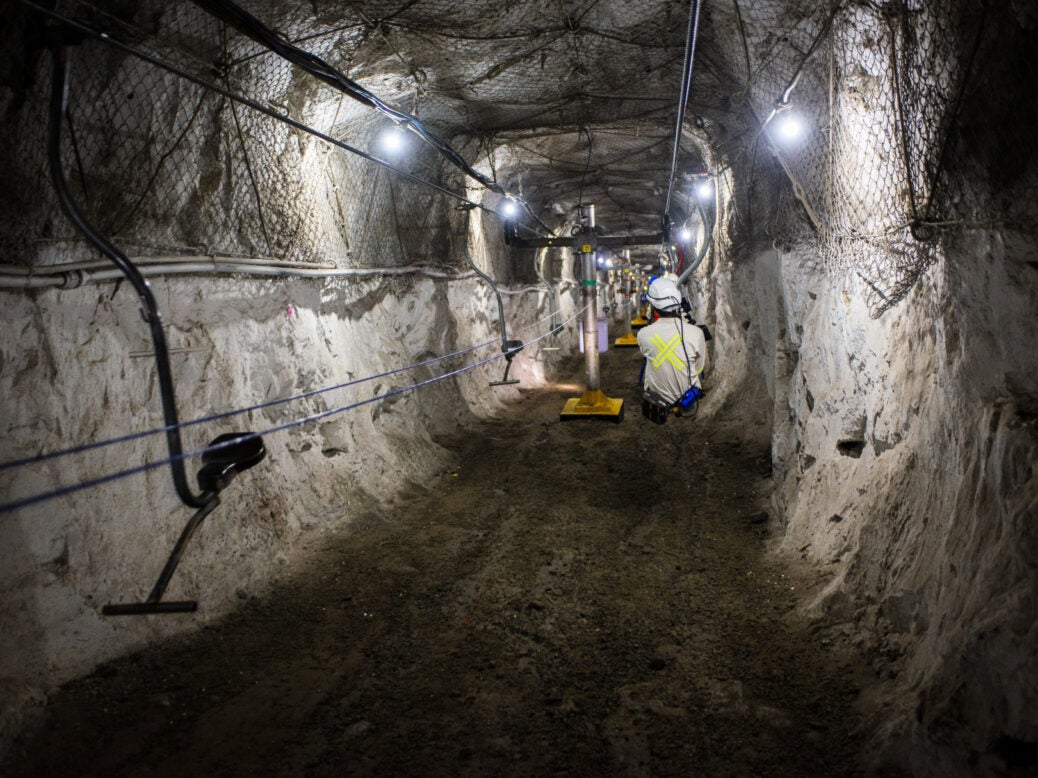 Gold mining in Upper Egypt can be traced back to predynastic times, with the earliest map from the Ramesside Period, dating to about 1160 BCE, showing the route to the gold mines in the Wadi Hammamat, Eastern Desert. Gold mining in Egypt started with alluvial workings and was followed by shallow underground vein mining in Nubia in about 1300 BCE, during the New Kingdom period. 
During the Roman period, gold mining in Egypt declined and it came to a standstill in areas such as the Nubian Eastern Desert. In the Early Arab period, processing technology underwent improvements with the invention of a two-piece round mill consisting of a flat, stationary stone, and a rotary disc with a handle, which ground the quartz.
Until this period, tools and weapons in Egyptian culture were based on stone tools, such as flint knives, arrowheads, and spearheads, as well as scrapers, axes, and hammers of hard stone. 
It is not clear whether copper or gold mining started first in Egypt, but they most probably started simultaneously.
Most gold mines in the country have been exploited for high-grade gold (15 grammes per tonne (g/t) gold or greater) by the ancient Egyptians, but there has been limited exploration that applies modern day techniques, where deposits can be viable based on gold grades as low as 0.5g/t.
While the country has a rich history of gold mining, its long-established industry regulations hampered the modern-day industry so much that Egypt could not attract much miner attention. It now hosts a single commercial gold mine: Centamin's Sukari.
2007 – Aton Resources becomes the only public exploration company in Egypt
As one of the most experienced mining companies in the country, Aton Resources was awarded the Egyptian Abu Marawat Concession in 2007, with operations beginning in 2009. Aton built strong relationships with its partner, the Egyptian Mineral Resource Authority (EMRA), and is actively involved in the Egyptian business community. 
Aton's 100% owned Abu Marawat Concession is located in the Central Eastern Desert of Egypt, approximately 200km north of Centamin's Sukari gold mine. 
Following this acquisition, Aton has been advancing the development of a number of targets. Working to discover Africa's next major gold mine, it has identified numerous gold occurrences throughout the concession area, including the Hamama deposit in the west and the Abu Marawat polymetallic deposit in the northeast.
Despite this welcome sector development, Egypt gold production reached a record low of 0.000 kg in 2007 and 2008, before it started climbing in the following years.
2018 – Centamin's Sukari Gold Mine reports gold decline
While the Sukari Gold Mine has been showing continuous progress, its production declined by 13% during 2018 on a year-on-year basis. Centamin recorded production of 472,418 ounces, compared to 544,658 ounces in 2017.

On a quarter-on-quarter basis, the production from the mine rose during the fourth quarter of 2018 by 17% to 137,600 ounces, compared to 117,720 ounces in the third quarter.

The company attributed the fall in production to the low quality of the gold-bearing material, as production expectations were projected to rise in the second half of the year.

General manager of Centamin Egypt and managing director of Sukari Gold Mining Youssef el-Raghy said at the time that Egypt's Sukari Gold Mine had reached 108.8 tons of gold between the mine's start of production in 2010 and June 2018.

At the beginning of July, Centamin announced that production at Sukari Gold Mine declined 25% during the second quarter of 2018, recording 92,800 ounces, compared to 124,600 ounces during the same period of 2017.
2019 – Egypt publishes its new mining law regulations
After the Egyptian Government hired independent consultants Wood Mackenzie to audit the current legislation and make recommendations for policies that would encourage global investment,the Mineral Resources Law was amended in August 2019.
But it was not until 14 January 2020 that the Egyptian Government officially announced its new mining executive regulations, changing the system from production sharing agreements to a rent, royalty, and tax system. 
This helped eliminate obstacles such as the need for mining companies to form joint ventures with the Egyptian Government and the limiting of state royalties to a maximum of 20%.
Egyptian miners have long argued that the country's mining policy for mandatory joint ventures and profit-sharing agreements has made it unprofitable for them to explore for and exploit minerals.
The cabinet indicated that from this point forward, mining companies must pay a rental value for their mines and quarries. This is in addition to royalties at a separate rate, determined for each type of ore extracted, with the royalty being "not less than 5% or exceed 20% of ore produced each year by the licensee".
2020 – Egypt awards gold exploration blocks and finds promising deposits
In November 2020, Egypt's Minister of Petroleum, Mining, and Mineral Resources, Tarek el-Molla, announced that the country had awarded exploration blocks to companies in an international bid round to explore gold in the country's Eastern Desert.
Egypt awarded 82 exploration blocks to 11 companies, including seven international enterprises, with the winning companies reportedly receiving 29% of the gold blocks. 
Canadian companies B2Gold, Barrick Gold, Lotus Gold, and Red Sea resources, as well as Australia's Centamin and Britain's AKH Gold, are among some of the companies that have been awarded concessions.
In addition to this, in June 2020, Egypt's Ministry of Petroleum and Mineral Resources announced that it had found a further $1.8bn gold deposit in the country.
The asset was found in the mineral-rich Eastern Desert, on a mining concession run by state-owned Shalateen Mining Company.
The government did not disclose details on the methodology used to determine the deposit's size, but if it were to produce one million ounces, the deposit would be worth about $1.8bn today.
2021 – Egyptian billionaire Naguib Sawiris invests in gold
In February this year, it was revealed that high-profile Egyptian businessman,Naguib Sawiris will be investing in the country's golden ambitions to tap into the underdeveloped resources of Egypt, after the changes to mining regulations opened new horizons.
In May 2018, Sawiris transferred half of his $5.7bn net worth into gold, believing that the commodity's prices will continue to rise. He increased his exposure to gold in 2020 as it struggled during the first market shake provoked by Covid-19.
In February 2020, Naguib Sawiris announced his interest in acquiring 51% of the Shalateen Mineral Resources Company, which is 35% owned by the Egyptian General Mineral Resources Authority; 34% owned by the Ministry of Defense's National Service Projects Organisation; 24% owned by the National Investment Bank; and 7% owned by the Egyptian Company for Mineral Resources.
The tycoon also holds an interest in mining and construction and is chairman of private gold mining group La Mancha.
News of Sawiris' commitment to gold exploration in Egypt came at the same time that the government extended the deadline for participation in the mining tender by 60 days.
At the time of writing, investors are said to have until 15 Ma to bid on blocks that will be awarded to the winning companies by 15 September, according to the Egyptian Mineral Resources Authority.