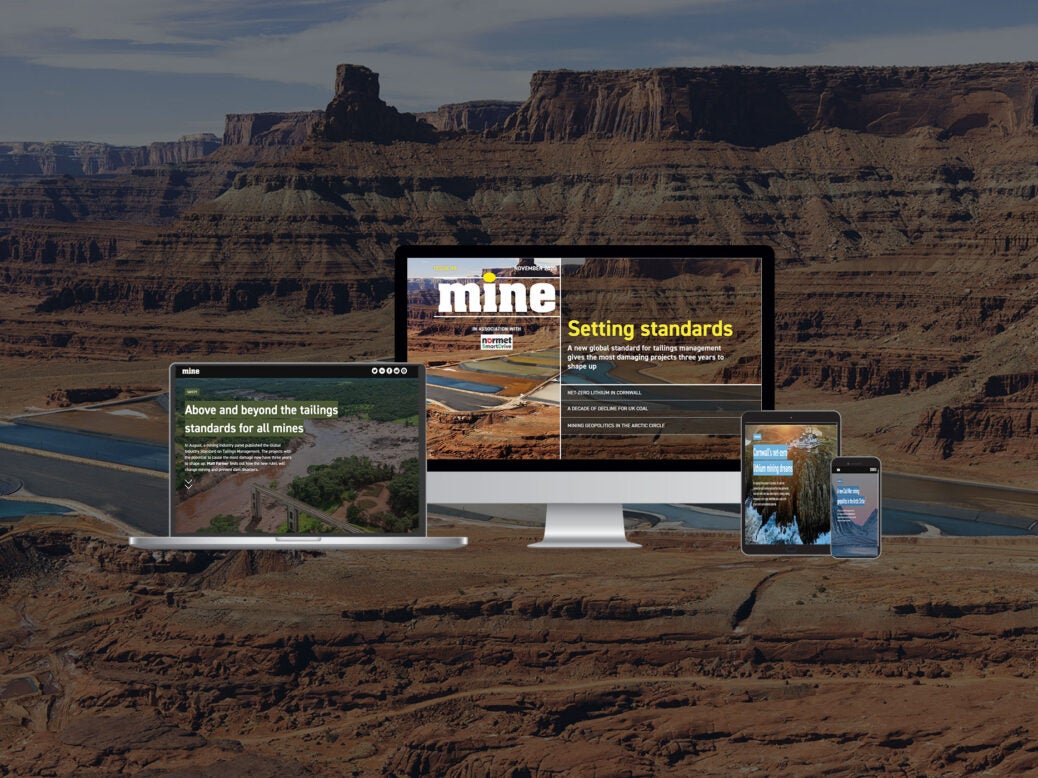 The global standard for safe tailings management, spearheaded by the International Council on Mining and Metals (ICMM), launched on 5 August and is now publicly available online. Now that this global standard, which has been years in the making, is finally in the wild, the natural next question is: how will it be implemented?
We also look at minerals whose importance could surge in the coming years, examine plans for net-zero lithium extraction in Cornwall, and learn about a new breakthrough that could unlock low-grade copper ores.
Finally, we chart the last decade of coal mining in the UK, profile the Russian mining sector, investigate the geopolitics of mining in the Arctic Circle, and talk to Sandvik and Exyn about pushing the boundaries of automation and robotics in mining.
Whether you are on a desktop, tablet or smartphone, you can read the magazine for free online, and join the conversation on Twitter.
In this issue 
Above and beyond the tailings standards for all mines
In August, a mining industry panel published the Global Industry Standard on Tailings Management. The projects with the potential to cause the most damage now have three years to shape up. Matt Farmer finds out how the new rules will change mining and prevent dam disasters.
Star commodities: new uses for existing metals
The Covid-19 pandemic has triggered renewed interest in copper as a medical material, highlighting the prospect of alternate uses for minerals across a number of sectors. From platinum fuel cells to aluminium wind turbines, JP Casey considers new uses for existing metals.
Cornwall's net-zero lithium mining dreams
An ongoing lithium project in Cornwall, UK could see commercial-scale reserves extracted from deep geothermal reservoirs with a very low carbon footprint, creating a mining renaissance in the region. Heidi Vella takes a look at the project and its environmental potential.
Could a new Jetti Resources breakthrough unlock low-grade copper ores?
Jetti Resources has pioneered a breakthrough patented technology that could enable the extraction of copper from previously uneconomical low-grade ores. Successfully applied by Toronto's Capstone Mining to double its production of copper cathode, Yoana Cholteeva finds out more about the technology from Jetti CEO Mike Outwin.
A decade of decline for UK coal
With August's closure of the Bradley coal mine in Durham, the United Kingdom's formerly prolific coal mining industry is all but dead and buried. Matthew Hall charts the past decade of notable closures, events, and policies for UK coal mining.
Huge reserves and huge potential: mining in Russia
With natural resources worth an estimated $75tn, Russia has long had the potential to dominate the world's mining industry. JP Casey profiles its current mining sector, and considers how the government and private investors are keen to expand Russian operations at home and abroad.
A new Cold War: mining geopolitics in the Arctic Circle
With China, Russia, and the US all eyeing a share of the Arctic's abundant natural resources, Matthew Hall looks at the geopolitical situation around the North Pole, and what lies ahead for mineral exploitation in the region.
Pushing the boundaries of mine automation with Sandvik and Exyn
Sandvik Mining and Rock Technology and robotics specialist Exyn Technologies have partnered to explore the boundaries of mining robotics and automation. Scarlett Evans speaks to Raffi Jabrayan, director of markets and industries at Exyn Technologies, and Jarkko Ruokojärvi, global business development manager in automation at Sandvik Mining and Rock Technology, to find out what the project entails.
Preview – MINE Magazine December 2020
Researchers from Vienna University of Economics and Business have mapped geographical areas used for mining using satellite imagery. The data set could be used to improve environmental impact assessments and as a benchmark for further monitoring. We speak to the team to find out more.
We also speak to Bell Geospace about mineral mapping in Botswana, hear from New Leaf Technologies about elearning in mining, and examine the troubles that have faced the Pebble mine. 
We also learn about Anglo American and Platinum Group's investment in new uses for platinum metals, consider the future of Turkish gold mining, investigate the World Gold Council's report into gold miners' contributions to the UN's sustainable development goals, and explore the World Bank's near $6bn fine against Pakistan over a mining licence.