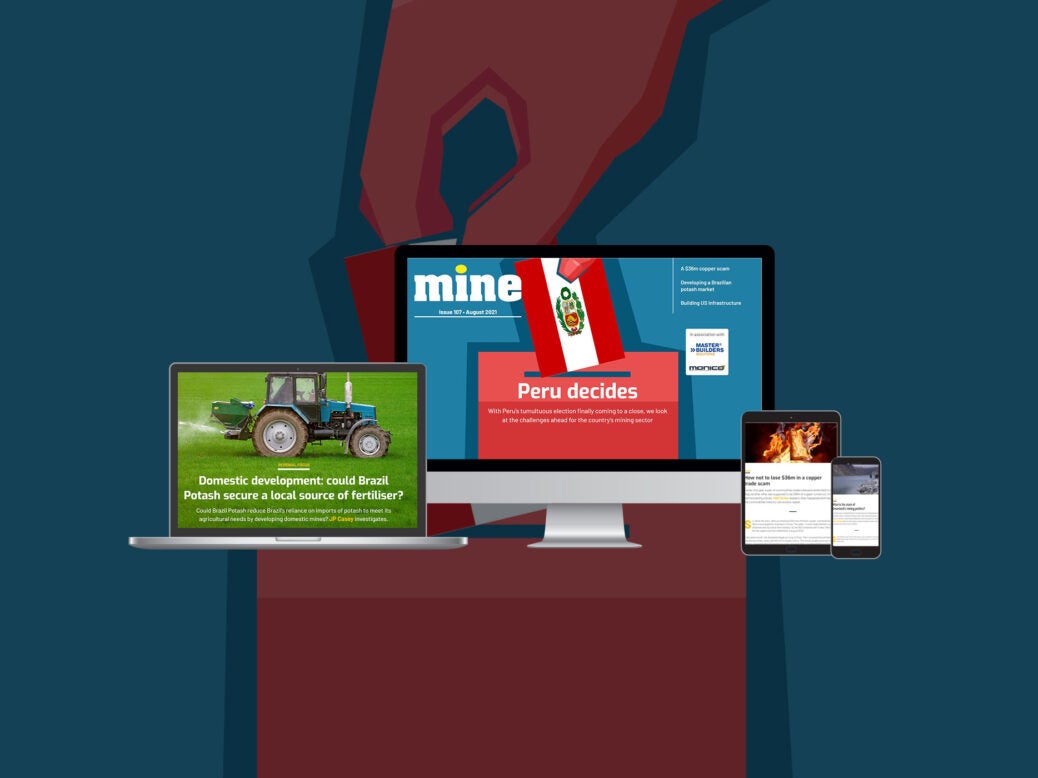 June's Peruvian election has been one of the closest in recent memory, with just 40,000 votes separating the two candidates, the left-wing Pedro Castillo and the right-wing Keiko Fujimori. While Castillo received more of the votes, Fujimori has alleged widespread electoral fraud, calling for up to 200,000 ballots to be thrown out. Both offer shake ups to the Peruvian mining industry, with Castillo suggesting the industry could be nationalised and Fujimori backing a more libertarian approach. In this issue, we examine the state of the industry and what the election could mean.
Also, we investigate how $36m of copper blister from a Swiss company was stolen by organised criminals in Turkey before it reached China and ask if this sort of theft is common, and how companies can prevent this sort of trade fraud.
Elsewhere, Brazil Potash is aiming to reduce Brazil's reliance on foreign, particularly Canadian, imports of potash to meet its agricultural needs by developing domestic mines. The move could reinforce the Brazilian economy and cut down on the environmental cost of transporting potash across the Americas, and establish the company as a key source of potash in a region that has historically struggled to meet its own demand for the mineral.
Whether you are on a desktop, tablet or smartphone, you can read the magazine for free online, and join the conversation on Twitter.
In this issue 
How not to lose $36m in a copper trade scam
Earlier this year, a pair of commodities traders became embroiled in a legal dispute after what was supposed to be $36m of copper turned out to be painted paving stones. Matt Farmer explains what happened and how those in the commodities industry can avoid a repeat.
Domestic development: could Brazil Potash secure a local source of fertiliser?
Could Brazil Potash reduce Brazil's reliance on imports of potash to meet its agricultural needs by developing domestic mines? JP Casey investigates.
Fuelling US infrastructure
With President Biden's proposed American Jobs Plan infrastructure bill expected to positively impact global mining commodity markets, Yoana Cholteeva discovers the possible outcomes of this strategy and its likely reflection on world supply chains.
Adopting eLearning to help South Africa's post-pandemic rebound
The impact of Covid-19 on the South African economy and its mining industry has made for tighter budgets. Yoana Cholteeva speaks with Mike Hanly, co-founder and managing director of education consultancy New Leaf Technologies, about the sector's opportunities for digitisation in the post-coronavirus world. 
Taxation, formalisation, and reputation: the past and future of Peruvian mining
Following the closest Peruvian election in years, JP Casey considers the range of challenges facing the country's mining sector.
What is the state of Greenland's mining politics? 
Australian miner Greenland Minerals has been planning the development of a rare earths mine in Greenland. However, after a left-wing political party's victory in the Arctic island's general elections threw the project into doubt, Yoana Cholteeva dives into the territory's political situation to learn what comes next for the miner and its efforts.
Preview – MINE September 2021
Research from the University of Nottingham and Terra Motion showed that the Brumadinho dam collapse could have been predicted based on ground movements in the weeks prior to the disaster. Now, that research will have real-world application with Geospatial Insight launching a service to monitor ground movements in and around tailings dams to provide early warnings of potential structural failures. We find out more about the work and how it could improve mine safety.
Also in the next issue:  we investigate how deep sea mining exploration licenses granted by the UK Government to UK Seabed Resources are riddled with inaccuracies, based on outdated legislation, and were granted for a length of time beyond what UK law permits – which could make them unlawful according to new analysis from Greenpeace and Blue Marine Foundation. In addition, we dive into the case of Petra Diamonds, and how its reputation as an ethical miner was shattered by a recent lawsuit alleging violence and human rights abuses at its Williamson mine in Tanzania by a security firm contracted to protect the area.
Plus, we track the trials and tribulations of mining in the Philippines, examine what synthetic diamonds mean for the market, and investigate claims of a crucial lack of critical minerals.