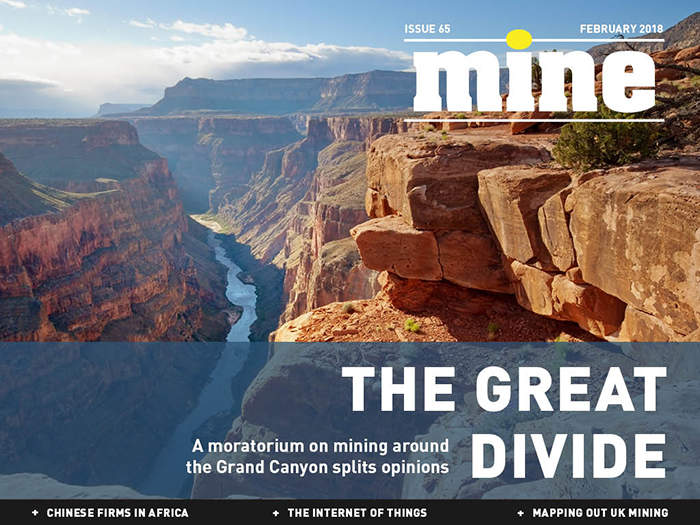 A US Forest Service report recommends repealing the 2012 moratorium on new uranium mining projects in the lands around the Grand Canyon in Arizona, US. While no mining is permitted in the canyon itself, the move has, naturally, provoked some strong opposition and concern over protecting the iconic landmark. For clarity, we ask just what are the chances of finding large new uranium deposits in the area, and is the value worth the controversy?
Equally sensitive is the German Institute of Global and Area Studies' analysis of Chinese firms' impact on African nations. With Africa gaining so little reward from its own natural resources, we explore the reasons why and the wider arguments surrounding foreign operations and investments.
Plus, with the UK no longer a leader in coal, we map out the significant operations sustaining its industry, discover what's caused rhodium's rocket into commodity fashion, why miners should embrace the Internet of Things, learn about tools for optimising mine design.
Read MINE magazine free on iPad through our app and on desktop, and you can join the conversation on Twitter.
In this issue
Mining the UK: a guided tour While the UK's days of intensive deep coal mining are largely gone, several smaller scale operations are blazing a trail with their innovative approaches to maintaining the industry. In this interactive feature, we travel the country to pinpoint some of the standout British mining projects covering commodities such as lithium, tin and tungsten. Click here to read
Blessing and curse: Chinese firms in Africa A report by the German Institute of Global and Area Studies has analysed just how beneficial Chinese mining operations in Africa have been for Africans, concluding that results are mixed, while infrastructure has improved, unemployment is undoubtedly linked to mine site proximity. Now, Africa countries are working to ensure they benefit from foreign operations, but can more be done than simply raising taxes? Click here to read
Uranium: mining the Grand Canyon A new report by the US Forest Service recommends repealing a 2012 moratorium on new uranium mining projects in the lands around the Grand Canyon in Arizona. Is there potential for large, new uranium finds in the area, and is the financial and strategic value worth the controversy of greenlighting licences in this treasured landscape? We examine the evidence. Click here to read
Rallying behind rhodium The price of rhodium has more than doubled since hitting 12-year lows mid-2016. As a main component for systems to clean vehicle emissions, its stock has grown through government crack downs on pollution. Still, it is an exceedingly rare mineral with South Africa alone producing roughly 80% of the world's supply, making prices volatile. Will this price surge continue? We look into how rhodium is mined and sold to find out. Click here to read
Embracing the Internet of Things Inmarsat research suggests that more and more mining operators are turning to the Internet of Things to improve environmental monitoring, reduce the impact of activities on the natural ecosystem and meet social responsibility objectives. So how are companies employing these technologies and is the effect measurable? We find out. Click here to read
Designing the future MineOptima was set up by Professors Thomas and Rubinstein, to apply their work on network optimisation and microchip design to the planning and design of the highly efficient mines. So what does the most efficient mine look like? Click here to read
Next issue preview
Mining caused around 10% of all Amazon deforestation between 2005 and 2015, according to a study by researchers at the University of Vermont. Previous estimates put the figure at 1%-2%, but mining-related deforestation can occur up to 70km beyond site borders to make way for roads, railways and accommodation. Here, we assess the major components of mining's environmental footprint in the Amazon rainforest and what can be done to improve the situation.
Also on environmental issues, tailings are one of the industry's most enduring challenges, so we look at the projects using innovative solutions. Plus, we profile Mexico's mining industry as it braces itself for a solid recovery, learn about the underwater robots that can access flooded mines, speak to Rio Tinto about preparing workers for an automated future, and speak with Ernst & Young on the industry's vulnerabilities and how to protect against digital risk.
Digital Magazine FAQs
You can read MINE for free on the iPad. Download our app from the App Store to read the latest issue and browse the back issues in our archive.
You can also continue to read the desktop version for free on our web viewer. (Browser compatibility: The web viewer works in the latest two version of Chrome, Firefox and Safari, as well as in Internet Explorer 9 and 10. Some features may not be compatible with older browser versions). Never miss an issue of MINE Magazine by signing up for a free subscription.