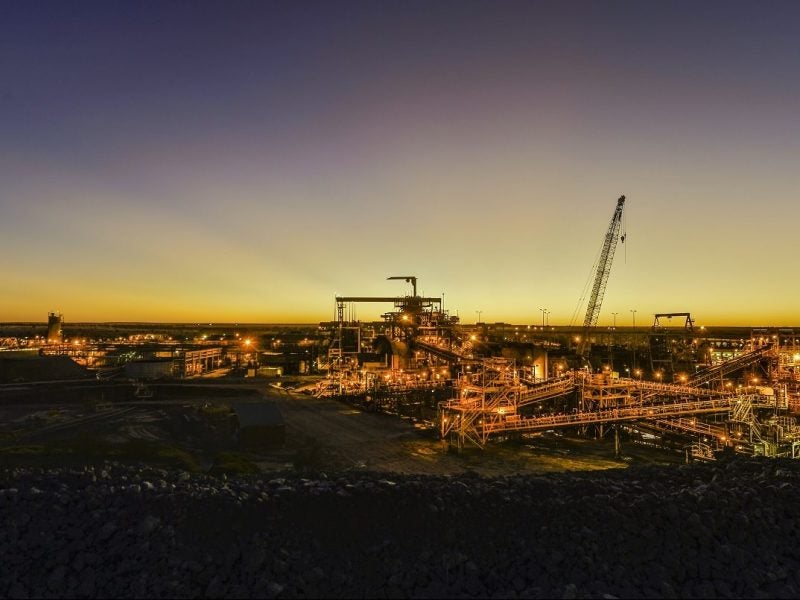 While Australia's mining sector has long been a vital part of the country's economy, the environmental damage caused by large-scale mining is threatening the sector's future. Australia has lofty targets to reduce its emissions to 26% lower than 2005 levels by 2030, and 5% below 2000 levels by 2020, based on agreements signed in Paris and Copenhagen respectively, but is on track to miss both goals unless it takes drastic action to improve its environmental performance, according to Climate Action Tracker.
Of greater immediate concern to the industry will be a court ruling from February, where judges banned the construction of Gloucester Resources' proposed Rocky Hill coal mine for its potentially devastating environmental consequences, despite the economic opportunity of mining for coal in New South Wales. With the industry under greater pressure than ever to reduce its environmental footprint, we look at eight projects leading the way.
Granny Smith gold mine – Laverton, Western Australia
Gold Fields' Granny Smith project in Western Australia is one of the most ambitious in the country, with the owners planning to install a renewable energy microgrid featuring more than 20,000 solar panels, and supported by a battery system capable of storing 2MW. The system will reduce the mine's fuel consumption by up to 13%, the equivalent of removing 2,000 cars from the road, a significant contribution from a mine that employs 720 people.
There are concerns that the project, which is expected to be finished by the end of 2019 will struggle to single-handedly power an operation that aims to pour 275,000oz of gold a year. The solar power system will produce 8MW of power, less than a third of the daily power needs of 24.2MW. However, Gold Fields is working with power specialists Aggreko to deliver the system, a partnership with significant potential for future projects.
Degrussa copper and gold mine – Doolgunna Station, Western Australia
Sandfire's DeGrussa solar facility has been in operation since 2016. A A$40m investment, the project is a massive operation, with 34,080 solar panels covering 20 hectares that Sandfire tentatively claims to be the largest off-grid solar and battery storage plant in the world.
The Western Australian mine has produced 438,000t of copper and 254,000oz of gold since production began in 2012, and production of both metals peaked in 2016, when the solar facility was commissioned. The panels supply around one-fifth of the mine's annual power requirements, and have cut the project's annual emissions by 15%, a total reduction of 12,000t of CO₂ a year. The mine is also on track for its most productive year, with copper and gold production estimated to reach 70,000t and 44,000oz respectively by the end of the 2019 financial year.
Built on a former sheep and cattle station in Queensland, South32's Cannington mine has been one of the world's largest producers of silver and lead since production began 20 years ago. In December 2018, the mine opened a 7,200-panel solar farm that will predominantly be used to power the mine's accommodation and airport, with additional power going to mining operations, as South32 tried to embed renewables into all aspects of the mining sector. The solar farm will cut down annual greenhouse emissions by up to 6,000t.
The project is not South32's first foray into renewable power, with the company securing a 14-year extension with Energy Developments Limited (EDL) to continue to supply energy to the mine. The deal also involved working with SunSHIFT, a subsidiary of Laing O'Rourke, which will hybridise the mine's 34MW gas plant by augmenting it with solar panels.
Coober Pedy – Far North, South Australia
Australia's other significant renewably powered mining project is in the South Australian town of Coober Pedy, a remote settlement whose mineral extraction industry is powered by a hybrid wind and solar scheme operated by EDL subsidiary EnGen. The programme began in July 2017, and combines a 4MW capacity wind farm with a 1MW capacity solar field to deliver a constant supply of renewable energy to the town; to date, the project has cut down on emissions equivalent to the removal of 1,800 cars from the road per year.
Coober Pedy was powered entirely by stored energy from renewable sources for 81 consecutive hours, and while the solar and wind farms were disrupted by events such as a lightning storm and technological faults, the continued work of the settlement demonstrates the effectiveness of the technology.
Mount Cattlin lithium mine – Ravensthorpe, Western Australia
Galaxy Resources' Mount Cattlin mine in Western Australia is already one of the country's cleanest operations, with 14 solar trackers and two wind turbines ensuring 15% of the mine's annual power needs are met by renewable sources. The remainder of the power comes from a diesel generator. However, the owners are working on ramping up renewable production to the point where the mine is powered entirely by clean energy, which would be a first in Australia.
With the mine already cutting its annual carbon emissions by 200t due to the trackers and turbines, the project is proof of the feasibility of gradually shifting from a conventionally-powered operation to a clean mine through hybrid technology.
Port Gregory garnet mine – Northampton Shire, Western Australia
GMA Garnet is working on an ambitious project in Western Australia. The company has invested A$8m into a wind and solar farm with Advanced Energy Resources, which will meet 70% of the power requirements of the nearby Port Gregory garnet sand mine, ahead of the company's lofty target of becoming 100% renewable across all of its operations.
The facility will have a peak output of 2.8MW, enough to power 1,700 Australian homes per year, and reduce GMA Garnet's carbon footprint by 5,000t by per year. While the mine is not the largest in Australia – its annual production is 400,000t per year, but much of this is sand rather than precious garnets – it remains an example of a highly ambitious renewable project.
Mount Lyell copper mine – Queenstown, Tasmania
The Mount Lyell copper mine was mothballed in 2014 following a string of fatal accidents, but operators Copper Mines of Tasmania (CMT) plan to restart production, and power the operation with Australia's first zero emissions power source. The company has spent A$100m maintaining the mine since its closure, and a further million on modernisation studies ahead of a proposed reopening.
CMT plans to use electric vehicles to cut down on carbon emissions, and use unconventional sources of power generation, such as hydropower generators and geothermal facilities. The Tasmanian Government has also committed A$9.5m in projects aimed to help restart the mine, so the project has significant government approval.
The potential reopening has been undermined by the mine's consistent state of care and maintenance, which continues to cost CMT, and the closure of a copper smelter by its parent company Vedanta, which threatens the global copper market in general.
Boonanarring mineral plant – Gingin shire, Western Australia
Image Resources' Boonanarring mine and plant in Western Australia is currently under construction, but the owners are making a significant investment into renewable power in the form of a 4MW solar farm that will provide one quarter of the project's power needs.
Like many of the other projects, the remainder of the power will comes from conventional sources, in the form of power line from a local power grid. The sand mining operation covers a massive scale, with an annual expected production of 89,000t of ilmenite, 32,400t of zircon, 9,000t of rutile and 5,400t of leucoxene over its ten-year mine life.