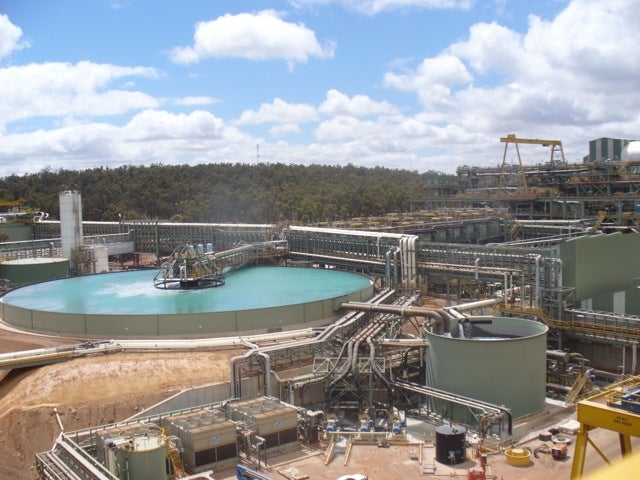 Remote and autonomous mining technologies have seen slow but steady uptake over the past decade, with the first major investments coming from Rio Tinto's Mine of the Future initiative in 2008, which introduced automated machinery and remote-controlled processes at the company's Pilbara mines.
Other miners have followed suit, with Western Australia's Pilbara region itself particularly suited to trialling and rolling out all manner of technologies, from self-driving trucks to remote operations centres that can monitor processes off-site. But innovations are not limited to the Pilbara, with new projects popping up across the state and existing operations beginning to retrofit new technologies.
Koodaideri
The Koodaideri deposit, in the Hamersley Basin of Western Australia, is an iron ore mine in development with a view to commence production in 2021. Touted by owner Rio Tinto as the company's first "intelligent" mine, the A$3.5bn development has brought Caterpillar on board to provide 20 autonomous trucks and 4 autonomous blast drills.
Koodaideri is exploring over 70 innovations, including a digital replica of the processing plant, accessible in real time by workers, as well as fully integrated automation and simulation systems, using technology to interconnect all components in the mining value chain. In February, Scott Technology secured a contract to design and build an automated sample preparation and analysis laboratory for the Koodaideri project.
Boddington
Australia's largest gold mine, Newmont's Boddington operation, is set to become the world's first open-pit gold mine using a fleet of autonomous haul trucks from 2021. The total net investment in Boddington's Autonomous Haulage System (AHS) will be $150m, with Caterpillar providing a fleet of driverless CAT 793F trucks.
Newmont expects the AHS to bring improved efficiencies to the project, and expects the mine's life to be extended by at least two years as a result. The company said that Caterpillar's haul trucks will feature rigorous safety controls that reduce employee exposure to vehicle interactions. The company also pledged opportunities for the reskilling and redeployment of haul truck drivers to other roles at the mine.
Fortescue's Integrated Operations Centre
What began more than a decade ago as a train control centre for Fortescue Metals Group's Pilbara rail system has evolved into a fully-fledged remote operations centre. Fortescue's Integrated Operations Centre (IOC) allows workers in Perth to operate a mine, rail, and port network that sits 1200km away in the Pilbara region.
Work at the IOC allows for more flexible working arrangements than traditional mines, and reduces the need for employees to travel across Australia to remote mining areas – both those factors can provide a solid defence against the spread of Covid-19. Fortescue has pledged to make its Pilbara vehicle fleet fully autonomous, and the company said that 3,000 employees have been trained and upskilled to make use of automated technology.
AutoHaul
Rio Tinto's automated iron ore haulage rail network can operate up to 50 unmanned trains at any one time. On a fully automated 1,500km rail network, the driverless trains transport iron ore from the company's Pilbara mines to the ports of Dampier and Cape Lambert, with the average trip taking 40 hours across an 800km stretch.
Loading and unloading of the train cargo is a fully automated process, with human interaction only required for the last mile at the ports. Rio Tinto says that its AutoHaul system has increased average speeds on its rail network by 5-6% so far. The reduction in human workforce required for the network has cut 1.5 million kilometres of annual road movements to transport drivers to and from trains mid journey.
Roy Hill
In February this year, Roy Hill signed a contract with Epiroc for automated haul trucks at its iron ore operation in the Pilbara. Epiroc, working in partnership with ASI Mining, is set to convert Roy Hill's mixed fleet of 77 haul trucks from manned to autonomous use. The conversion will be expandable to other mining vehicle types and manufacturers, and is being designed to integrate with Roy Hill's existing Wenco fleet management system.
Roy Hill also uses a remote operations centre in Perth, where it can monitor activities at its Pilbara operations. The project will be implemented in phases, with testing and verification of up to eight trucks in the initial phase, before full fleet expansion from mid-2021.
South Flank
In 2018, BHP approved a $2.9bn investment in developing the South Flank iron ore project in the central Pilbara, Western Australia. BHP pledged to use an array of technologies at the mine, from autonomous equipment to digital connectivity. As well as autonomous blast drills, BHP  contracted Komatsu last year to provide 41 automation-ready haul trucks.
Initially these will be manned for the more complex activities at the beginning of the mine's life, but BHP has a view to progressively automate the haulage process. First ore from the South Flank project is targeted for 2021, with an expected mine life of at least 25 years.
West Angelas
The first project in Rio Tinto's 2008 Mine of the Future programme, West Angelas in the Pilbara formed an early model for what automated processes and autonomous equipment could look like at mines. From Rio Tinto's Perth-based operations centre, an operator can plan activities for autonomous drills remotely, removing the need for someone to do the work manually on-site.
Rio Tinto's fleet of smart charge trucks automate the process of pumping explosives into drill holes, and make use of data analytics systems to determine the appropriate amount of explosives to use. This reduces waste and helps improve the effectiveness of the blast.
Yandicoogina and Nammuldi
Two of Rio Tinto's iron ore mines in the Pilbara, Yandicoogina and Nammuldi, became the first mines in the world to move all their ore using driverless haul trucks in 2015. The trucks are controlled from Rio Tinto's Perth operations centre, after the mine was fully digitally mapped to programme easily traversed, repeatable routes for the trucks to move ore.
Automating the process meant that the robots could work for longer than human workers, and having predictable machines rather than manned operators reduced the risk of accidents. The reduced downtime by having automated haul trucks was estimated by Rio Tinto in 2018 to have saved 700 hours per truck, with costs down 15%.