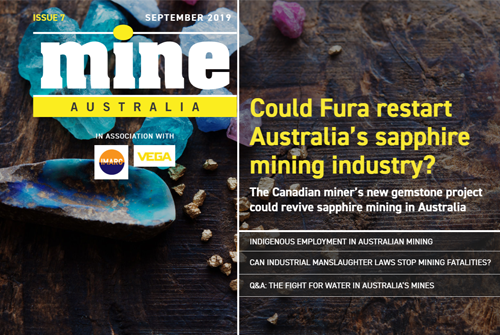 The new issue of MINE Australia is out now. Click here to read on any device.
Following the disaster in Brazil, tailings dams have come under close scrutiny around the world. Now in Australia, investors and the public alike are putting pressure on mining companies to be transparent about the safety of their tailings management, but will this lead to change?
As the number of people killed in mining accidents in Queensland continues to rise, the state is looking to extend its industrial manslaughter laws to include the industry. We take a look at the impact this could have on safety.
Elsewhere, as droughts become increasingly common, mines are having to compete for water; we ask what can be done about this.
Also in this issue, we take a look at indigenous employment rates and how companies are improving them, the Junior Minerals Exploration Incentive fund, and the latest developments in sapphire mining.
In this issue
A look at Australia's Junior Minerals Exploration Incentive
The Australian Government's Junior Minerals Exploration Incentive has been hailed as a success for encouraging new ore deposit finds at greenfield sites. Heidi Vella spoke to the Association of Mining and Exploration Companies to find out what makes it work, and as a review nears, what can be done to improve it further.
Can industrial manslaughter laws stop mining fatalities in Queensland?
After a spate of mining safety incidents in Queensland over the last year, the state government is considering extending industrial manslaughter laws to cover the resources sector. While some welcome an updated legislation, questions remain over whether it would improve safety where other measures have failed. Scarlett Evans takes a look.
Fura and the future: could the Canadian miner restart Australia's sapphire industry?
Canadian miner Fura Gems has purchased the Capricorn sapphire mine in Australia, as part of a plan to mine and export the big three gemstones: rubies, emeralds and sapphires. With the Australian sapphire mining sector having struggled in recent years, there is hope that Fura's investment could not only generate profits for the company, but reinvigorate the country's sapphire mining industry as a whole. JP Casey takes a look at whether this could be the jumpstart the industry needs.
Dam straight: Australian miners reflect on safe tailings management
Another deadly tailings dam disaster in Brazil has prompted soul-searching in the wider industry. In a well-regulated and mature market like Australia, Chris Lo asks, is the mining sector taking proper stock of its tailings management practices?
Q&A: the fight for water in Australia's mines
One of the biggest issues facing mining in Australia is water security, and as climate change makes droughts increasingly common, problems are arising over how to access water without running into trouble. Scarlett Evans speaks to managing director of Aussie Pumps Warwick Lorenz about how to provide water security for miners.
Indigenous employment in Australian mining: what more needs to be done?
New Century Resources (NCR) has pledged to reach 50% Indigenous employment at its zinc mining operations in Queensland – the largest pledge of its kind seen in the country's mining sector. Scarlett Evans looks at industry-wide efforts to boost Indigenous integration, and asks what more needs to be done to ensure that the modern Australian mining sector is inclusive.
Mining business growth continues after successful AIMEX
From the 24-26 of August, Sydney Showground played host to one of the biggest mining conference in the world. This year's AIMEX saw a host of speakers and exhibitors, covering some of the biggest topics and developments in the mining industry in Australia. Here are some of the best bits of this year's conference, explained by Daniel Hallgearing who attended the event for MINE Australia.
Next issue
According to a recent report by the Grattan Institute, mining and energy corporates have used paid lobbyists to access the Queensland Labor government 214 times in the past six years. We speak to the institute about the benefits of this, and ask whether the industry is, as Grattan researcher and senior associate Kate Griffiths said, "punching well above their weight"?
Also in the next issue, we speak to the University of Adelaide's new national mining research and training centre about the advanced technologies its using and how they can benefit the industry, and find out about Geosciences Australia's improved positioning technology.
We also look at how companies are making minerals transfer more environmentally friendly, examine the reasons behind gold's impressive recent performance, and explore the state of the mining industry in South Australia.