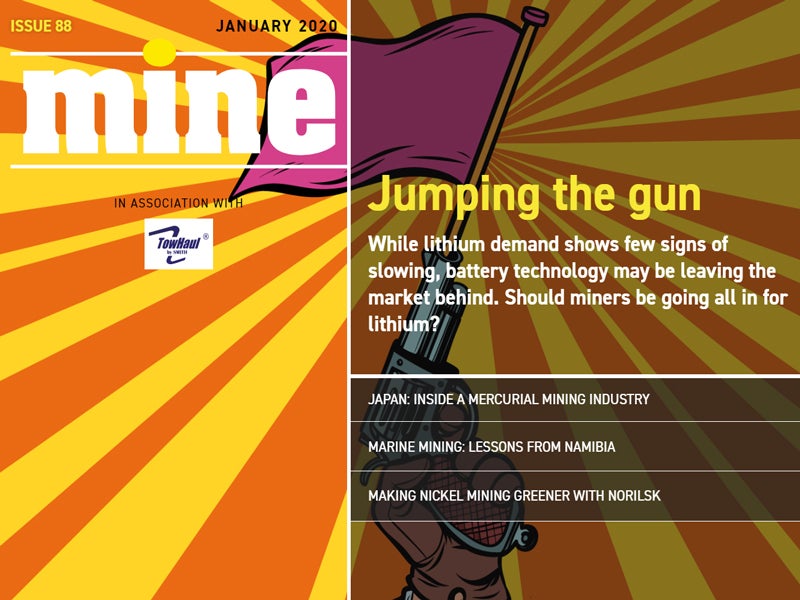 Tech-heavy societies require a lot of different metals, but where do they get them from? We zoom in on Japan to find out where the country sources its metals and what the future holds for the Japanese mining industry.
We also look at the history of seabed mining in Namibia and, while lithium demand shows few signs of slowing down, the rate at which battery technology is developing is changing at an enormous pace. We look into the longer-term prospects for miners jumping on board the lithium boom.
Also in this issue, we speak to Platinum Group Metals' CEO to find out more about the company's future plans at Waterberg Palladium Mine, sit down with Norilsk's vice-president and chief operating officer to find out more about the company's steps to reduce emissions, and hear from TechMet's CEO about its investment in US Vanadium Holdings and the company's broader strategy in technology metals.
Plus, we examine the US and Australia's joint strategy for rare earth minerals production, and find out how mining companies can get involved with collaborative approaches to achieving social transitioning objectives.
Click here to read the latest mining industry news and analysis, and join the conversation on Twitter.
In this issue
Japan: inside a mercurial mining industry
Despite lacking large-scale mines, Japan is not completely reliant on foreign exports to satisfy its mineral needs. From its vast iodine reserves to a thriving smelting sector, Japanese mining is one of the more unique industries in the world. JP Casey finds out more.
Marine mining: lessons from Namibia
The seabed is considered one of the last mining frontiers. Yet offshore Namibia, De Beers has been commercially prospecting the sea since 2002. But how does marine mining for diamonds in Namibia's shallow waters compare to plans for deep sea mining for rare earth minerals, and can the latter replicate the former's success? Heidi Vella investigates.
Are mining companies jumping the gun on lithium?
Lithium has skyrocketed on the back of huge demand created by the battery industry. While lithium demand shows few signs of slowing down, battery technology is changing at an enormous pace. Projects around the world are exploring alternatives to lithium, promising that a breakthrough is just around the corner. Umar Ali asks the question: should miners be going all in for lithium?
Making nickel mining greener with Norilsk
Russian nickel mining company Norilsk has recently taken steps towards reducing emissions at its operations on the Russia-Norway border, and has collaborated with the UN to explore environmentally-sound mining technologies. Umar Ali sat down with Norilsk vice-president and chief operating officer Sergey Dyachenko to find out more.
Growing demand and uncertain futures: the rise of palladium
With growing demand, palladium is enjoying a boom, with prices rising over 100% in three years. This surge in demand, however, means that there are few well-established palladium mines. With this lacking tradition of secure palladium production, questions have been raised about the future of the metal. JP Casey finds out more.
Investing in technology metals with TechMet
Demand for so-called 'technology metals', including lithium, vanadium, cobalt, and nickel is set to soar as the world is getting ready for revolutions in energy storage, electric vehicles and more. Yoana Cholteeva speaks with Techmet CEO Brian Menell about the value of tech metals and the company's broader strategy.
Australia and the US: a rare, rare-earth partnership
Australia and the US have partnered together to find news sources of critical minerals, including rare earth minerals, and reduce their reliance on China which currently dominates supply and demand. How will the partnership help kickstart development of new projects and what are the challenges? Heidi Vella reports.
Social transition and why it matters in coal mine closure
Coal remains a significant contributor to the economies of the world, and backbone of many local communities, so simply closing coal mines can trigger a series of intended social consequences. JP Casey speaks to Claudia Strambo of the Stockholm Environment Institute about the difficulties in coal mine closure, and how governments and companies can affect those who rely on these operations.
Preview – MINE February 2020
At the end of October, Barrick Gold Corp president and CEO Mark Bristow made a speech in Mali to celebrate the company's partnership with the Malian government and to pledge further commitment to the country's mining sector. We talk to Bristow about the development of mining in Mali, as well as the company's history and future plans in the country.
We also talk to the LME about their plans to accept metals from small-scale miners, report on the state of mica mining, and see if a new regime can change a glacial mining industry in Argentina.
We also speak to the UK Coal Authority to find out more about the complex legacy of former mining land, look at the most important technologies helping to keep miners safe, round up the players leaving coal behind, and hear from corporate finance company Bryan Cave Leighton Paisner about securing alternative funding in mining.