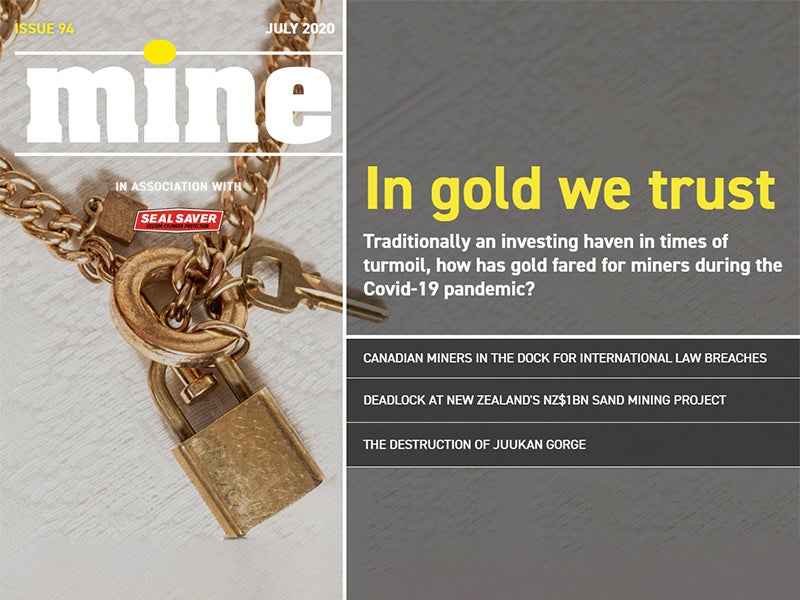 Gold is traditionally viewed as a safe haven for investors in times of economic turmoil and it is no different during Covid-19. So has there been a knock on for miners? We look at the near future outlook for gold mining.
We also investigate the case against a Canadian miner being sued for violations of international law, assess whether Covid-19 could kick-start a new revolution in digital mining, and see how the Trans-Tasman court case could impact future offshore mining projects in New Zealand. 
We also look at how the industry has rallied to help during Coid-19, speak to Speedcast about 'connected mines', hear from Mineworx about the post-market recovery of PGMs, and consider Wärtsilä's plans in Saudi Arabia.
Whether you are on a desktop, tablet or smartphone, you can read the magazine for free online, and join the conversation on Twitter.
In this issue 
Highs and lows: how gold and gold miners have fared during Covid-19 
Gold's reputation as a safe haven for investors in times of turmoil has held steady amid the coronavirus pandemic; despite plummeting jewellery sales, the price of the precious metal has skyrocketed to a seven-year high. But what do such turbulent times mean for miners? Heidi Vella investigates.
Liability: how a new court ruling could put Canadian miners in the dock
In a 5-4 decision in February, the Supreme Court of Canada gave the green light to Canadian courts to develop new forms of civil liability based on alleged breaches of customary international law. Matthew Hall finds out what the implications of this decision are and what the landmark case could mean for Canadian mining companies. 
Deadlocked: economics versus the environment at New Zealand's NZ$1bn sand mining project
Trans Tasman Resources has been involved in a protracted legal battle over a proposed sand mining project off the New Zealand coast, which would see 50 million tonnes of sediment a year lifted and processed to mine for iron ore beneath the waves. With the case deadlocked, JP Casey considers the causes and consequences of the dispute.
How the mining industry is rallying to help during Covid-19
The Covid-19 pandemic has created severe challenges for the mining industry but, amongst the bad news, there have also been positive stories as miners rally to help communities. Yoana Cholteeva looks at mining companies offering their support in response to the global pandemic.
Searching for gold in Scotland's Loch Tay with Erris Resources 
Erris Resources recently raised additional funding towards the development of its Loch Tay Gold Project, part of the Grampian Gold Belt in Scotland. Yoana Cholteeva speaks with CEO David Hall about the potential of this venture.
Circular economy: the projects leading the way in mining waste recovery
As mining operations grow, so too does their waste production, despite the fact that many waste streams contain useful and even precious resources. JP Casey rounds up some of the innovative projects tackling mining waste and helping to push mining towards becoming a truly circular economy.
Could Covid-19 spark an autonomous revolution in mining?
The Covid-19 pandemic has disrupted mining operations across the globe but, as lockdowns lift and miners adjust to new ways of working, Matthew Hall looks at whether coronavirus could be the spark for an autonomous revolution. 
Wabtec's digital twin: how predictive modelling could save miners millions
Mining remains an expensive business, with inefficiencies, accidents, and mistakes costing vast sums of money. To help cut these costs, Anglo American partnered with Wabtec to use the latter's digital twin modelling technology to optimise its South African operations; JP Casey investigates the technology.
The destruction of Juukan Gorge
Rio Tinto recently issued an apology after the mining company destroyed a 46,000-year-old Aboriginal heritage site as part of an expansion project in the Pilbara region of Western Australia. Matthew Hall learns more.
Preview – MINE Magazine August 2020
A global copper surplus is expected to get worse as market disruptions caused by Covid-19 shutdowns disrupt supply. The International Wrought Copper Council (IWCC), expects supply to surpass demand by 285,000 tonnes this year rising to 675,000 tonnes in 2021. But what will this mean for copper, and copper miners in particular? We find out.
We also examine Murray Energy's journey to bankruptcy, speak to IDE Americas about improving the efficiency of mine water management, and look at the cancellation of funding for Mongolia's Tavan Tolgoi project. 
We also hear from Inmarsat about mining's digital future, talk to SRK about using big data to monitor mine tailings, learn about Sandvik's AutoMine for Trucks, and take a look at the Responsible Mining Foundation's accusations of the mining industry's so-called "SDG-washing".