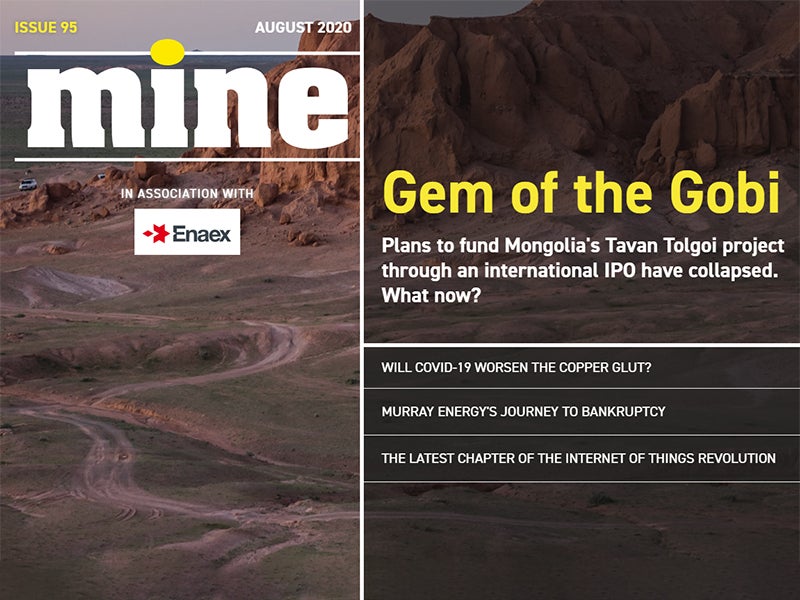 A global copper surplus is expected to get worse as market disruptions caused by Covid-19 shutdowns disrupt supply. The International Wrought Copper Council (IWCC) expects supply to surpass demand by 285,000 tonnes this year rising to 675,000 tonnes in 2021. But what will this mean for copper, and copper miners in particular? We find out.
We also examine Murray Energy 's journey to bankruptcy, speak to IDE Americas about improving the efficiency of mine water management, and look at the cancellation of funding for Mongolia's Tavan Tolgoi project. 
We also hear from Inmarsat about mining's digital future, talk to SRK about using big data to monitor mine tailings, learn about Sandvik 's AutoMine for Trucks, and take a look at the Responsible Mining Foundation's accusations of the mining industry's so-called "SDG-washing". 
Whether you are on a desktop, tablet or smartphone, you can read the magazine for free online, and join the conversation on Twitter.
In this issue 
How copper's tumultuous year sets the stage for an uncertain future
The International Wrought Copper Council (IWCC) has predicted that, in no small part thanks to pandemic-related market disruption, copper supply will surpass demand by 285,000 tonnes this year, rising to 675,000 tonnes in 2021. Matthew Hall finds out what this could mean for the copper industry as it heads towards an uncertain future.
The fall of Murray Energy
Murray Energy, the US' largest privately held coal producer, has fallen from a position as one of the most productive US miners to allegations of manipulating figures amidst a bankruptcy filing within a decade. JP Casey investigates this rapid decline and what it tells us about US coal mining in 2020.
Brine & brackish: improving the efficiency of mine water management
Existing treatment techniques for brine and brackish water at mines are very energy-intensive, and only cover around 80% of brine. But MaxH2O, a membrane-based water treatment system developed by IDE Technologies , can increase recovery by up to 98% and uses far less energy than other methods during the process. Scarlett Evans finds out more.
Mining Mongolia: what potential does this landlocked country hold?
Mongolia recently cancelled an executive order to fund the giant Tavan Tolgoi coal project through an international initial public offering (IPO), instead choosing to self-fund the project. Such a situation is typical in a country that has consistently struggled to capture international investors despite purported billions in mineral wealth. Scarlett Evans reports. 
The internet of things and mining's digital future with Inmarsat 
The global mining sector is undergoing an internet of things (IoT) revolution according to new research by Inmarsat, with respondents reporting a significant increase in adoption of IoT technologies. Matthew Hall speaks to Inmarsat global mining director Joe Carr to discuss the study's findings and what IoT means for mining's digital future.
Using big data to enhance tailings dam safety with SRK
As the consequences of mine tailings loom ever larger in the sector, new technological solutions are emerging to help monitor the spread of mine waste, and alert safety officials about potential dangers before they emerge. Yoana Cholteeva spoke to Lyzandra Boshoff, consulting principal engineering geologist at mining and metals consultancy SRK, about this risk, and the growing use of big data to tackle it.
Speedcast on mission critical communications and the "connected mine"
As an expert in high-speed connectivity, Speedcast has made it their mission to provide solutions for vast bandwidths and interoperability at remote mining sites. Yoana Cholteeva spoke to Speedcast senior director, IoT product and services, John Geasa, to find out why these technologies are essential for the "connected mine".
"SDG-washing": are miners falling short on commitments?
The Responsible Mining Foundation has released its latest report into the sustainable practices of some of the world's largest miners, and while the general trend is positive, a lack of clear commitments and a worrying trend of "SDG-washing" remains in the industry. JP Casey speaks to the foundation to find out more.
Preview – MINE September 2020
In June, Indian Prime Minister Narendra Modi launched the auction of 41 coal mines opening India's vast deposits to the commercial sector for the first time. We look at India's sweeping plans and ask: can they be squared with the country's climate change commitments?
We also look at claims around the Canada-US integrated supply chain for critical minerals, investigate how Covid-19 disrupted nickel's great recovery, and learn how flooded mines are being used to heat homes in the UK.
We also explore how hydrogen-powered vehicles could be the future of mining machinery, speak to IBM and Shell about their global B2B digital mining services marketplace, sit down with Axora to talk smart tech in the mining sector, and take a visual tour of the US Geological Survey's seafloor mining research.