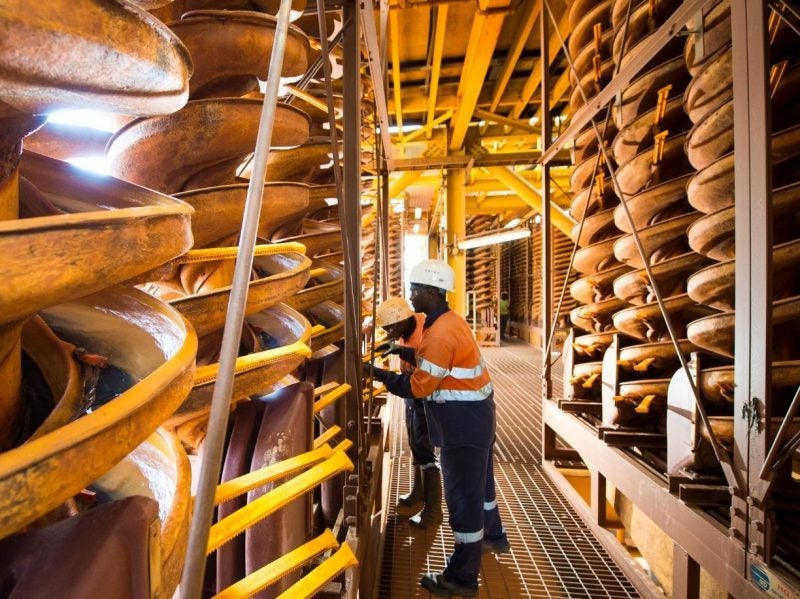 Australia has solidified its reputation as a mining titan, with operations spanning its own land and into the Asia-Pacific and Latin American regions – populated by mining companies from Australia's east coast. But for the country's western shores, efforts are turned in the other direction – towards the continent of Africa. Figures from the Australian Parliament show that at least 170 Australian mining and resource companies operate in around 35 African countries, with the overall value of current exploration, extraction, and processing estimated to be more than A$40bn.
With such a wealth of resources, it is a point of contention for some industry members that this continent's potential remains relatively undervalued, while others warn the onus on harnessing these deposits is working to the detriment of local communities. Given the varied nature of the countries within which Australian miners operate, there is no one hard and fast rule for how projects should work. However, the need to prioritise rehabilitation schemes and sustainable practice seems an unavoidable truth.
The lure of an untapped landscape
While the parliament's report showed a range of resources are sought after by mining projects – including uranium, lithium, and manganese – operations are most condensed in the gold reserves of West Africa, while eastern countries such as Kenya have attracted attention for their mineral sands deposits.
Australia-Africa Minerals & Energy Group CEO William Witham says much of the interest in these regions comes from their relatively underexplored nature – offering the promise of good quality material with minimum competition.
"In mature mining jurisdictions like Australia and America it's becoming harder to find high-grade greenfield sites," says Witham.
"Yet in countries throughout Africa, much of the geology hasn't been explored very thoroughly so it's still quite possible to find a surface deposit of high- to reasonable-grade. While this brings slightly higher exploration costs with it, it can operate at higher margins."
Similarly, Karl Simich, resources managing director for Sandfire Resources, says the Kalahari Copper Belt in Botswana (where Sandfire is currently conducting a feasibility study) is 'extraordinarily prospective' due to its having seen 'very little in the way of modern exploration'.
The situation was highlighted in a report published by mining law firm DLA Piper, which said that while over 30% of the world's global mineral reserves are found in Africa, less than 5% of total global mineral exploration and extraction budget is invested in the continent. It is a fact found frustrating by industry figures such as Witham.
"We are always trying to highlight the importance of this business relationship," says Witham. "It's a very significant relationship that we find people on the east coast sometimes underestimate. We're always pushing for more Australian government involvement in Africa – whether that's more posts, aid money, the establishment of embassies. Anything that would help to increase recognition of this continent's importance."
A challenging climate?
Given the comparatively underexplored mining market in countries throughout Africa, there is often a lack of infrastructure to support operations – something which for many companies is a direct drawback. Indeed, Witham says that this is partially the reason for gold's popularity, because it does not require a large amount of infrastructure as iron ore or coal does.
Yet James Fuller, communications and investor relations manager for Base Resources, says this lack of infrastructure is in fact an appeal, allowing Base to tailor the design and implementation of infrastructure to specific projects. The company works in minerals sands, with an existing operation in Kenya and a planned one in Madagascar.
"We're really interested in African opportunities because we feel that we've got a business model that works really well in that environment," Fuller says. "In Kenya we built our own port facility completely from scratch to service very large vessels for mineral sands. While it doesn't accommodate anything else, it's perfect for what we need."
While mineral sands is in fact a material that Australia is itself abundant in, there are more opportunities for greenfield exploration in Africa, with fewer competitors than those sites in Australia. Yet regardless of the deposit's wealth, Fuller says that assessing the social and community context is vital to establishing a successful project, reliant in part on government approval and legislative framework. It is a point echoed by Witham.
"How you approach the community is vital, because if you can't work with the government and people who are there, then you just won't succeed," says Witham. "To raise equity you need to be addressing ESG factors (environmental, social and governance). Anyone mining now needs to be addressing these principles."
A reciprocal relationship
Navigating both local needs and international requirements is a necessity for any operation, and concern over some companies not targeting ESG factors has sent ripples through activist groups. Speaking with ActionAid Australia executive director Michelle Higelin, she says her organisation is especially concerned with the effects of operations on gender equality.
"Our social auditing processes have found an increase in violence against women in many mining communities, including sexual harassment of women working in or living near the mines," she says. "It is critical that social labour plans do more to ensure equitable benefits for all of the community, and do not further entrench poverty and gender inequality."
Similarly, reports of intimidation and threats towards anti-mine activists in South Africa betray the darker side of operations in certain jurisdictions. As such, ensuring miners work within the needs of the community is vital, with rehabilitation schemes and local employment opportunities an integral part of establishing projects.
For some organisations, these efforts are a point of pride. For instance, Base Resources is vocal about its 98% Kenyan workforce and rehabilitation process of replacing sand taken once the minerals have been extracted. Seedlings and grasses are replanted on top of that to establish a stable environment, with these taken from indigenous nurseries set up to propagate native plants.
"There's always going to be negatives associated with mining," says Fuller. "But there's also a real opportunity to leave a lasting positive impact. You can create direct employment opportunities, and invest heavily in the communities there."
The need to give back to local communities is a sentiment also fervently voiced by Higelin.
"Companies should abide by the commitment to obtaining free, prior and informed consent of communities where they are mining," she says. "Ultimately, companies extracting natural resources from communities must make a commitment to leave these communities better off – it is unacceptable to take resources out and leave people further entrenched in poverty and inequality."
The message from industry members is clear – while the abundant greenfield deposits throughout Africa make it an appealing mining destination, without proper regulation and community awareness, miners may face difficult terrain.