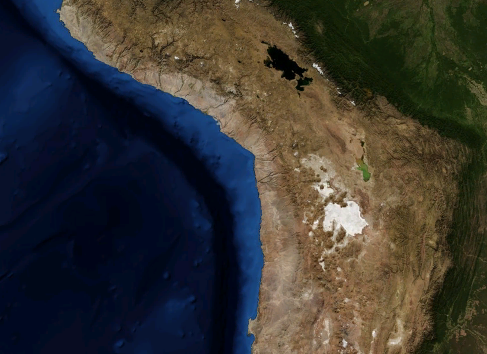 Salar, courtesy: Jen Morgan 
Formerly focused on silver and gold assets in Peru and Mexico, this year Wealth Minerals has shifted its focus to lithium deposits in Chile, accelerating its strategy of acquiring undervalued projects with low exploration risk, attractive grades, and potentially low capital requirements.
Since April, Wealth Minerals' new Chilean-based executive director, Marcelo Awad has helped the company acquire three lithium mining assets in Chile; one of the most stable countries in the so-called Latin American lithium triangle, which also includes Argentina and Bolivia.
Wealth Minerals' lithium rights in Chile are located along salar's also known as salt flats and cover the Maricunga Salar, the Salar de Aguas Calientes Norte, and the Pujsa Salar in Chile.
Here Heidi Vella-Starr speak to Awad , who has a long and distinguished career in the mining industry, including 18 years with Corporacion Nacional del Cobre de Chile (Codelco), and 16 years with Antofagasta Minerals SA (the Mining Division of Antofagasta Plc).
Heidi Vella-Starr (HVS): Please tell us about the lithium reserves acquired since you joined the company in April?
Marcel Awad (MA): We have managed to acquire three salars, plus also the most important salar in the world, called Atacama, the desert of Chile. We bought 43,000ha. That salar surface has, I think, 200,000ha, so we bought nearly 20% of the salar, which is an important surface and also sufficient to accommodate and operate.
The three salars we have bought account for about 1,000ha, but they are close by in a place called Trinity. At this moment we are in negotiation to continue to acquire additional assets in two different salars also located in the northern part of the country. I am involved in all the negotiations, of course, with the support of Henk [CEO and president of Wealth Minerals Henk van Alphen].
HVS: Why did you decide to join Wealth Minerals?
MA: All my professional life I have worked in the mining sector here in Chile, mainly in copper, with by-products of gold, silver, selenium and many others. The last four years I have been working independently on a couple of boards.
I met Henk about three years ago and we became friends, meeting for coffee every time he was in Chile and I was in Vancouver. All of a sudden, he decided to get involved in lithium – but it was Chile he was interested in. He asked me to help him here in Chile on a part-time basis.
At the time I was also reading a lot about lithium because almost every week there is an article about lithium in the Chilean press because Chile has the second-biggest lithium reserves in the world. So, I became interested even before Henk approached me. On 1 April we had an agreement and we have been working very, very enthusiastically since then.
HVS: What are the current challenges of negotiating lithium mining licences in Chile at the moment?
MA: At this moment the government is still discussing, through its committee on lithium, which is headed by the mining minster, the rules and regulations for any private investment, whether local or foreign.
These regulations should be in place by the first quarter of next year. However, I have already met the Chilean mining minister and also with another agency involved, and the two of them told me there won't be surprises, that it will be very similar to the way that copper mining is run. So there might be minor adjustments, but the backbone is going to be very similar. If so, that tells me that it is going to be very friendly to private investment.
The government is desperate for cash, so I am sure it is trying to have these rules and regulations in place as soon as possible in order to bring foreign investment into the country.
HVS: What are your thoughts for the demand of lithium now and in the future?
MA: I think there is huge exponential demand coming up into the market because the main usage that is envisaged at this moment is for electric cars, and most of the large car producers in the world are setting up a line of electric cars, so my feeling is that there will be a big demand coming from the automotive sector.
Yesterday, I read the company NIKOLA will launch in December a full electric lorry – that market could also be massive.
Over and above consumption from that sector there is huge potential for solar electricity generator because at this moment solar is only generating during the day time when there is sun, but overnight they don't generate electricity.
But if they have a lithium battery they will be able to accumulate energy to continue generating electricity overnight and the only way to do this is through the lithium technology battery. That also may happen with wind turbines.
HVS: Do you have timeframes for production for the lithium projects the company has acquired?
MA: There is a minimum of five years. I think Chile will double, or triple, current lithium production within three to six years. I think the first new production coming up is going to be about three years from now, but five to six years from now there will be a big increase in terms of supply side of lithium coming from Chile. But the timeframe is five years from the moment you acquire the deposit with early-stage geological information.
HVS: Do you have a minimum price per tonne of lithium needed for each project to be profitable?
MA: The current spot market is trading close to $20,000/t of lithium carbonate. The annual contracts were signed late last year at around $6,000. Lithium production from a salar in Chile can be produced at a cost that ranges from $2,000 to $4,000, depending on the lithium concentration and evaporation capacity of the location.
HVS: What is the growth potential for Wealth Minerals at a time when the lithium market is just beginning to realise its full potential?
MA: We are progressing cautiously and slowly and using the best information available of the deposits before that we invest in. The plan is to acquire salars with sufficient capacity to support an economically viable operation.
HVS: What are Wealth Minerals' plans moving forward – will the company consider investing in lithium assets in Chile and Bolivia as well?
MA: Currently, we are only focus on lithium assets in Chile. Moving forward, Bolivia and Argentina are very good targets considering their huge known lithium reserves.